Exclusive Stories from the Altador Cup
Read the exclusive stories from each Altador Cup by selecting the year of your choice in the navigation below:

Altador Cup III
The news, hot off the press, from TNT themselves as they unravel their own
coverage
for Altador Cup III.
And the Winner Is...
Roo Island! - Date posted July 21st, 2008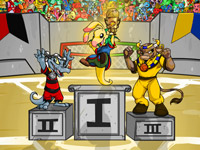 The dust has settled on this latest edition of the Altador Cup, and to the surprise of many, the winner of this year's tournament is not the mighty top-ranked Krawk Island team, but rather their scrappy foes from Roo Island.
In what will surely be remembered as a match for the ages, the margin between these two island outfits remained razor-thin throughout the contest, with neither team pulling ahead for very long without having to withstand an onslaught by the other.
Despite efforts on both sides to pull out trick plays and unusual formations, these highly-disciplined squads rarely allowed themselves to be drawn into the other's trap. In the end, the glory of winning a championship was to be earned through sweat and grit rather than gimmicks.
Under normal circumstances, the match would most likely have ended in a tie. However, since this is the finals, the teams were left to slug it out until one emerged victorious. In the end that team was Roo Island, who scored what would turn out to be the winning goal when an intercepted pass by Fenny Vail was followed by a perfect lob to Lilo Blumario that spanned more than half the playing field. Blumario, in a single motion, caught Vail's pass in mid-air and flipped it behind his back to a cutting Jair Tollet, who sent a perfectly-placed shot into the back left corner of Krawk Island's net, just beyond the outstretched reach of a diving Garven Hale.
In addition to this year's terrific championship match, fans of Shenkuu and the Lost Desert were treated to an outstanding contest of their own for third place. Unlike the upset in the championship match, the higher-seeded Lost Desert squad came away with the win.
As an additional treat, for the first time this year teams that didn't make the finals were able to compete in three additional brackets to determine 5th through 8th, 9th through 12th, and 13th through 16th place. Rather than holding form, there were a number of upsets in the lower brackets, as sixth-seeded Meridell finished fifth, eleventh-seeded Maraqua wound up tenth, fourteenth-seeded Altador came in thirteenth, and the lowest ranked squad, Faerieland, managed to knock-off Brightvale and finish fifteenth.
Congratulations to Roo Island on their well-deserved championship victory, and sincere thanks to all who participated in this year's tournament and made it such an excellent event!

The Finals Have Begun!
Intense Stories - Date posted July 17th, 2008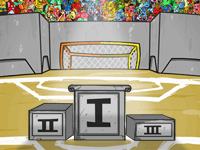 Excitement was at fever pitch as the Double Round Robin phase drew to a close. Among the heartbreaks and celebrations, some interesting stories have emerged.
The first story is the stunning fall of the defending champions from the Darigan Citadel. Despite the scoring prowess of Left Forward and Team Captain Layton Vickles, he and his team failed to maintain the competitive edge down the stretch. Maybe it was their early loss to Roo Island in the first half of the Double Round Robin, or their subpar slushie slinging, but something just wasn't working for this once unstoppable crew.
Then there is the central story of who made the top group of four finalists. The top two spots were fairly predictable. Krawk Island and Roo Island secured a firm foothold in the finals early on, and never looked back. The scrappy Lost Desert team, while making a decent showing in their Yooyuball games, thanks mostly to Left Forward Vonde Cayle, was ultimately carried to the third spot on the shoulders of their faithful fans, who helped rack up a whopping 23 victories in Make Some Noise, and 18 victories in Slushie Slinger.
But the real story was the intense battle for the fourth spot, which went all the way down to the last day of competition. The surprisingly strong Kreludor, absent from last year's tournament, against Shenkuu, pegged as odds-on favourites following their impressive showing last year, became this year's rivalry to watch. Both teams were deserving of a slot in the finals, but a last-minute spurt of offensive prowess from Shenkuu's Mirsha Grelinek was just enough to elevate Shenkuu into the finals. No time to rest, though, as they now face Krawk Island in the play-off round.
The remaining 12 teams still have something to prove, too, as they
square off in the finals
against their nearest rivals for one last chance at pushing to the top of their groups. Best of luck to all the competitors!

Tyrannia: The Titans of... Slushie Slinger?
Improbable? - Date posted July 14th, 2008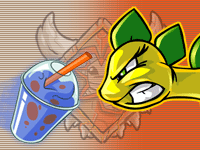 Improbable? Yes. Impossible? Apparently not. Although clearly not a Yooyuball powerhouse, Tyrannia has emerged as the only team among sixteen that remains undefeated in Slushie Slinger in this year's tournament. Even Krawk Island has managed to lose twice! What's going on?
Perhaps the parched air of the Tyrannian highlands makes slushies especially soothing to the Tyrannian palate, or perhaps this year's supporters have focused all of their attention on Slushie Slinger at the expense of their team's Yooyuball and Make Some Noise efforts, as part of Tyrannia's master plan. At any rate, at least when it comes to their standings in Slushie Slinger, Tyrannia clearly has something they can point to proudly in this year's Altador Cup.

Race for Finals Begins Home Stretch
Race to Top Four - Date posted July 9th, 2008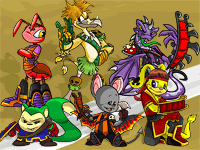 As the Altador Cup reaches the point where there's just about a week's worth of play left in the Double Round Robin stage, things are really starting to heat up in the race for those four spots in the tournament finals.
While Roo Island and Krawk Island have all but sewn up their place in the championship round, and the Lost Desert has taken an inside track on the third spot, the battle for the next position is where the tournament standings get really interesting.
As of this writing, the teams from Shenkuu, Kreludor, Mystery Island, the Darigan Citadel, Meridell, and the Haunted Woods are all still vying for a trip to the finals. If any of these teams can make a run by sweeping all three contests (Yooyuball, Slushie Slinger, and Make Some Noise) for a few days, it's well within reason to think at least one spot in the finals could be up for grabs (if not two, should the Lost Desert collapse down the stretch).
The current odds-on favourite to join the group of four finalists is Shenkuu, which rebounded from a poor first week and hasn't looked back since. The team with the next-best shot is Kreludor, a dark horse squad that didn't even compete in last year's Cup.
Mystery Island's potent offense gives them a puncher's chance, while Darigan fans are quick to proclaim that you can never count out a champion. As for Meridell and the Haunted Woods, though they may be on the outside looking in, they've proven that they can play with any team on any given day, and therefore have as good a shot as anyone at making a late run.
With more than half of the Cup's teams still in contention, the only sure thing is that this year's tournament remains far from over.

Winners and Losers from the Round Robin's First Half
Midway Point - Date posted July 3rd, 2008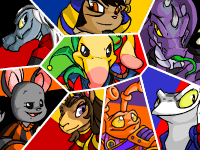 As the Double Round Robin phase of this year's Altador Cup tournament reaches the midway point, it's time to take a closer look at the winners, losers, surprises, and disappointments thus far in the competition.
The biggest winners have been Roo Island and Krawk Island. While that's hardly a surprise, given that both teams were participants in last year's finals, what has been startling is the dominance both these squads have shown, each piling up a whopping thirteen Yooyuball wins in fifteen appearances.
Last year's other finalists, however, have not fared as well. The tournament's defending champions from the Darigan Citadel got off to a rocky start, winning only three of their first nine Yooyuball contests. They've since rebounded, winning four straight before a tie against the Lost Desert. Given the stiff competition above them, the Darigan Citadel's chances of returning to the finals appear to be fading.
Then there's Shenkuu, the upstarts of last year's Cup. Shenkuu got off to a brutal start, failing to win any of their first six Yooyuball match-ups, but after winning seven of their next eight Yooyuball games, Shenkuu appear to be back on their feet. Shenkuu's critics, however, like to point out that only one win during that streak was against a team with a winning Yooyuball record.
Among the surprises of this year's tournament is the fact that the Haunted Woods' return to Yooyuball prominence has been led not by their stifling defence, but rather by the scoring prowess of centre forward Zo Junior, who leads the tournament in goals scored per game.
Most disappointing, however, is Faerieland's dreadful play. Although poor performers last year, they at least managed to win or tie more than half their Slushie Slinger contests. So far in Year 10 they've not posted a single win in Slushie Slinger or Make Some Noise, and barely managed one Yooyuball victory over Brightvale. Here's hoping their second go through the Round Robin treats them kinder...

The Tie
Roo Island vs. Meridell - Date posted July 2nd, 2008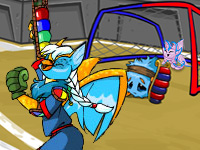 So often in the annals of sport, ties are thought of as disappointments, usually leaving fans frustrated by the lack of a definitive winner or loser. And then there are matches like this past Sunday's game between Roo Island and Meridell.
It started as many might've expected, with Roo Island rolling up a commanding advantage over the spirited Meridellians. About halfway through the contest, however, a strange thing happened... apparently, someone on the Meridell bench noticed that Roo Island forward Jair Tollet was "tipping" her passes and shots, stutter-stepping before each toss to the right.
Armed with this knowledge, Meridell stormed back into the match, stopping numerous shots by Tollet and stealing a flurry of her passes, even taking a lead as the game reached its final stages.
"No matter how hard I tried, I just couldn't make myself stop..." Tollet said of her troubles later. "I knew I was singlehandedly losing the game for us, yet there was nothing I could do. It was the worst thing I've ever been through as a player...and then, it just suddenly went away."
Whether it was through courage, luck, or sheer will, Tollet broke herself of her crippling habit just in the nick of time - scooping up a turnover by Gregorio Maille, dashing toward the goal before giving that stutter-step that Meridell was looking for, and then launching a shot into the left corner of the goal just as time expired, earning a hard-fought tie for a relieved Roo Island squad.
And so, for the fans of this Yooyuball sport, a big question was answered on Sunday. Can Meridell, despite being an also-ran in the standings, be counted out as contenders for this year's finals? Not yet...

Tournament's Top Yooyuball Squads Go Head to Head
Roo Island vs. Krawk Island - Date posted June 27th, 2008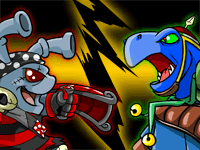 As the Altador Cup tournament enters its second weekend, most of Neopia's Yooyuball enthusiasts have turned their interest toward this Saturday's matchup between Krawk Island and Roo Island. This contest, which will pit the Year 10 tournament's two winningest Yooyuball squads against each other, has all the makings of an epic clash.
The odds-on favourite going into the match is Krawk Island, which has absolutely steamrolled its opponents, tallying impressive victories against the Darigan Citadel, Shenkuu, Kreludor, and Mystery Island. Although some analysts said before the tournament that they believed Krawk goalkeeper Garven Hale was starting to slip from his position as the game's finest netminder, Hale has looked better than ever during the first week and a half of this tournament.
On the other hand, Roo Island won their first six Yooyuball matches before getting upset by a surprising Lost Desert squad this past Monday. The Roo Islanders quickly returned to their winning ways, however, taking down a very tough Haunted Woods team the next day. Although the sting of that Lost Desert loss remains in the thoughts of Roo Island's players, a victory over Krawk Island would go a long way toward restoring the confidence that they're so well known for.
Regardless of who wins on Saturday, there's one thing you can be sure of: it certainly won't be boring!

Roo Island and Darigan Citadel Square Off
Darigan vs. Roo Island - Date posted June 25th, 2008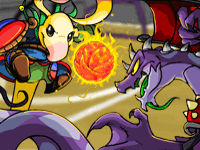 Darigan versus Roo Island - it's a match that Yooyuball fans have had circled on their schedules ever since it was announced. The two teams share a storied rivalry, having met in the finals of Year 9's tournament and the semi-finals of Year 8.
Although the Citadel prevailed in both those matches, the winds of change appear to be blowing in Altador. While Darigan has looked less than impressive during the early going of Year 10's tournament, Roo Island has been marching through their opponents with withering ferocity.
To the shock of Darigan's fans (and the absolute delight of ardent Rooligans), this match was practically over before it even began. Roo Island, employing a relentless defensive attack that completely unnerved Darigan's players, created numerous turnovers that led to lots of easy scores and threw the Citadel's Yooyuballers completely off their game.
"They've looked tentative early on in this tournament," Roo Island forward Jair Tollet observed, "plus they've been coasting a little against weaker teams like Faerieland and Terror Mountain. That's why we decided to jump on them straight away and never let up, hoping we could break their will before running out of energy ourselves. It was a risky tactic, but one that worked fantastically well in the end."
Despite the defeat, all was not lost for the Citadel squad, as the team's vocal fans managed to make plenty of noise and shout down their Roo Island foes. That being said, the Rooligans made it known that they're the ones in this rivalry who possess the upper hand when it comes to slushie slinging skills.

Kiko Lake Team Found!
Rockslide - Date posted June 20th, 2008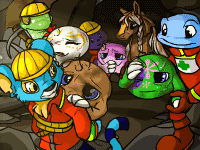 Following up on last week's big story, a messenger from Kiko Lake has arrived in Altador bearing news of the team's fate. According to the courier, Kiko Lake's team was trapped by a rockslide that occurred while they were on their way to the tournament. It seems that, when the boulders started raining down on them, the players rushed to safety in a nearby cave. At some point during the disaster, however, the cave's entrance became blocked by boulders, which weren't cleared away until days later by a team of rescue workers.
Thankfully, the players avoided suffering anything more serious than a couple of scrapes and bruises. However, their time in the less-than-ideal conditions not only left them starving and weakened, but also cost Kiko Lake their chance at participating in this year's tournament. "We'll just have to regroup and give it another shot next year," team captain "Poke" Cellars said. "In the meantime, though, we might want to look into finding another route to Altador, preferably something a little less dangerous."

New Finals Structure!
Seeding Process - Date posted June 18th, 2008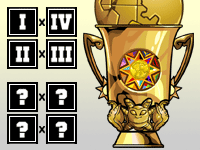 To the delight of Yooyuball fans across Neopia, the Altador Cup Committee has announced a change to this year's format. Unlike previous years, where the top two teams squared off to determine the tournament champion (and the next two squads fought it out for third place), a seeding process has been put in place so that all four finalists now have a shot at winning the title. Under this new structure, the first and fourth place teams will play for two days to determine one finalist, while the winner between the second and third place squads settles the other. Then, the finalists will face off for another two days to determine the tournament championship.
Rather than just sticking to the finals, though, this new format will also be in play for the rest of the tournament's participants. Teams five through eight, nine through twelve, and thirteen through sixteen will now be seeded within their own brackets. "Under the old system," one committee member stated, "once the double round robin ended, supporters were faced with a choice: they could either jump ship and choose one of the finalists to root for, or stay loyal to their team and go home. Doing things this way will now enable loyal fans to stick by their squad to the very end."

Where Is Kiko Lake?!?
Team Withdrawn - Date posted June 12th, 2008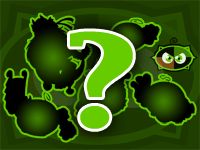 Now that every other team has arrived at the Altador Colosseum and the pre-tournament practice sessions are well underway, the big question on everyone's mind is: where is Kiko Lake?!?
No one has seen or heard anything from them, and after initially extending the 9th Day of Relaxing mandatory arrival date an additional 48 hours, the Altador Cup Committee has declared that they will not be able to let Kiko Lake participate in the tournament. The committee has, however, set up an investigation into the team's whereabouts and sent out a search party to try and track them down.
When asked to comment on Kiko Lake's exclusion from the tournament, a committee member said, "There's far too much happening for us to simply hold an open place for them. For example, a schedule of pre-tournament training matches has been put together for the Colosseum. Including Kiko Lake on that schedule could create a situation whereby, if they fail to show up, their opponents will unfairly wind up with less practice matches than the other teams."
"Additionally, waiting for Kiko Lake has required us to hold up ticket sales, since you can imagine what a nightmare it would be to have to give refunds to all those Kiko Lake fans who bought tickets to see a team that failed to arrive. It's quite a shame, since we were really looking forward to having the largest field in the tournament's history. Alas, I'm afraid it was not meant to be..."