Castle Nox Corridor of Chance
What is it?
Introduced with the Faeries' Ruin plot of 2010, the
Corridor of Chance
is located in
Hubrid Nox's Castle
at the
Deserted Fairgrounds
. This page shows the current prizes available from this NC activity.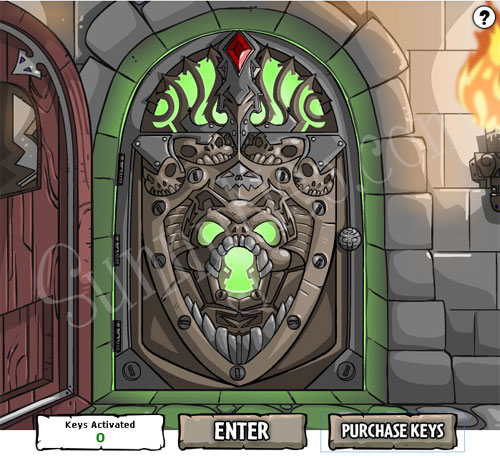 Castle Nox Corridor of Chance Key 1-Pack
150 NC

Castle Nox Corridor of Chance Key 10-Pack
900 NC

Castle Nox Corridor of Chance Key 20-Pack
1,500 NC
To participate in this activity, go to the NC Mall and click on the
Castle Nox - Corridor of Chance
link. Click on the "Purchase Keys" button to go to the
NC Mall
and buy your key(s). You must activate the key in your inventory before going back to the
Castle Nox - Corridor of Chance
. Prizes will be available daily,
one item per pet per day
. You may participate in this activity on side accounts.
Before you enter the Corridor, check your pet's customisation
. If your pet is currently wearing an item of the same type that the Transfabulator will give you, you're fine. If not, you won't get an item and you need to recustomise and try again.
When you activate your key and enter the Corridor, you will see an image of your active pet on the Transfabulator table, wearing only items that might be replaced. Pull the glowing lever and you'll be taken back the door. Your active pet will now be wearing a new NC item. If you're lucky, you may also get a bonus "effect" for your pet that will last for 5 days.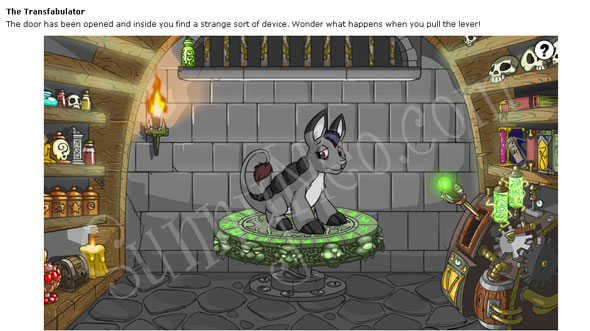 Note:
If your active pet is unable to wear the item given out, you may need to change your active pet and try again. See the
FAQs
for more information.
[
October 2010
|
January 2011
|
May 2011
|
January 2012
|
March 2019
]
---
Frequently Asked Questions
What is the Hubrid Nox Corridor of Chance?
The Hubrid Nox Corridor of Chance is a new NC Mall Access area in the Deserted Fairground. To gain access to it, you must purchase Key Packs at the NC Mall. Each Key will grant one-time access to the room, along with use of the Transfabulator. You can access the room once per day/per Neopet.
What is the Transfabulator?
The Transfabulator is a machine that was found in Castle Nox. This machine (with the purchase of a Key from the NC Mall to gain access) will take an item of clothing that your Neopet is currently wearing and replace it with an all-new, exclusive NC wearable item. Your old item will be sent to your Closet, and your new item will be worn by your active Neopet. There is also a chance of receiving an Effect for you Neopet. The Effects are randomly awarded and will remain on your Neopet for 5 days. Effects are rare. Many will try for an Effect, few will receive.
I've gained access to the Transfabulator, but it's telling me that I don't have the correct customisation. What do I do?
In order for the Transfabulator to grant you an item, you must have the same type of item on that it will be giving out. Example: If the pool of items that the machine is giving out contains a hat and pants, your Neopet must be wearing one of those items upon entering. Play around with items in your customisation application and keep trying the Transfabulator. Once you've redeemed a Key at the door, you will have access to the Transfabulator until you press the lever and receive a new item. So, if you have to leave the page without using the machine, you can come back without having to redeem another Key.
I received an Effect. How do I take it off?
There is no way to remove an Effect. Effects will stay on your pet for five days and then vanish. While your Neopet has an Effect applied, you do not have a chance of receiving another. Once the Effect wears off, though, you will be eligible for a chance to receive an Effect again the next time you visit the Transfabulator.
How many times can I enter the Corridor of Chance per day?
You can gain access once per day (NST)/per Neopet, using one key per Neopet. So, like most dailies, you can visit once every 24 hours. However, you can take each of your (up to) four Neopets to the Corridor once daily. Each visit, for each Neopet will cost one Key to gain access.
Can I visit Hubrid Nox's Corridor of Chance on my side accounts?
Yes. Since this is an NC Mall-only area, you can visit on your side accounts. Remember, though, you are only allowed (up to) five accounts total.
How do I enter the door?
To enter the Hubrid Nox Corridor of Chance, you will need to purchase Key Packs from the NC Mall. One Key will be needed each time you visit the room.
Where can I find Key Packs?
Key Packs can be found at the NC Mall. Keys are sold in packs of 1, 10, and 20.
I've activated my Key Packs. Now what?
Once you have purchased and activated your Key Packs, visit URL to enter the Hubrid Nox Corridor of Chance.