NC Mall Treasure Maps
What are NC Mall Treasure Maps?
NC Mall Treasure Maps are items that sold in the
NC Mall
. NC Mall Treasure Maps are items that you can unlock. When you do so, they will give out a special NC wearable item.



Finding a Treasure Map
Before you can open a Treasure Map, or buy it for that matter, you will have to find it first! Treasure Maps are hidden in the NC Mall. This means you'll have to click arround in all the shops in the NC Mall until it will show up for you. If you are browsing in another language, it might show up under it's English name.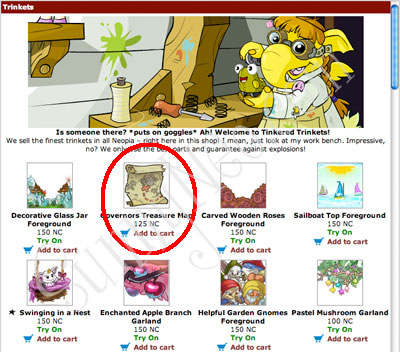 An easy way to search for Treasure Maps is by going to a smaller shop, like the shoes or games shop, which both have only three rows of items. Keep visiting this shop all the time by clicking in the link for it. In this way, after trying a couple of times, a Treasure Map is sure to show up. Because these shop are rather small, you don't have to scroll down to spot if there is a map.
Opening a Treasure Map
Unlike what the idea of a Treasure Map seems to suggest, unlocking a Treasure map involves nothing more than opening in your inventory. There, you click on it, then choose the option to hunt for burried treasure. Once you have opened the Treasure Map, it will show the prize you've gotten from it.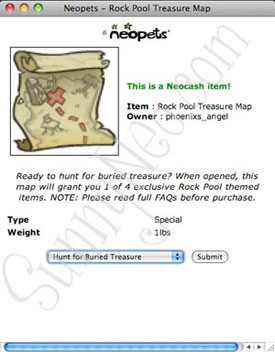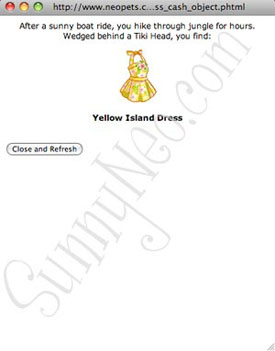 Items you can get from Treasure Maps
Each Treasure maps is themed around a certain Neopian Location and will give out four different items that match with that location. This means that the items that come with the The Rock Pool Treasure Map will have a Mystery Island theme. The items from the National Neopian Bank Treasure Map have a banking/bank robbery theme. Each Treasure Map comes with it's own set of item. These items are unique for this Treasure Map, which means you cannot get them in any other way.
Choose a Treasure Map in the table above to see which items are available.