The Haunted Faire
On 8th October 2010 Neopets launched a new area of the
Haunted Woods
, made especially for Halloween. This was
the Haunted Faire
.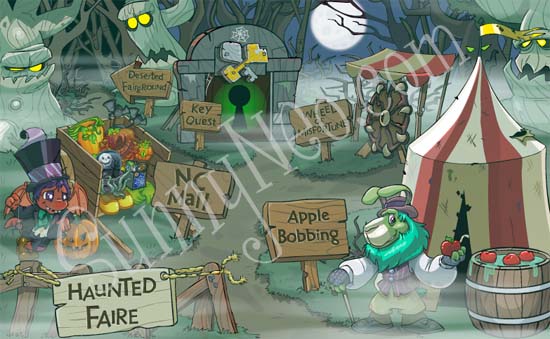 Some features of the Haunted Faire are already known activities, like the
Wheel of Misfortune
,
Keyquest
and
the NC Mall
. However, on 12th October a new feature appeared:
Apple Bobbing
!
Apple Bobbing
Apple Bobbing is a new activity you can do once a day. It is hosted by Vandebart Biggsby, a mysterious Green Gnorbu. To start apple bobbing, click on "Bob for Apples".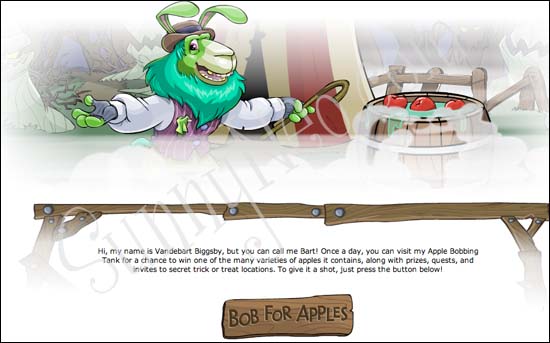 Now the Gnorbu will give you either an item or a quest. Items given can include apples and spooky foods. If you receive an item, you're done for the day. Come back tomorrow and try again!

Red Apple

Ichor Ghost Toast

Beast Burger

Cheesy Baked Apple Core

Vanilla Ice Cream Apple Lantern

Brain Tree Muffin

Glaring Cheesecake

Apple Onion Rings

Chocolate Covered Apple

Ghostmallow Smore

Meuka Drops

Devilish Cake

Candy Corn Fizzy Drink

Ghost Pancakes

Fried Worm Stew

Undead Carrot

Deluxe Toffee Apple

Knuckle Sandwich

Imposter Apple

Slimy Apple

Rotten Apple

Beaten Old Apple

Petrified Apple

Undead Apple

Spooky Apple Muffin

Tarnished Apple

Slimy Pumpkin Soup

Untarnished Apple

Ghostly Apple

Ghost Techo Lolly
There are several kinds of quests, each has a different result. If you are given a quest, you must complete it before the end of the day it was given.
The trick or treat bags can have a variety of things inside. You may receive one or more of the following items:
Trick or treat bag contents
Bag
Possible Contents
All bags may contain:

Haunted Woods Violin

Undead Cheese Wedge

Count Von Roo Halloween Costume

Pull Along Halloween Ona

Haunted Woods Horn

Haunted Snowglobe

Ectoplasm Nachos

Halloween Kyrii Plushie

Haunted Brucicle

Clockwork Halloween Flizzardo
In addition to the above items, a few new items have been found in the bags. Some of the items listed below are searchable but have not yet been spotted in Neopia.
Exclusive items

Krawk Island Trick-or-Treat Bag

Capn Threelegs Halloween Negg

Krawk Island Silhouette Background
Click for preview



Capn Threelegs Plushie

Pirates Chest

Lost Desert Trick-or-Treat Bag

Princess Amira Halloween Negg

Lost Desert Silhouette Background
Click for preview



My Life as Queen

Royal Scamander Vase

Moltara Trick-or-Treat Bag

Cog Halloween Negg

Moltara Silhouette Background
Click for preview



Halloween Cog

Spiral Staircase

Mystery Isle Trick-or-Treat Bag

Island Mystic Halloween Negg

Mystery Island Silhouette Background
Click for preview



When Kyrii Predict

Mystery Island Kacheekers

Space Station Trick-or-Treat Bag

Lever of Doom Halloween Negg

Space Station Silhouette Background
Click for preview



How to Earn NP the Easy Way

Iron Rug
A few items were released in the bags unintentionally. Very few were released, and TNT staff later stated by neomail that they intended to remove the items and replace them with other items. Clearly the capes have been created for some other purpose which is currently unknown.
We are sorry but these items were not supposed to be released :( They will be replaced with other goodie back items as soon as possible.

Sorry about the confusion!

Charlotte K.
- Thanks to ummagine3284 for giving us this info.
Items not intended to be released in these bags

Dashing Capn Threelegs Cape

Elegant Princess Amira Cape
Click for preview



Cogs Gear Cape

Island Mystics Cape

Cape of Doom