NC Challenge
Starting Altador Cup IV, TNT began to hold NC Challenges. They are similar to previous game-based NC Challenges, you need to buy a ticket at the NC Mall. With this ticket you could compete in various challenges during the Altador Cup. When successfully completed all the challenges and you received an exclusive bonus Neocash item prize.


Altador Cup XVI
The Altador Cup XVI's NC event is called
Altador Coastline Gala
.
"Welcome to the Coastline Gala on the Altador shore! Get ready to relax to the sound of ocean waves, mingle with other party-goers, eat delicious food, and pick up some wonderful goodie bags each day you visit! Pick up your wristband from the NC Mall to join the party!"
This event is slightly different from previous years. This year, the event only has one theme and you can buy one large pass that will cover the whole event, or you can buy smaller passes to only redeem one or seven items of your choice.

Altador Coastline Gala - 1 Day Wristband
150 NC

Altador Coastline Gala - 7 Day Wristband
700 NC

Altador Coastline Gala - 28 Day Wristband
2000 NC
Participating
You can purchase the Day Wristbands in the NC Mall. Once you purchase it, you can use the Day Wristband and activate it.
Once it has been activated, you'll get access to the Altador Coastline Gala: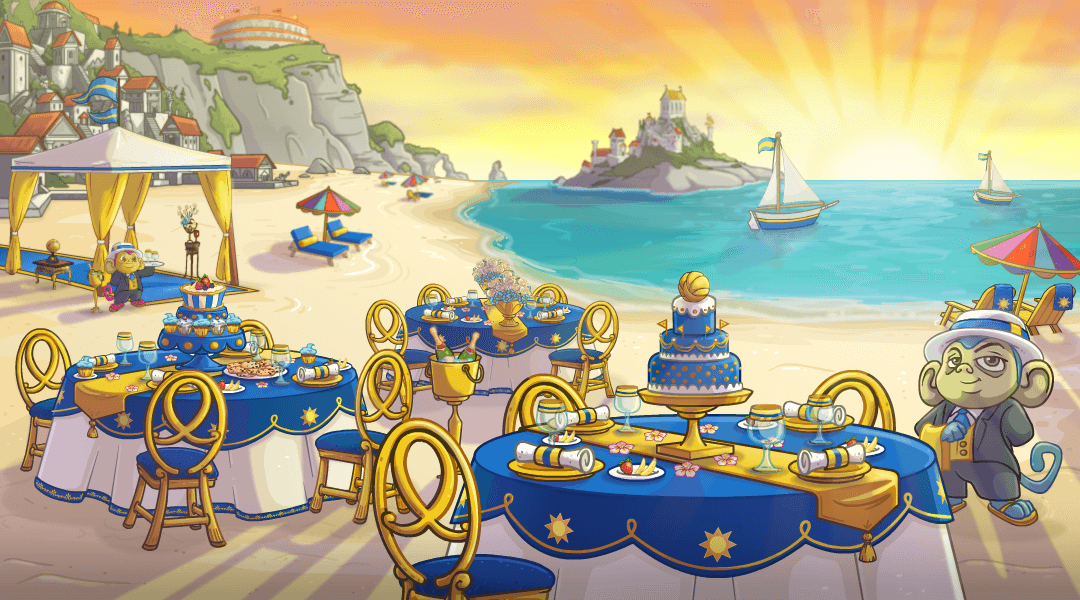 Daily prizes
To get your daily prize, simply visit the Altador Coastline Gala area. If there is a new item available, which will be the case every day, it will show up as a full bag. Click on the bag to claim your prize.
FAQ
1. What is the Altador Coastline Gala event?
This is an exclusive event for anyone who wants to take a break from the Altador Cup and relax, mingle with friends and fans, or celebrate their team's victory for the day. This is a party on the Altador shore that is walking distance to the Colosseum, full of delicious food and drinks to snack on, and a great place to unwind alongside the ocean. This event has a variety of perks, including exclusive goodie bags for the partygoers each day they visit. To join in, you must purchase a wristband and activate it from either your inventory or the main hub page. Then come back to the page each day, beginning June 7th to claim your prizes.
2. Where do I purchase the wristbands?
Wristbands for the event will be available at the NC Mall starting June 7th, 2021.
3. How long will the Altador Coastline Gala event run?
Wristbands for the event will be available in the NC mall until the 16th of July. You can purchase and activate your wristbands and claim your prizes on already purchased and activated wristbands any time you visit the Hub Page.
4. How do I activate my wristband?
You can activate it from the main hub page by clicking on the item you want. You can also activate your wristbands from your inventory by clicking "Activate wristband" from the drop-down menu.
5. When can I start collecting prizes?
Starting June 7th you will be able to claim one prize per day. If you missed collecting on any day you can always return to the main hub to claim those prizes.
6. Is there a time limit for accepting my daily prize?
Check back at the NC Mall each Sunday for a new access pass. Existing passes will remain for sale until the end of the event.
7. Can I get multiples of the same item?
Yes, once an item is unlocked on a certain day you will be able to collect multiples of the same item, provided you have the activated wristbands. You will need a wristband for each duplicate. Once you have bought the wristbands, activate them from your inventory or head to the main hub and click on the item you want.
8. Is there a bonus prize for participating in the Altador Coastline Gala event?
Yes. You can get 4 unique bonus items. They will be awarded for claiming your 8th, 15th and 28th prizes (there will be 2 bonus prizes on day 28). You cannot get the bonus prize by buying multiples of the same prizes. For example, in order to get the day 8 bonus, you will need to collect the first 8 prizes of the first 8 days of the event.
9. Can I participate in the Altador Coastline Gala event on side accounts?
Yes! You may participate in the Altador Coastline Gala event on your side accounts. In order to do this, you will need to join a team. Joining a team will automatically give you NP items -- we are aware of this. We are willing to make an exception to our normal rules regarding side accounts in this instance. If you do decide to participate on a side account, however, please discard the NP items you receive and do not participate in any of the Altador Cup games. This would still be considered cheating!
10. How many duplicate prizes can I buy?
You can buy an unlimited number of duplicates of any prize.
11. Can I get duplicate bonus prizes?
Yes! You can get as many bonus prizes as you want for day 8 and 15. Day 28 however, is excluded from this. You will not be granted multiple bonus prizes for completing all 28 days.