Keyquest is not longer active on Neopets. The game has been removed from the site.
Key Quest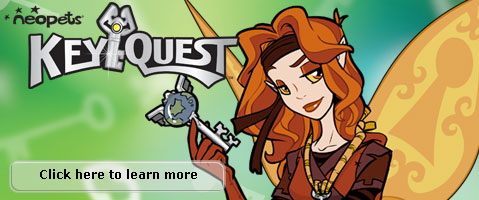 Keyquest is a brand new multiplayer board game that you can play against other people. By doing so you can earn neopoints and items. On this page you will find everything that is currently known about Keyquest. Because the game is still in beta-testing we will continue to update this page as new updates in the game appear.
Below you can see an overview of all the information we have collected, divided into smaller easy to read pieces. Click on a topic to make this information appear.
Navigation
SUNNYNEO LINKS
NEOPETS LINKS

SUNNYNEO GRAPHICS
Guide Content
Key Quest - Beta Test
General Info
On the third of July 2008, the Neopets Team released the Key Quest game for beta testing by premium members. Later on the game was also opened up for testing by non-premium members. However, if a new update of the game is launched, premium members get to test it first, before it opens up for non-premium members to test.
Key Quest is a 3D board game, in which you compete live against other players.
You play as one of the characters in your Key Quest Collectors Case. If you do not have anything in your case, it doesn't matter too much. You will get one for free when you start to play.
The aim of the game is to travel around the board, collecting keys quicker than your opponent. The first player to get the designated amount of keys, and find their way to the 'Quest Door' is the winner.
[
Back to the top
]