Keyquest is not longer active on Neopets. The game has been removed from the site.
Key Quest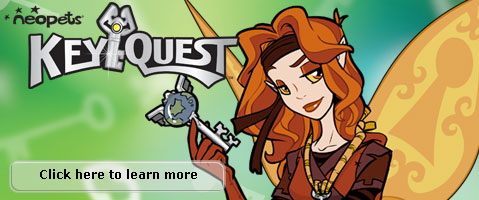 Keyquest is a brand new multiplayer board game that you can play against other people. By doing so you can earn neopoints and items. On this page you will find everything that is currently known about Keyquest. Because the game is still in beta-testing we will continue to update this page as new updates in the game appear.
Below you can see an overview of all the information we have collected, divided into smaller easy to read pieces. Click on a topic to make this information appear.
Navigation
SUNNYNEO LINKS
NEOPETS LINKS

SUNNYNEO GRAPHICS
Guide Content
Prize Statistics
This information is outdated, but it gives a rough overview of the prize breakdown during the first few weeks that the Key Quest Beta was open.
These are the prizes you could receive from Key Quest when redeeming your keys. First column lists the item name, second column is number of times the item was received, third column is % chance of getting the item. This page is informational only and the percentage is only an indication of the chance of getting the item.
Gold Keys
53 different prizes out of 1552 prizes so far. It seems almost any paint brush can be given out as a prize. So far 5 pbs logged.
| Item | # | % |
| --- | --- | --- |
| Biscuit Paint Brush | 1 | 0,064% |
| Bri Codestone | 37 | 2,381% |
| Camouflage Paint Brush | 1 | 0,064% |
| Captain Tuan Stamp | 45 | 2,896% |
| Chalkboard | 38 | 2,445% |
| Day In The Life Of King Roo | 43 | 2,767% |
| Eo Codestone | 46 | 2,960% |
| Everlasting Crystal Apple Stamp | 50 | 3,218% |
| Frozen Negg | 2 | 0,129% |
| Ghost Paint Brush | 1 | 0,064% |
| Ghostkerscarf | 49 | 3,153% |
| Glowing Paint Brush | 1 | 0,064% |
| Grundo Inspired Dresser | 50 | 3,218% |
| Har Codestone | 46 | 2,960% |
| Heart Toast Sculpture | 54 | 3,475% |
| Icy Negg | 44 | 2,831% |
| Kew Codestone | 1 | 0,064% |
| Kiko Pop-Up Book | 36 | 2,317% |
| Lemon Swirly Negg | 36 | 2,317% |
| Lu Codestone | 45 | 2,896% |
| Main Codestone | 45 | 2,896% |
| Maraqua Colouring Book | 43 | 2,767% |
| Mau Codestone | 39 | 2,510% |
| More Than Carrot Cake | 39 | 2,510% |
| Negg | 42 | 2,703% |
| Ogrin Survivor | 43 | 2,767% |
| Orange Draik Stamp | 51 | 3,282% |
| Orange Grundo Chair | 40 | 2,574% |
| Orange Grundo Wardrobe | 41 | 2,638% |
| Orange Kreludan Bed | 41 | 2,638% |
| Orn Codestone | 45 | 2,896% |
| Piece of a Treasure Map #3 | 1 | 0,064% |
| Purple Negg | 37 | 2,381% |
| Secret Laboratory Map #6 | 3 | 0,193% |
| Secret Laboratory Map #8 | 3 | 0,193% |
| Shenkuu Stamp | 60 | 3,861% |
| Shiny Purple Cowry Shell | 45 | 2,896% |
| Sho Codestone | 1 | 0,064% |
| Speckled Negg | 1 | 0,064% |
| Speckled Paint Brush | 1 | 0,064% |
| Starry Paint Brush | 1 | 0,064% |
| Striped Paint Brush | 1 | 0,064% |
| Super Icy Negg | 45 | 2,896% |
| Tai-Kai Codestone | 35 | 2,252% |
| The Secret of Treasure Island | 36 | 2,317% |
| Tyrannian Paint Brush | 2 | 0,129% |
| Veiled Autumn Hat | 42 | 2,703% |
| Vo Codestone | 44 | 2,831% |
| Vux Codestone | 1 | 0,064% |
| Yurble Tales | 49 | 3,153% |
| Zed Codestone | 1 | 0,064% |
| Zei Codestone | 49 | 3,153% |
Silver Keys
58 different prizes out of 645 prizes so far
| Item | # | % |
| --- | --- | --- |
| A Kau Summer | 24 | 3,715% |
| Anshu Stamp | 21 | 3,251% |
| Bone Vault Background | 12 | 1,858% |
| Book of Origami Paper | 17 | 2,632% |
| Bri Codestone | 9 | 1,393% |
| Bubble Sculptures | 23 | 3,560% |
| Captain Tuan Stamp | 4 | 0,619% |
| Chalkboard | 6 | 0,929% |
| Cloudy Sky Background | 20 | 3,096% |
| Cookie Negg | 25 | 3,870% |
| Courgette Field Background | 18 | 2,786% |
| Day In The Life Of King Roo | 5 | 0,774% |
| Eo Codestone | 7 | 1,084% |
| Everlasting Crystal Apple Stamp | 6 | 0,929% |
| Fishing For Zafaras | 20 | 3,096% |
| Gelert Prince Stamp | 12 | 1,858% |
| Ghostkerscarf | 4 | 0,619% |
| Grundo Inspired Dresser | 8 | 1,238% |
| Har Codestone | 4 | 0,619% |
| Heart Toast Sculpture | 8 | 1,238% |
| Icy Negg | 18 | 2,786% |
| Kazeriu Stamp | 19 | 2,941% |
| Kiko Pop-Up Book | 18 | 2,786% |
| Lemon Swirly Negg | 8 | 1,238% |
| Lime Swirly Negg | 14 | 2,167% |
| Lu Codestone | 9 | 1,393% |
| Main Codestone | 4 | 0,619% |
| Maraqua Colouring Book | 8 | 1,238% |
| Master Vex Stamp | 23 | 3,560% |
| Mau Codestone | 3 | 0,464% |
| Moon and Stars Background | 12 | 1,858% |
| More Than Carrot Cake | 8 | 1,238% |
| Negg | 5 | 0,774% |
| Neohome Background | 15 | 2,322% |
| Nimmo - Now and Zen | 17 | 2,632% |
| Ogrin Stamp | 1 | 0,155% |
| Ogrin Survivor | 11 | 1,703% |
| Orange Draik Stamp | 9 | 1,393% |
| Orange Grundo Chair | 11 | 1,703% |
| Orange Grundo Wardrobe | 6 | 0,929% |
| Orange Kreludan Bed | 5 | 0,774% |
| Orn Codestone | 7 | 1,084% |
| Purple Negg | 5 | 0,774% |
| Raining Doughnuts Background | 20 | 3,096% |
| Roast Gargapple Stamp | 16 | 2,477% |
| Shenkuu Stamp | 4 | 0,619% |
| Shiny Purple Cowry Shell | 13 | 2,012% |
| Super Icy Negg | 8 | 1,238% |
| Tai-Kai Codestone | 8 | 1,238% |
| The Life of a Double Crosser | 15 | 2,322% |
| The Plushie Coffee Table Book | 20 | 3,096% |
| The Secret of Treasure Island | 6 | 0,929% |
| Toast Treats | 16 | 2,477% |
| Veiled Autumn Hat | 6 | 0,929% |
| Vo Codestone | 5 | 0,774% |
| Yurble Tales | 18 | 2,786% |
| Zei Codestone | 1 | 0,155% |
Bronze Keys
38 different prizes out of 58 prizes so far
| Item | # | % |
| --- | --- | --- |
| A Kau Summer | 1 | 1,724% |
| A Tale of Three Bruces | 1 | 1,724% |
| Anshu Stamp | 2 | 3,448% |
| Bone Vault Background | 2 | 3,448% |
| Book Of Origami Paper | 2 | 3,448% |
| Bottled Air Faerie | 1 | 1,724% |
| Bottled Dark Faerie | 1 | 1,724% |
| Bottled Fire Faerie | 2 | 3,448% |
| Bubble Sculptures | 3 | 5,172% |
| Cloudy Sky Background | 3 | 5,172% |
| Cookie negg | 1 | 1,724% |
| Dress For Success | 1 | 1,724% |
| Everlasting Crystal Apple Stamp | 1 | 1,724% |
| Fishing For Zafaras | 2 | 3,448% |
| Gelert Prince Stamp | 2 | 3,448% |
| Ice Caves Background | 2 | 3,448% |
| Icy Negg | 2 | 3,448% |
| Jetsam Teeth Maintenance | 1 | 1,724% |
| Kazeriu Stamp | 1 | 1,724% |
| Lime Swirly Negg | 1 | 1,724% |
| Master Vex Stamp | 3 | 5,172% |
| Monoceraptor Claw Stamp | 2 | 3,448% |
| Moon and Stars Background | 1 | 1,724% |
| More Than Carrot Cake | 3 | 5,172% |
| Negg | 1 | 1,724% |
| Neogarden Nimmo | 3 | 5,172% |
| Orange Draik Stamp | 1 | 1,724% |
| Orange Kreludan Bed | 1 | 1,724% |
| Petpet Growth Syrup Stamp | 1 | 1,724% |
| Planning Shenkuu Gardens | 1 | 1,724% |
| Scratchcard Secrets | 1 | 1,724% |
| Shiny Purple Cowry Shell | 1 | 1,724% |
| The Curse Of The Pirate Aisha | 1 | 1,724% |
| The Life of a Double Crosser | 1 | 1,724% |
| The Secret of Treasure Island | 1 | 1,724% |
| The Tooth Story | 1 | 1,724% |
| Toast Treats | 2 | 3,448% |
| Yurble Tales | 1 | 1,724% |
[
Back to the top
]