Halloween Goodie Bags
General information:
Halloween Goodie Bags are neocash items TNT gives out for free before Halloween.
If you collect all three by October 31st and open them in any order, you'll get a special prize,
a random NC mall item from the Halloween section.
There are 3 types of Halloween Goodie Bags:



Meowclops, Spyder and Meepit.
How to get them:
The Halloween Goodie Bags randomly restock at the main page of the
NC mall
, under 'new items'.
They restock in the slot of the first item on the top row on the left, where "Spooky Halloween Mystery Capsule" currently is, one or two at a time.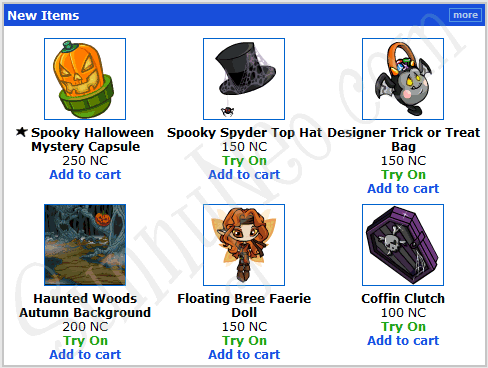 No Halloween Goodie Bag restocked.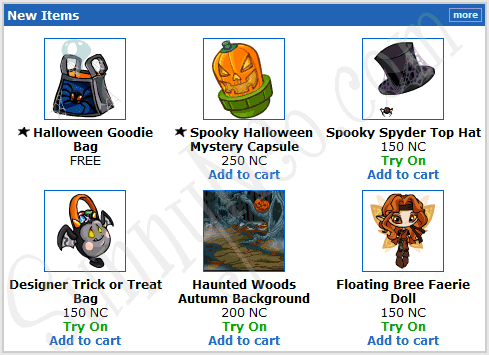 The Spyder Halloween Goodie Bag.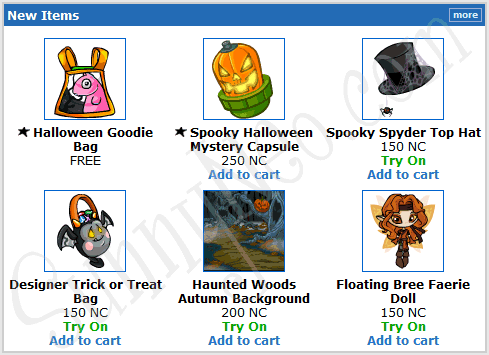 The Meepit Halloween Goodie Bag.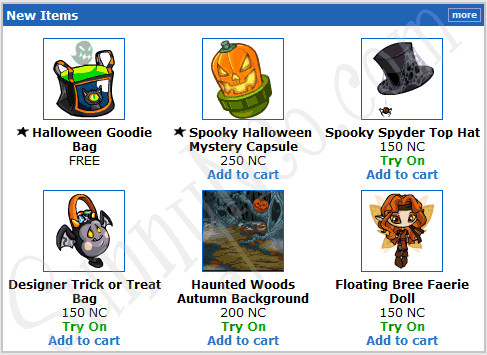 The Meowclops Halloween Goodie Bag.
When you see a Halloween Goodie Bag restocks, quickly click on it.
Then, click on "Click here" in the middle of the window that pops up.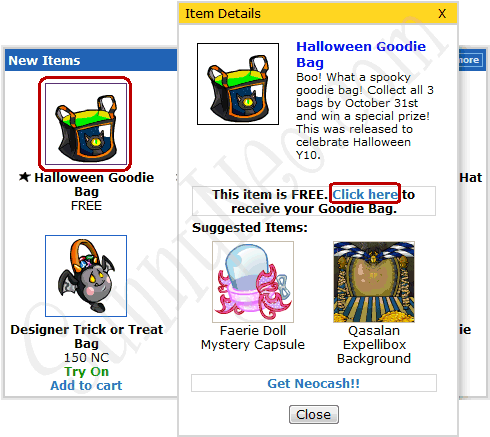 They Halloween Goodie Bags restock every 3 - 5 minutes at :00 of the minutes, and for 60 seconds, so just refresh once a minute. Make sure to look at a clock on any other neopets.com page, since the NC mall's clock seems to lag.
The NC mall page takes a long time to load? Try these tips:
1.
Make sure your active pet has no customization and clothing items on at all.
2.
Click on the Halloween Scorchio, scroll down, and click "Go Shopping". Sometimes it's much faster.
3.
While waiting for the page to load, move the cursor to be in the right position to catch the Halloween Goodie Bag as soon as it appears.
Prizes:
When you open your Halloween Goodie Bags, you will get 6 normal items (2 in each bag), and an additional Bonus item when you open your third bag. Below is a list of prizes and bonus prizes. Note that these items are random, you cannot choose.
Normal Prizes

Bat Cookie

Candy Kiko Apple

Caramel Kiko Apple

Chokato Snapdragon Lollypop

Eye Candy

Ghost Marshmallows

Neocola Jellypop

Tarragon Achyfi Lollypop

Tropical Jelly Beans

Spooky Doughnut

Slime Cream

Slime Sundae

Spooky Shake
Bonus NC mall Prizes

Baby Giant Moach
(150 NC)

Bubbling cauldron
(150 NC)

Cobweb Banner
(150 NC)

Coffin Clutch
(100 NC)

Coffin of Spooks
(150 NC)

Deserted Fairgrounds Background
(200 NC)

Designer Trick or Treat Bag
(150 NC)

Evil Coconut Mask
(100 NC)

Fortune-Telling Crystal Ball
(150 NC)

Haunted Graveyard Background
(200 NC)

Haunted Mansion Background
(200 NC)

Haunted Piano
(150 NC)

Haunted Woods Autumn Background (200 NC)

Haunting Ghostkerchief
(150 NC)

Hovering Broom
(150 NC)

Mad Scientist Brand: My Favourite Specimens
(150 NC)

Mini Esophagor
(150 NC)

Mutating Backround (200 NC)

Neovian Twilight Background
(200 NC)

Non-Ionizing Lab Ray Pants
(150 NC)

Non-Ionising Lab Ray T-Shirt
(150 NC)

Pointy Claw Slippers
(100 NC)

Pumpkin String Lights
(150 NC)

Spooky Portrait Hall Background
(200 NC)

Spooky Spyder Top
(150 NC)

Spyder Web Dress
(250 NC)

Subservient Sentient Stones
(150 NC)

Trick or Treat Doorstep Background
(200 NC)

Wings of Darkness
(150 NC)
Notes:
You can only get three Halloween Goodie Bags overall.
When you open your Goodie Bag, it will disappear.
As soon as you get one type, you will not see that type restock again.
Also, you cannot sell / trade / send Halloween Goodie Bags, since they are NC items.
However, you can put them in your Saftey Deposit Box or your Gallery.
The Halloween Goodie Bags are in a box separated from your inventory (scroll all the way down in your inventory to see them), so no Random Events (such as the Pant Devil or the Grundo Leader) can harm them.
You are not allowed to get the Halloween Goodie Bags on your
side account
, since you also get normal NP prizes, and it's considered earning NP on your side.
To see which Bags you already have, check your
NC mall album
.
(You'll have to check all the boxes in your
Album Management
, first. )
If you have any questions, or information to add about the prizes, please neomail
uber_ruti
.