Island Mystic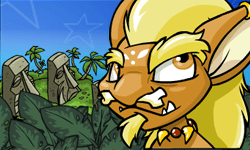 What you need to know!
The Island Mystic is a Kyrii who has a hut located on Mystery Island, as shown on the map below. When you give him a visit, he will provide you with your very own fortune!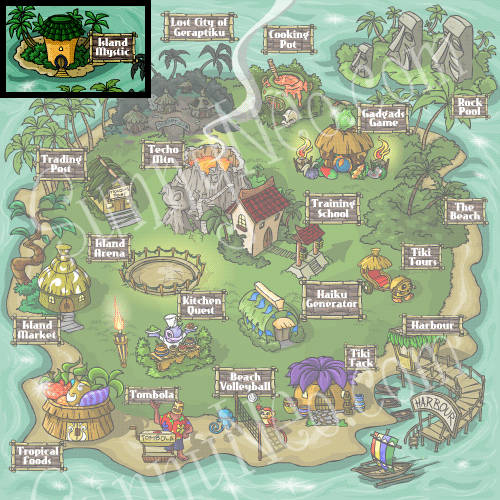 Every single day, the Island Mystic will have a new fortune for you. You may visit him multiple times throughout the day, but the fortune he provides for you will remain the same throughout the entire day. The fortune that is generated is randomly chosen from a string of words, and has nothing to do with what will actually happen to you that day. The page you see when visiting him is very simple, but a preview is nonetheless provided for you below.
The Mystery Island Mystic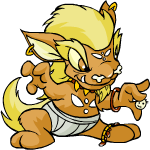 Welcome to my little hut. Ahh, I guess you came here to have your fortune told, eh? Well... here it is...


You will reveal some of your Neopoints at the Food Shop.


Remember to come back tomorrow!!!

Create your own fortune
The drop-down menus below contain all of the possible phrases that are pieced together to create a fortune. You can come up with your own!
Avatar
The only real point of visiting the Island Mystic is to try and get the avatar. It's completely random, which means it can take anywhere from one visit up to months and months of visits to get it. Your fortune must have the word "Kyrii" or "Kyries" in it in order to get the avatar.

Appearances
The Island Mystic used to be some unknown creature, until he fell into the Cooking Pot and transformed into a Kyrii.


The Island Mystic first appeared when the Arrival of Virtupets came about on August 16th, 2000. The Island Mystic asked for codestones from users to decode a message from the Space Faerie.

He also appeared in Sacrificers. You can see him on the dock when Monster Boy was sacrificed.

He was also apart of the Mystery Island Volcano Plot. The Island Mystic, along with others, was entrusted to hold a magic seal over the volcano. He was 3rd to disappear along with the Tiki Tour Guide.


Notable NT Editorials