NC Challenge
Starting Altador Cup IV, TNT began to hold NC Challenges. They are similar to previous game-based NC Challenges, you need to buy a ticket at the NC Mall. With this ticket you could compete in various challenges during the Altador Cup. When successfully completed all the challenges and you received an exclusive bonus Neocash item prize.


Altador Cup XVIII
The Altador Cup XVIII's NC event is called
Altador From the Clouds
.
Welcome to...Altador from the Clouds...again! Last year's event was so extravagant we decided to do it again! Come aboard this wonderful flying ship with an extraordinary view of the Colosseum and delightful treats- all proudly sponsored by Kiko Lake. Because who else could host a glass-bottom boat tour better than Kiko Lake? The game is so much more riveting from up here! And if you get tired of watching the game, just look around and admire the glorious city of Altador. Not to mention the wonderous goodie bags you get for visiting each day! Grab your boarding pass from the NC Mall to join!

Altador from the Clouds 2023- 1 Day Boarding Pass
150 NC

Altador from the Clouds 2023- 7 Day Boarding Pass
700 NC

Altador from the Clouds 2023- 28 Day Boarding Pass
2000 NC
In addition to this, you can redeem items more than once. You are also allowed to do this event on side accounts.
Also, there will be bonus items. For redeeming your 8th, 17th and 28th unique prizes you will be a special bonus item with the last day having two bonuses instead of only one. This means if you redeem each separate prize for the whole event, you will end with four bonus items. You will only get these prizes when you redeem 8, 17, and 28 unique prizes. So if you spend your 28 pack on mutliples of one prize, but not on all 28, you will miss out on the final bonus.
Participating
You can purchase the Boarding Pass in the NC Mall. Once you purchase it, you can use the Boarding Pass and activate it.
Once it has been activated, you'll get access to the Altador From the Clouds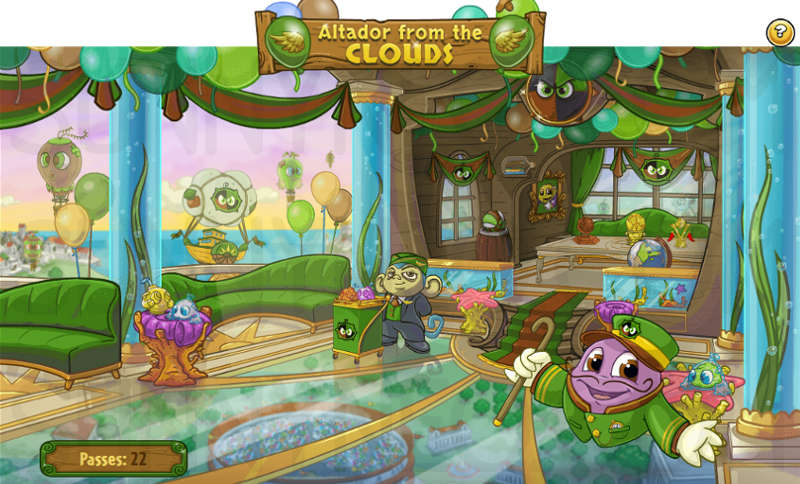 Daily prizes
To get your daily prize, simply visit the Altador From the Clouds area. If there is a new item available, which will be the case every day, it will show up as an open treasure chest. Click on the chest to claim your prize.
FAQ
1. What is the Altador from the Clouds event?
This is an exclusive event for anyone who wants to take a break from the noisy stands of the Colosseum and watch from above with an amazing view, mingle with friends and fans, or celebrate their team's victory for the day. This is a party on a special flying boat that has been generously sponsored by Kiko Lake! It's got an exquisite glass bottom, wonderfully lavish decor, outstanding views, and exclusive goodie bags to collect every single day you board. To join in, you must purchase a boarding pass and activate it from either your inventory or the main hub page. Then come back to the page each day, beginning June 6th to claim your prizes.
2. Where do I purchase the boarding passes?
Boarding passes for the event will be available at the NC Mall starting June 6th, 2023.
3. How long will the Altador from the Clouds event run?
Boarding passes for the event will be available in the NC mall until the 23rd of July. You can purchase and activate your boarding passes until this date; however, you can claim your prizes when you visit the Hub Page up until the next Altador Cup NC Event.
4. How do I activate my boarding pass?
You can activate it from the main hub page by clicking on the item you want. You can also activate your boarding pass from your inventory by clicking "Activate boarding pass" from the drop-down menu.
5. When can I start collecting prizes?
Starting June 6th you will be able to claim one prize per day. If you missed collecting on any day you can always return to the main hub to claim those prizes.
6. Is there a time limit for accepting my daily prize?
No, there is no time limit for when you'd like to claim the daily prizes.
7. Can I get multiples of the same item?
Yes, once an item is unlocked on a certain day you will be able to collect multiples of the same item, provided you have the activated boarding passes. You will need a boarding pass for each duplicate. Once you have bought the boarding passes, activate them from your inventory or head to the main hub and click on the item you want.
8. Is there a bonus prize for participating in the Altador from the Clouds event?
Yes. You can get 4 unique bonus items. They will be awarded for claiming your 8th, 15th and 28th prizes (there will be 2 bonus prizes on day 28). You cannot get the bonus prize by buying multiples of the same prizes. For example, in order to get the day 8 bonus, you will need to collect the first 8 prizes of the first 8 days of the event.
9. Can I participate in the Altador from the Clouds event on side accounts?
Yes! You may participate in the Altador from the Clouds event on your side accounts. In order to do this, you will need to join a team. Joining a team will automatically give you NP items -- we are aware of this. We are willing to make an exception to our normal rules regarding side accounts in this instance. If you do decide to participate on a side account, however, please discard the NP items you receive and do not participate in any of the Altador Cup games. This would still be considered cheating!
10. How many duplicate prizes can I buy?
You can buy an unlimited number of duplicates of any prize.
11. Can I get duplicate bonus prizes?
Yes! You can get as many bonus prizes as you want for day 8 and 15. Day 28 however, is excluded from this. You will not be granted multiple bonus prizes for completing all 28 days.