NC Premium Collectibles

What are Premium Collectibles?
Starting in January of 2013 (Y15 in Neopia), TNT began awarding monthly premium neocash collectible items. These collectibles are neocash items that essentially act as regular neocash items. However, they are only awarded to premium members. Learn more about premium at SunnyNeo's Premium guide.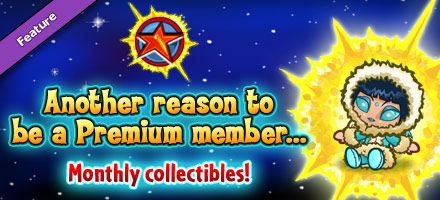 They premium collectibles cannot be purchased through the NC mall and can only be obtained by non-premium members through gifting/trading via gift boxes. On the 15th of each month, each premium user will get a neomail from TNT alerting them to the awarding of their premium collectible, as shown below.




These collectibles are awarded to each premium user with an active membership at the time they are awarded. However, if you subscribe to premium membership on the 1st of July (for example), you will automatically be awarded the premium collectible that was awarded on June 15th; on July 15th, you will also be awarded that month's premium collectible with all other premium users.

[ Y15 | Y16 | Y17 | Y18 | Y19 | Y20 ]


Y20
January 15th, 2018 - February 14th, 2018

Premium Collectible: Joyous Wintery Occasion Background
Customisation Zone: Background


February 15th, 2018 - March 14th, 2018

Premium Collectible: Wreath of Love
Customisation Zone: Higher Foreground Item


March 15th, 2018 - April 14th, 2018

Premium Collectible: Raining Pot of Gold
Customisation Zone: Higher Foreground Item


March 31st, 2018 - April 30th, 2018

Premium Collectible: Light Up Rustic Background Item
Customisation Zone: Background Item


May 15th, 2018 - June 14th, 2018

Premium Collectible: Dreamy Garden Patio Background
Customisation Zone: Lower Foreground Item


May 31st, 2018 - June 30th, 2018

Premium Collectible: Doorway to the Ocean Background
Customisation Zone: Higher Foreground Item