Hidden Tower
What is the Hidden Tower?
The Hidden Tower is a tower in Faerieland in which Fyora the Faerie Queen sells her rare and powerful artefacts to Neopia's elite. The word elite is appropriate because it's no use going there unless you're rich, most of her items cost millions and millions. So if you're planning on buying something there, be prepared to save up a lot of money first.
In June 2007 the Hidden Tower changed, it was no longer opened to people who have accounts under 4 months old. They were redirected to Faerie City if they tried to enter the Hidden Tower. On
April Fools Day 2009
there was a joke that involved the Hidden Tower being closed. Since then the Hidden Tower access changed once more. Now, people with accounts younger than 4 months old can enter the tower, but they cannot buy any items.
In 2010 a new feature was introduced at the Hidden Tower:
Loyal User Perks
. Every third Wednesday of the month there is 3% discount for users with accounts older than 60 months old.
In 2014 a new random event was introduced to the site. If you are lucky enough to get it, you will receive 10% off your next purchase at the hidden tower. This will not stack with the 3% loyal user discount, and does not appear to expire until you use it.
Where is the Hidden Tower?
You will notice that the Hidden Tower is hard to find, hence its namesake. You cannot see the Hidden Tower on the Faerie City map, but it is there, you just need to know where to look to find it. On the image below you can see the exact location.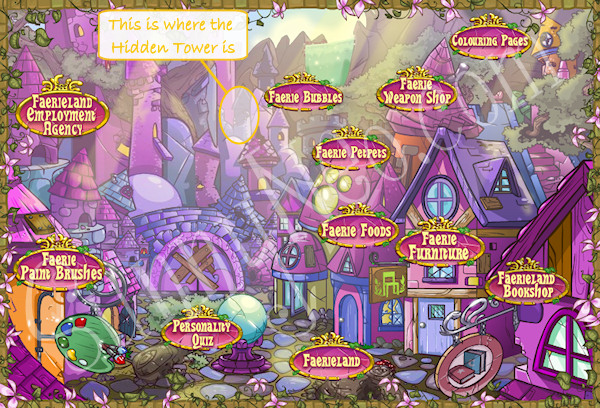 There is of course also a quick URL to the Hidden Tower:
http://www.neopets.com/faerieland/hiddentower938.phtml
Related Avatars:
The hidden tower also has some related avatars you can get.
Neopedia:
For more information about the Hidden Tower you can check the Neopedia. The Neopedia has a great article about the Hidden Tower:
Neopedia : The Hidden Tower
Fyora's sayings:
When you visit the Hidden Tower, Fyora will talk to you. There are different things Fyora can say to you. Below you can see all the options, some of them are rather funny.
My favourite is the Rod of Nova (but I seem to be sold out!)
These magical artifacts are centuries old!
I will add more items to my stock soon!
You could never afford any of these!
You must be strong to wield these items in battle.
You will never lose another battle again!
No, I dont do loans!!!
What does it sell?
A long time ago, when people thought about the Hidden Tower, they automatically associated it with weapons. Not just weapons, but the strongest, the most powerful and the most expensive weapons in Neopia. Back then, nearly all items Fyora sold in the Hidden Tower were weapons.
Not too long ago Fyora decided to start selling other things in the Hidden Tower as well. Paint Brushes, Faerie Dolls, Dubloons, Trading Cards and even Plushies! Right now the Hidden Tower sells a variety of rare and expensive items.
The Hidden Tower isn't like any other shop. It doesn't restock like the regular shops do. The Hidden Tower always has the same items in stock, even if someone buys something, the items in stock stay the same. The only time the Hidden Tower stock changes is if Fyora decides to sell new items. Mostly when she decides to sell some new items, a few others get retired and she stops selling those.
It is also possible that when you visit the Hidden Tower it is closed, Fyora will ask you to come back later. This lasts for an hour and then the Hidden Tower will be open again.
Search
Order By
[
Name
-
Price
-
Type
-
Status
]
<< Previous [
1
|
2
|
3
|
4
|
5
]
Next >>
Name: Air Faeries Fan
Type: Battledome
Status: Retired
Price: 8,000,000 NPs
Release Date: May 3, 2002
Retire Date: Unknown
Description: A wave of her fan and a huge gust of wind is released!
Battledome Info:

This item will do 6 Air icons with 3 Physical icons when used offensively. When used defensively this item will block 5 Physical icons.

Name: Aisha Myriad
Type: Battledome
Status: Retired
Price: 40,000,000 NPs
Release Date: October 16, 2001
Retire Date: Unknown
Description: This is a strange device is made by the Alien Aishas. Why not push a button and find out what happens...
Battledome Info:

This item changes into any current Hidden Tower item selling for one million neopoints or more.


Special Notes: Once per Battle.
Neopedia: Neopedia #124

Name: Amulet Of Thilg
Type: Battledome
Status: For Sale
Price: 8,500,000 NPs
Discount Price: 8,245,000 NPs
Release Date: February 25, 2003
Description: One of the items used to banish the malevolent spectre Eliv Thade!
Battledome Info:

Attack:
This item will do 8 Light icons and 3 Fire icons
Neopedia: Neopedia #189
NT Editorial:

Name: Apron Of The Muffin Man
Type: Battledome
Status: Retired
Price: 5,000,000 NPs
Release Date: August 9, 2001
Retire Date: Unknown
Description: This handy apron originally belonged to the Muffin Man and will destroy any muffins that your opponent might try to use against you!
Battledome Info:

Defense:
This item will destroy all muffins being used against you.

Name: Asparachucks
Type: Battledome
Status: Retired
Price: 8,000,000 NPs
Release Date: September 27, 2002
Retire Date: July 2, 2012
Description: Unleash the power of raw vegetables!
Battledome Info:

Attack:
This item will do 10 Physical icons and 4 Earth icons

Name: Asparagus Dagger
Type: Battledome
Status: Retired
Price: 2,300,000 NPs
Release Date: May 23, 2002
Retire Date: Unknown
Description: Unleash the power of raw vegetables!
Battledome Info:

This item will do 3 Earth icons, 3 Light icons and 1 Physical + 3 Physical icons when used offensively. When used defensively this item will block 5 Dark icons

Name: Baby Paint Brush
Type: Paint Brush
Status: For Sale
Price: 600,000 NPs
Discount Price: 582,000 NPs
Release Date: May 16, 2002
Description: Turn your Neopet into a cute little baby with one use of this magical paintbrush!
Species: Acara, Aisha, Blumaroo, Bori, Bruce, Buzz, Chia, Chomby, Cybunny, Draik, Elephante, Eyrie, Flotsam, Gelert, Gnorbu, Grarrl, Grundo, Hissi, Ixi, Jetsam, Jubjub, Kacheek, Kau, Kiko, Koi, Korbat, Kougra, Krawk, Kyrii, Lenny, Lupe, Lutari, Meerca, Moehog, Mynci, Nimmo, Ogrin, Peophin, Poogle, Pteri, Quiggle, Ruki, Scorchio, Shoyru, Skeith, Techo, Tonu, Tuskaninny, Uni, Usul, Vandagyre, Wocky, Xweetok, Yurble, Zafara - [ See All ]
NT Editorial: #3979 - #4672 - #4804 - #4833 - #4944 - #5252 - #5404 - #7047 - #7229 - #7493 - #12091 -

Name: Bagguss Bomb
Type: Battledome
Status: Retired
Price: 1,750,000 NPs
Release Date: May 23, 2002
Retire Date: June 1, 2011
Description: Tick tick tick tick... BOOM! Limited Use.
Battledome Info:

Attack:
This item will do 3 Earth icons, 3 Fire icons and 1 Physical +3 Physical icons
Special Notes: Can be used once per battle.
NT Editorial:

Name: Balthazar Claw
Type: Battledome
Status: Retired
Price: 8,500,000 NPs
Release Date: October 1, 2001
Retire Date: Unknown
Description: This claw was ripped from the paw of Balthazar the evil Faerie Bounty Hunter.
Battledome Info:

Attack:
This item will do 3 Earth icons, 3 Fire icons, 3 Light icons, and 1 Physical + 3 Physical icons.

Name: Battle Dung
Type: Battledome
Status: For Sale
Price: 5,000,000 NPs
Discount Price: 4,850,000 NPs
Release Date: October 29, 2002
Description: Scoop it up and throw it at your opponent. You may want to wash your hands after each battle!
Battledome Info:

Attack:
This item will do 6 Earth icons and 5 Physical icons

Name: Battle Slices
Type: Battledome
Status: Retired
Price: 1,250,000 NPs
Release Date: Unknown
Retire Date: Unknown
Description: They may look like innocent serrated slices of deli meat, but due to a powerful enchantment they can be thrown to cause massive damage in the Battledome!
Battledome Info:

Attack:
This item will do 5 Air icons and 1 Physical +4 Physical icons

Name: Bent Fork
Type: Battledome
Status: Retired
Price: 350,000 NPs
Release Date: Unknown
Retire Date: Unknown
Description: This small bent fork is a magical totem that will bend the opponents Attack Forks!
Battledome Info:

Attack:
Makes all of your opponent's weapons with "Fork" or "Trident" in the name unusable.
NT Editorial:

Name: Bombaberry Bag
Type: Battledome
Status: Retired
Price: 500,000 NPs
Release Date: Unknown
Retire Date: Unknown
Description: A bag of infinite Bombaberry Elixirs! Now THAT is going to come in handy!
Battledome Info:

Attack:
This item creates two Bombaberry Elixirs.

Name: Box Of Clockwork Grundos
Type: Battledome
Status: Retired
Price: 8,500,000 NPs
Release Date: October 17, 2001
Retire Date: Unknown
Description: How did they cram so many Clockwork Grundos into such a small box???
Battledome Info:

Attack:
When you use this it creates 1-4 "Clockwork Grundo" items (Listed Below).

Name: Bracelet Of Kings
Type: Battledome
Status: For Sale
Price: 3,500,000 NPs
Discount Price: 3,395,000 NPs
Release Date: Unknown
Description: The gold in this bracelet alone must be worth over three million neopoints.
Battledome Info:

Attack (33%):
+

Defense (33%):


Other (33%):
50 HP



Special Notes:
Will either attack, defend or heal.


Limit One Healing Item.

Name: Caparas Battledeck
Type: Battledome
Status: Retired
Price: 2,500,000 NPs
Release Date: February 27, 2001
Retire Date: Unknown
Description: A BattleDeck is a collection of magical BattleCards. It contains an infinite number in fact! You can pull up to three out each turn to throw at an opponent.
Battledome Info:

Attack:
Creates 1-3 random Battle Cards.
Neopedia: Neopedia #66

Name: Cardboard Baby Cabbage Cannon
Type: Battledome
Status: Retired
Price: 3,960,000 NPs
Release Date: November 21, 2001
Retire Date: June 1, 2011
Description: Fires high projectile sprouts at any opponent. Comes with a never ending supply of ammunition!
Battledome Info:

Attack:
Normal Shot:
+
Bullseye Shot:
+
Super Bullseye Shot:
+
Special Notes: Extremely Rare to deal Bullseye & Super Bullseye Shots.

Name: Carrotblade
Type: Battledome
Status: Retired
Price: 8,000,000 NPs
Release Date: March 15, 2002
Retire Date: Unknown
Description: Cybunnies believe that this blade once belonged to the mighty Warrior Cylex, and was used in the battle of the Third Moon.
Battledome Info:

Attack:
+

Name: Cement Mixer
Type: Battledome
Status: Retired
Price: 1,000,000 NPs
Release Date: January 13, 2001
Retire Date: Unknown
Description: The magical cement mixer!!! This will create a stone snowball to throw every round! It also has a chance of breaking.
Battledome Info:

Attack:
Creates a Stone Snowball (Listed Below).

Stone Snowball:
+

Special Notes: There is a 10% chance this weapons will do nothing.

Name: Chia Flour
Type: Battledome
Status: Retired
Price: 375,000 NPs
Release Date: June 5, 2002
Retire Date: Unknown
Description: Throw this bag of magical Chia Flour at an opponent, and see what happens! Its one use however, so make sure you hit!
Battledome Info:

Other:
This weapons will turn your opponent into a Yellow Chia permanently (2-Player Only).


Special Notes: This weapons is one use and will disappear after you use it.
NT Editorial: #691 - #732 - #6768 - #8386 -

Name: Cloud Rod
Type: Battledome
Status: Retired
Price: 5,000,000 NPs
Release Date: Unknown
Retire Date: Unknown
Description: This magical artifact has been donated by the Air Faerie. Once it has been equipped by a pet, it can never be unequipped, or it will vanish into thin air.
Battledome Info:

Attack:
+
Special Notes: This weapon cannot be unequipped.

Name: Commemorative Battle Faerie Axe
Type: Battledome
Status: For Sale
Price: 12,000,000 NPs
Discount Price: 11,640,000 NPs
Release Date: November 9, 2012
Description: This exquisite weapon was based off of Aethias appearance!
Battledome Info:

Attack:
+

Name: Crystal Boomerang
Type: Battledome
Status: Retired
Price: 750,000 NPs
Release Date: January 17, 2001
Retire Date: Unknown
Description: The Crystal Boomerang has a powerful attack! It can occasionally catch on something and either bring that item with it, or it may shatter. Be careful where you throw it! Fragile. Only one stealing item can be equipped to your pet!
Battledome Info:

Attack:
+

Other:
Small chance of stealing.



Special Notes: Limited One Stealing Item.
Neopedia: Neopedia #60
NT Editorial:

Name: Darigan Paint Brush
Type: Paint Brush
Status: For Sale
Price: 1,400,000 NPs
Discount Price: 1,358,000 NPs
Release Date: April 10, 2003
Description: These Paint Brushes were found in Lord Darigans floating citadel!
Species: Acara, Aisha, Blumaroo, Bori, Bruce, Buzz, Chia, Chomby, Cybunny, Draik, Elephante, Eyrie, Flotsam, Gelert, Gnorbu, Grarrl, Grundo, Hissi, Ixi, Jetsam, Jubjub, Kacheek, Kau, Kiko, Koi, Korbat, Kougra, Krawk, Kyrii, Lenny, Lupe, Meerca, Moehog, Mynci, Nimmo, Ogrin, Peophin, Poogle, Pteri, Quiggle, Ruki, Scorchio, Shoyru, Skeith, Techo, Tonu, Tuskaninny, Uni, Usul, Vandagyre, Wocky, Xweetok, Yurble, Zafara - [ See All ]
NT Editorial:

Name: Dr. Sloths Personal Bath Buddy
Type: Battledome
Status: For Sale
Price: 2,000,000 NPs
Discount Price: 1,940,000 NPs
Release Date: January 14, 2012
Description: Its cute AND dangerous. Need we say more?
Battledome Info:

Attack:


Name: Dr. Sloths Personal Body Armour
Type: Battledome
Status: For Sale
Price: 6,600,000 NPs
Discount Price: 6,402,000 NPs
Release Date: January 13, 2012
Description: Well, that somehow explains it all...
Battledome Info:

Defense:
All


Name: Dung Catapult
Type: Battledome
Status: Retired
Price: 3,000,000 NPs
Release Date: April 12, 2001
Retire Date: Unknown
Description: With so much dung about in Tyrannia, why not use it to your advantage in battle?!
Battledome Info:

Attack:
+
Defense:
All


Neopedia: Neopedia #91

Name: Earth Faerie Leaves
Type: Battledome
Status: Retired
Price: 1,700,000 NPs
Release Date: June 11, 2002
Retire Date: Unknown
Description: Ouch - this pair of sharp leaves will return to your hand after throwing... be sure to wear gloves.
Battledome Info:

Attack:
Weaker Hit:
+
Stronger Hit:
+


Special Notes: This weapon CANNOT be searched on the Shop Wizard.

Name: Elegant Princess Amira Cape
Type: Wearable
Status: For Sale
Price: 2,000,000 NPs
Discount Price: 1,940,000 NPs
Release Date: July 8, 2011
Description: What a lovely cape. Possibly from Amiras own personal collection.
Special Notes: This item was accidentally released on October 13, 2010 as a prize from the "Lost Desert Trick-or-Treat Bag". The Neopets Team later replaced this item on users' accounts with different prizes. It was later re-released in the Hidden Tower on July 8, 2011.
NT Editorial:



Name: Enchanted Kiko Squeeze Toy
Type: Battledome
Status: Retired
Price: 544,500 NPs
Release Date: Unknown
Retire Date: July 2, 2012
Description: When this Kiko toy was created, something bizarre happened. It has the power to suck up and deflect ANY water attacks thrown against you!
Battledome Info:

Defense:
All
<< Previous [
1
|
2
|
3
|
4
|
5
]
Next >>