Almost Abandoned Attic


Below you see a timer that counts down until the next time the Almost Abandoned Attic may restock. If you check the 'Alert me' box below the countdown, you will receive an alert 10 seconds before the Attic will restock.



What is the Abandoned Attic?
The Almost Abandoned Attic is a shop that is similar to the Igloo Garage Sale. It will sell items of rarity 80 to 99 at a cheap price.

The price of the items is based on the 'Estimated Value (approx)' that you can see on an item's lookup. See for instance this Mint Chocolate Peophin which would be sold at 342 neopoints. Because the items are sold at their estimated value, this means some items could go up for a real bargain! Even Draik Eggs are known to be sold at the attic.

Each user can buy up to five items each day, after that they are banned from shopping to give someone else a chance of getting an item.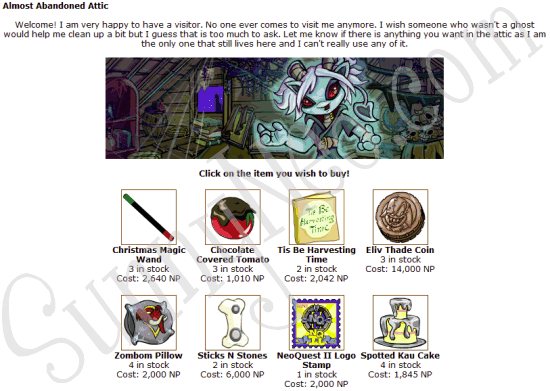 Where would I find the Almost Abandoned Attic?
The attic is situated in the south-west house in Neovia. You can enter it by clicking on the door of the house situated next to the gate.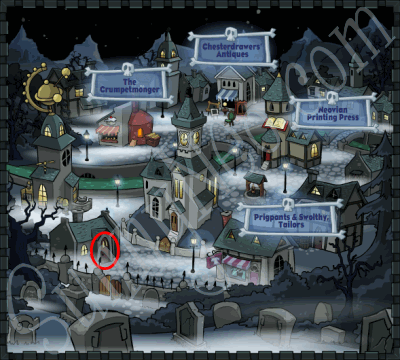 Why can't I access the Almost Abandoned Attic?
The Almost Abandoned Attic is a so called Loyal User Perk, it means it's a little extra for players who have been on Neopets for quite some time now. The attic is only available for users with an account that is at least 3 years old. For more information on Loyal User Perks visit our Account Age Information guide.


How does this attic countdown work?
The attic always restocks at 53 seconds after the minute (it can sometimes be a bit late, so be sure to refresh for a a few seconds past the 53 second mark as well). For instance it may restock at 7:04:53, which is the 53 second after it becomes 7:04 am. The attic also has the possibility to restock every 7 minutes. So it could restock at 7:04:53 and then again at 7:11:53. However, that does not mean that it will actually restock every 7 minutes, it just has the possibility to do so. The attic countdown on this page will show you the first possible time that the attic will restock, this may or may not happen. Once that time has passed, it will automatically show you the next time it will restock. You can also choose to be alerted for a restock by checking the 'Alert me' box.