Edna Project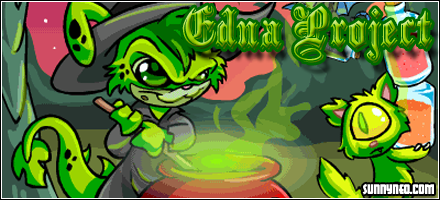 | | |
| --- | --- |
| SN Project Pages | Neopets Edna Links |

READ THIS FIRST! IMPORTANT
If you want to neomail anything regarding this project, please contact the people listed on the Contact Information page!!! Do not neomail random sunnyneo staff members!
SUNNYNEO's HUNT

Sunnyneo is now on the move to figure out once and for all the specifics on obtaining the Edna - Cackle avatar. The following pages are in hopes to solve the riddle.


AVATAR RELEASE

On the 28th of October, 2003 TNT released the Edna - Cackle avatar. Quoted from the news release:

"This spooky avatar would look great on the neoboards. "



Back to top