Daily Dare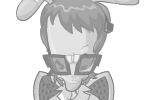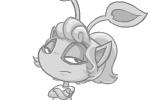 What is Daily Dare?
Daily Dare is a recurring Neopets site event that takes place in the Games Room. It was first introduced in March of 2007, when it ran for one month. If you did not participate in previous years Daily Dare challenges, don't worry! This new round of Daily Dare is independent of the one that took place previously, and it is very fun and easy to participate in. In 2007 Daily Dare was mainly hosted by sponsoring companies, while in 2008 Daily Dare was themed off of a more intricate story (read the story or watch the video).

The event is mock-hosted by Aristotle A. Avinroo, better known as AAA and his little sister Abigail. Daily Dare takes place in the form of challenges that run 30 days in a row. Starting on the first day, a Neopets flash game is chosen daily to be in the challenge. Much like in the game Better Than You, you must then play the game and send a specified score set by TNT. This event is unique though, as there are two different scores that you can choose to try and beat. The preferable score to beat is AAA's. He is better at games than his little sister, so his score will be set higher. Beating his score is a little difficult though, so you can also chose to beat Abigail's score, which is considerably easier. You get to decide each day if you want to challenge AAA or Abigail for the different games. You can only challenge one of them for each game, so chose wisely!

If you want a prize, whichever opponent you challenge is the one you need to beat. However, unlike the 2007 Daily Dare, if you accidentally challenge AAA but are unable to beat his score, you can still get credited for beating Abigail! If you send a score that is higher than Abigail's while trying to beat AAA, it will automatically count as a win over Abigail unless you eventually are able to beat AAA's score for that game. If you challenge AAA but only beat Abigail you will not get your prize until the end of the event. You have unlimited tries for the day, even if you already send your score three times that day, you can still complete a daily dare challenge, you will not rewarded any more neopoints though.

Remember that the cutoff time for sending scores is 12:40AM NST. If open your game window before 12:40, then you won't be able to send your score after 12:40- you'll just get an error message. To prevent this, make sure to close your game window before 12:40 and then reopen it after 12:40. TNT put this cutoff time in place so that people can't just keep the same game window open for days at a time. This cutoff time effects every game, every day, all year round.


SunnyNeo Daily Dare Goodies
We have created some cool Daily Dare goodies for you to use. If you're into Daily Dare, be sure to check out this page for sweet stuff such as adoptables, a userlookup, icons, and a challenge completion counter.






Winning Prizes
Of course, this event wouldn't be as awesome without the prizes. This challenge rewards you generously with different game related items. You can obtain a item prize each day by beating either AAA or Abigail. Beating AAA gets you a better item prize than from beating Abigail. Aside from that, the prizes are the same for everyone for each game. Everyone gets the same prizes though, depending on who you beat. Once you beat either AAA's or Abigail's scores, you have to manually go back to the main Daily Dare page to manually collect your reward. Simply click the little image of the giftbox adjacent to where the score you just beat is listed, and a prize will be rewarded to you. If you send a score and the gift is still faded and therefore you can't click it, you've done something wrong. Make sure you didn't forget to click the button to challenge either AAA or Abigail for the day, and also make sure you sent the right score. At the end of the challenge, extra prizes are also awarded depending on the manner in which you completed the event.






Double Dare
In 2009 a new type of challenge was added to Daily Dare called Double Dare. Each week on a random day there would be such a challenge with the total of five. Basically Double Dare means all or nothing. If you choose to do a Double Dare Challenge you will win both AAA and Abigail's prizes if you are able to beat AAA. Should you fail, you receive nothing.


The Extra Prizes
If you're truly elite gamer, there is an extra prize that you can win at the end of March when the event ends. Don't fret if you're not that good at games though, as long as you at least beat Abigail at every game you will get something. Depending on how you did overall, you will be given one of the following trophies:


Gold - Beat AAA each challenge day.


Silver - Complete all challenges before the end of Daily Dare, beating AAA at least once.


Bronze - Beat Abigail each challenge day.


Participation Medal - Complete one or more challenges.


Mainly, your goal is to beat AAA at everything so you can get the Gold Prize. If you can't beat his score for every game, beat him at least once so you can get silver.
In previous years you had to beat Abi and/or AAA to get the gold trophy, but in 2011 TNT decided that everyone should have the option to get the top prize.
From the Neopian Times Editorial:



The gold trophy will be awarded to players defeating AAA at all the challenges, regardless of the day on which it is done. This year, instead of having multiple trophies for such things as beating the challenges on their release days, there are bonus prizes each day for completing the challenge on the day it's released.


Remember to try to beat either AAA or Abigail every day to earn the daily bonus prize of beating them on the day of the challenge.




Important Tip:
If you're not sure if you can get the AAA score, do not challenge either Abigail or AAA right away. Play the game first and then if you do manage to get AAA's score, minimize the game window, click the button to challenge him, and then send the score.




NC Mall Challenges
For the NC Mall Challenge Daily Dare 2012 Lulu goes on an adventure to find King Roo in The Case of the Missing King. You can read all about Lulu's travels in our Guide.


Staff Tournament
The TNT staff tournament has not yet been announced. Check back later to see what happens!


Team Challenge
In 2011, a new feature was added to the Daily Dare, Team Challenges. To complete the Team Challenge, you'll need to visit the Team Challenge hub. Team Challenges will be made available each Friday through Sunday, beginning Friday. From the Team Challenge hub, follow the prompts to choose your opponent, pick your Neofriend partner, and send an invitation. You must challenge AAA or Abigail from the Team Challenge hub in order to accept the Team Challenge. You might also be asked to accept an invitation from a Neofriend. Once you and your partner beat or match AAA's or Abigail's score (depending upon whom each of you has agreed to challenge), you will be awarded a Team Challenge bonus prize in addition to the regular AAA or Abigail prize for that day. You and your Neofriend will have to best AAA's or Abigail's score prior to midnight the following Monday in order to qualify for the Team Challenge bonus prize. You can visit the Team Challenge Rules or FAQ for more details.


What are the Prizes and Challenges?
By using the navigation below you can view the challenges and prizes of the different Daily Dare events that Neopets has hosted. For the current Daily Dare, if you need help with getting a score to beat Abigail or AAA this section also contains tips and game codes if there are any for each day's game. If you are looking for game related items for your gallery or good items worth investing in due to retirement, be sure to check out previous years for the prizes.


NAVIGATION
[ 2007 | 2008 | 2009 | 2010 | 2011 l 2012 l 2013 ]
[ NC 2012 ]

Coming Soon!
2013 daily dare will hopefully start within the next few weeks. Be sure to check previous years to see what the challenges are like.


Avatar:
On March 26, 2007 around 1:40 pm NST TNT activated the avatar you can see below for participants in the March 2007 Daily Dare. The avatar was not reactivated after that.


| | |
| --- | --- |
| | Gamesmaster Aaa |

This avatar was released in 2007, it has not been released for 2008!

Collect your prize from one of the Daily Dare games, after playing and beating the siblings for 15 or more challenges.
This means you have to beat Abigail 15 or more times, AAA 15 or more times, or a combination of the two of them.

Tip: Check SunnyNeo's Daily Dare page for more information about Daily Dare.

±
neoHTML
Games Master
A R I S T O T L E A. A V I N R O O
neoHTML


siggy


Inviting a friend
Newly released is the option to send a friend a NeoGreeting about Daily Dare. You can see the card by clicking here.


Neopedia:
For more information about AAA and Abigail you can check out either of their articles in the Neopedia.

Neopedia: Daily Dare
Neopedia : Aristotle A. Avinroo
Neopedia : Abigail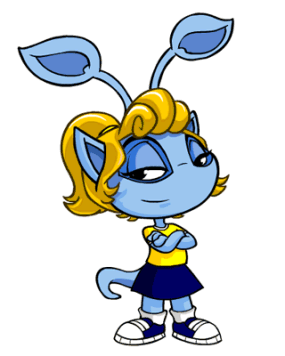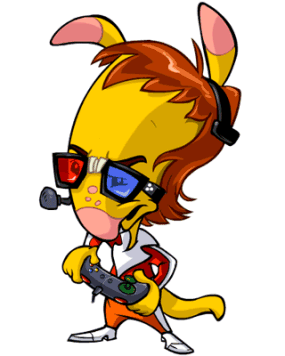 Link Back to Guide
If you would like to link to this guide, you can use the buttons below.
| | | |
| --- | --- | --- |
| | Neopets Page | Other Page |
| | Neopets Page | Other Page |