Lulu Plays Detective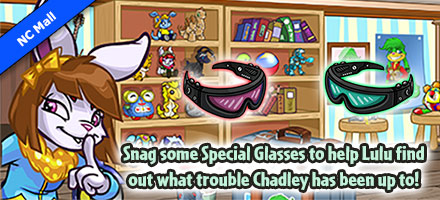 Lulu Plays Detective is the NC activity for Daily Dare 2017.

How Do I Participate?
You can participate in Lulu Plays Detective by buying special glasses in the NC Mall. These glasses will allow you to read the notes written in invisible ink from Lulu to Abigail. You need a pair of glasses for each of the notes if you want to collect all the items. You can only apply one pair of glasses for each note once, so it's not possible to get the prize for day 1 twice, for example.

**NOTE** Buying a single pair of glasses when you plan on reading all 20 notes will cost you 3,000 NC. You save 50% when buying in bulk which isn't always the case.



Special Glasses 20-Pack
1,500 NC

Special Glasses 10-Pack
800 NC

Special Glasses 5-Pack
500 MC

Special Glasses 1-Pack
150 NC


How Do I Activate My Glasses?
After purchasing your Glasses at the NC Mall, go to your inventory to activate them.

You can now go to Lulu Plays Detective page. Here you will be presented with a note. Every day, you will be able to choose another note to read revealing an NC item.


Day 1

March 20-21

Day 2

March 22

Day 3

March 23

Day 4

March 24


Green Flame Wig

(Click to Preview)


Pretty Mirror with Faerie Lights

(Click to Preview)


Stacked Photo Frames

(Click to Preview)


Table with Secret Compartment

(Click to Preview)

Day 5

March 25

Day 6

March 26

Day 7

March 27

Day 8

March 28


Crime Scene Tape Scarf

(Click to Preview)


Lipstick Fence

(Click to Preview)


Screw Flower

(Click to Preview)


Diet Neocola Can Bangle

(Click to Preview)

Day 9

March 29

Day 10

March 30

Day 11

March 31

Day 12

April 1


Crawling Turdle

(Click to Preview)


Beautiful Green Painting Background

(Click to Preview)


Green Printed Dress

(Click to Preview)


Dust Dress

(Click to Preview)

Day 13

April 2

Day 14

April 3

Day 15

April 4

Day 16

April 5


Green and Blue Wavy Mohawk

(Click to Preview)


Vintage Watch Dial Necklace

(Click to Preview)


Swaying Punching Bag

(Click to Preview)


Poker Handbag

(Click to Preview)



Bonus item
On April 9th 2017 you got a bonus item for helping Lulu in her search.



Note Images
Each day Lulu shows you a note you can read. When you haven't used a pair of glasses they appear blank and when you've read the note, you see the message.







FAQ


Can I claim NC item prizes for a single day more than once?
No, unfortunately prizes can only be claimed once per day on each account.

Can I gift a pair of Special Glasses to another user?
Yes. Glasses are like any other NC item and are giftable via a NC Gift Box (one item per NC Gift Box).

Can I participate in Lulu Plays Detective on side accounts?
Yes, you can participate in Lulu Plays Detective on side accounts.

I gave Lulu a pair of glasses, where is my prize?
Once you have a pair of glasses, youíll be able to read a hidden message among Luluís notes to Abigail and your prize will be placed in your inventory.

Iím trying to activate additional glasses packs, why isnít working?
Please keep in mind, you will only be able to claim a prize for each day once. If you have already activated a Special Glasses 20-Pack you will not be able to activate any more. An exception to this is if you activate more packs in order to reach 20 glasses activations. For example, if you activated a 10-pack and then a 5-pack, you will be able to activate another 10-pack in order to reach 20 activations. Unfortunately extra activations cannot be redeemed or returned as you can only collect up to 20 prizes in this event.

Is there a time limit for claiming my daily NC prize for Lulu Plays Detective?
Yes, to see what Lulu will discover during her sleuthing, youíll need to claim your prizes by April 9th, 2017.

What is Lulu Plays Detective?
Lulu Plays Detective is an NC Mall event where you get Special Glasses to help reveal hidden message inside the notes Luluís written to Abigail! Purchase a Special Glasses Pack to get started and earn all-new NC prizes!

What is the duration of Lulu Plays Detective?
Lulu Plays Detective is an NC Mall event where you get Special Glasses to help reveal hidden message inside the notes Luluís written to Abigail! Purchase a Special Glasses Pack to get started and earn all-new NC prizes!

Where do I purchase a Special Glasses Pack?
Visit the NC Mall to purchase a Special Glasses Pack. Be sure to activate it in your inventory before visiting the Lulu Plays Detective page to claim your prizes.

Will I be able to collect NC item prizes for days that have passed and I missed collecting from?
Yes, prizes can be collected on days that have passed or on that day.








Copyright 2000-2018 Neopets, Inc. All Rights Reserved. Used With Permission
Content © 2006-2018 the SunnyNeo.com team