Festival of Neggs
What is the Festival of Neggs?
Beginning March of 2010 (month of Running, Y12), Kari the Negg Faerie started hosting a daily activity called the
Festival of Neggs
.
History
In April 2009, Rosie the Dancing Grarrl hosted the Springtime Celebration at the same time of year. The event included a daily gift and Negg Hunt, prizes were a mixture of neopoint and NC items. Click on the "2009" below for a complete list of Springtime Celebration 2009 activities.
In the years 2010 and 2011 there was also a NC Mall activity called
Neggstravaganza Surprise
.
The NC Mall activity for 2012 can be seen at
Edolie's Phantastic Finds
.
The NC Mall activity for 2013 can be seen at
Bloomin Neggs
.
The NC Mall activity for 2014 can be seen at
Bloomin Neggs 2014
.
With the navigation below you can see the prize lists of different years.
[
2009
|
2010
|
2011
|
2012
|
2013
|
2014
|
2015
|
2016
|
2017
|
2018
|
2019
]
2019
Festival of Neggs
Negg Hunt
|
Mysterious Magical Neggs
The 2019
Festival of Neggs
began on April 8th, 2019.
Each year, as winter draws to a close, the Festival of Neggs turns everyone's attention toward this most magnificent and versatile of all Neopian foods. Offering a bountiful array of Negg-inspired activities and treats, in just a few years this celebration has quickly become one of Neopia's most popular events.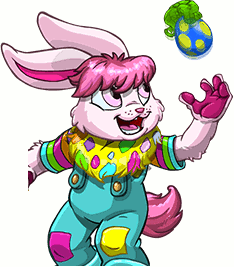 Bonus Prizes
At the end of the Negg Festival, extra prizes were handed out to everyone who participated in the event.
Prizes
Collected at least one negg



Negg Smoke Bomb
Battledome
Collected all neggs



Topsi Plushie
Toy
Collected all neggs on release day


Festival Negg Collectable Charm
Stamp
In addition to these item prizes, everyone who participated and didn't already have it was awarded the
Festival of Neggs Site Theme
.
Negg Hunt
Every day, you will be able to find Topsi based off a clue who will offer you one of three neggs. Each negg has different prizes. There is a daily tracker for this event which increases by one each day you participate. If you missed a day of the event, you can go back to the links from the previous day(s) and collect your prize.
April 8th and 9th
Clue: Brr! Its cold, and full of Ice. To get out of his cave you won't have to be told twice.
Location: Snowager
April 10th
Clue: Think you need an extra push? Your next Negg is in a berry bush.
Location: Pick Your Own
April 11th
Clue: Some say a story can take you away, but books still need a place to stay.
Location: Moltaran Books OR Booktastic Books
April 12th
Clue: I'm hungry! I'm hungry! Please feed me something nice! Preferably something that's made of ice!
Location: Super Happy Icy Fun Snow Shop
April 13th
Clue: Is this the end? Oh no, its NOT. Try a place where it gets very HOT!
Location: Moltara Caves OR Mystery Island Volcano
April 14th
Clue: Along with this Negg is a gift for you! This one's easy, its near a Roo!
Location: Roo Island Merry Go Round OR Roo Island Souvenirs
April 15th
Clue: You don't have to search very far or long, the next one is where you sing along to a song!
Location: Concert Hall
April 16th
Clue: Diddley doo, diddley dee. The next Negg is where you find coffee and tea.
Location: The Coffee Cave
April 17th
Clue: Wow! You're really good at this, so here's a harder one. This Negg is waiting where cooking is done.
Location: Cooking Pot OR Kelp
April 18th
Clue: Remember to play fair, your next Negg is in a lair!
Location: Mysterious Symol Hole OR Deserted Tomb
April 19th
Clue: Vroom Vroom! Off you go! Your next Negg is in the General Store.
Location: General Store
April 20th
Clue: Golly and gosh! You are good at this! The next Negg is where a Mortog you will KISS!
Location: Kiss The Mortog
April 21st
Clue: Itchy Scratchies, Cricky Neck, Chickaroo. If you need medical aid, this is where you go.
Location: The Neopian Hospital
April 22nd
Clue: Pillow is where you rest your head, not in your Neohome but in a hotel instead.
Location: Grand Neopian Neolodge
April 23rd
Clue: Ears help you hear and eyes help you look, find your next Negg where you use bait and hook!
Location: Ye Olde Fishing Vortex
Choose Your Negg
When visiting a location with Topsi, you will be given the choice of receiving a random prize from three different neggs. Once chosen, the prize will automatically be added to your inventory.
If you receive a prize not listed, please contact us
Filled Negg Prizes

Hand Painted Negg

Eu De Negg
Food

Negg Tea Set
(Click on the image to preview)



Odd Negg Out
Book

Paint Splatered Negg

Neggy Treats
Food

Rotten Negg Soup
Food

Spring Fields
(Click on the image to preview)



Speckled Negg

How to Prevent Your Neggs from Getting Stolen
Book

Spring Magaral
Petpet

Springtime Negg Snowglobe
Gift

Squeegee Painted Negg

Chocolate Filled Negg
Food

Fancy Negg Plushie
Toy

Negg Hat
(Click on the image to preview)



Watercoloroured Negg

One Eyed Negg Monster Wind-up Toy
Toy

Pretty Negg Shield
Battledome

Negg Stand Foreground
(Click on the image to preview)


Mysterious Magical Neggs
The
Mysterious Magical Neggs
can be found following the same clues you get for finding Topsi.
To unlock the prizes within you sprinkle the negg with
Mystical Magic Dust
, which you can buy in the
NC Mall
. Each Negg contains 5 NC wearbles, so you will need 5 bottles of Mysterious Dust to get all 5 prizes from that Negg.


Mystical Magic Dust
125 NC
Mysterious Magical Neggs

Sunny Side Up Negg

Cotton Candy Clouds
(Click on the image to preview)



Floral Frame
(Click on the image to preview)



Negg Nursery
(Click on the image to preview)



Rose Coloured Glasses
(Click on the image to preview)



Wheelbarrow of Spring
(Click on the image to preview)


Bonus Prize
(for completing the Sunny Side Up Negg)

Flowers of Surprise
(Click on the image to preview)



Retro Negg

Bell Bottoms
(Click on the image to preview)



Groovin Record Player
(Click on the image to preview)



Rainbow Striped Vest
(Click on the image to preview)



Swingin Style Wig
(Click on the image to preview)



Tapestry Backdrop
(Click on the image to preview)


Bonus Prize
(for completing the Retro Negg)

Pastel Roller Skates
(Click on the image to preview)



Whimsical Negg

Enchanting Village Background
(Click on the image to preview)



Faerie Light Curtains
(Click on the image to preview)



Flower Garden Arch
(Click on the image to preview)



Magical Butterfly Wig
(Click on the image to preview)



Mystical Makeup
(Click on the image to preview)


Bonus Prize
(for completing the Whimsical Negg)

Staff of Whimsy
(Click on the image to preview)