2016
Festival of Neggs
Negg Hunt
|
Mysterious Magic Neggs
The 2016
Festival of Neggs
began on March 24th, 2016.
Each year, as winter draws to a close, the Festival of Neggs turns everyone's attention toward this most magnificent and versatile of all Neopian foods. Offering a bountiful array of Negg-inspired activities and treats, in just a few years this celebration has quickly become one of Neopia's most popular events.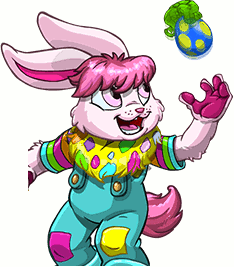 Bonus Prizes
At the end of the Negg Festival, extra prizes were handed out to everyone who participated in the event.
Prizes
Collected at least one negg



Easter Chick Candy
Collected all neggs



Fancy Cybunny Mask
(Click on the image to preview)


Collected all neggs on release day


Quaint Negg House Background
(Click on the image to preview)


Negg Hunt
Every day, you will be able to find Topsi based off a clue who will offer you one of three neggs. Each negg has different prizes. There is a daily tracker for this event which increases by one each day you participate. If you missed a day of the event, you can go back to the links from the previous day(s) and collect your prize.
March 24th and 25th
Clue: I'm not too sure why a Cybunny would need extra furs.
Location: Merry Outfit Shop
March 26th
Clue: Is a picture really worth a thousand words? How would you know for sure?
Location: Art Gallery or Storytelling Competition
March 27th
Clue: Fortunate is the one who understands that there's no one quite like Topsi the Cybunny.
Location: Wise Old King
March 28th
Clue: There are many ways to get a weapon - this one's pretty unusual.
Location: Coltzan's Shrine
March 29th
Clue: Topsi loves greenery, and often looks for secluded areas where he can enjoy nature in peace.
Location: Illusen's Glade
March 30th
Clue: Stay in Kyruggi's good books, and you won't have any trouble looking for Topsi here.
Location: Tyrammet Village
March 31st
Clue: The last he was seen, Topsi was muttering something about needing a new Katana.
Location: Wonderous Weaponry
April 1st
Clue: Neggs aren't the only things you'll find here!
Location: The Money Tree or The Meridell Rubbish Dump
April 2nd
Clue: Topsi said he wanted a new buckle for his overalls.
Location: Cog's Togs
April 3rd
Clue: Well-off Neopians can enjoy a sumptious meal once they've collected their Negg today.
Location: Kelp
April 4th
Clue: Read about the historic battle between an evil Grarrl and a heroic Lupe as you poke around for Topsi.
Location: Tyrannian War Memorial
April 5th
Clue: A Chia with knowledge of magic may be able to help you out today.
Location: Magical Marvels
April 6th
Clue: You probably shouldn't follow Topsi here, unless you're the adventurous kind.
Location: Keep Out! or The Haunted House!
April 7th
Clue: Will you find a Negg or ancient treasure today? If you're lucky, you could get both!
Location: Deserted Tomb or Buried Treasure
April 8th
Clue: Before you go looking for Topsi, you should probably go looking for yourself.
Location: Faerie Personality Quiz
Choose Your Negg
When visiting a location with Topsi, you will be given the choice of receiving a random prize from three different neggs. Once chosen, the prize will automatically be added to your inventory.
Filled Negg Prizes

Carrot Negg

Carrot Floor Lamp
(Click on the image to preview)



Carrot Skirt
(Click on the image to preview)



Negg-Filled Carrot Basket

Chocolate Negg

Chocolate Cybunny Plushie

Chocolate Dipped Strawberry Carrots

Chocolate Neggs Foreground
(Click on the image to preview)



Cybunny Negg

Cybunny Wind Up Toy

Patterned Cybunny Garland
(Click on the image to preview)



The Festival of Neggs Cybunny

Flower Negg

Flower Teapot
(Click on the image to preview)



Galaxy Hair with Flower Accessory
(Click on the image to preview)



Jelly Bean Flower Cookie

Food Negg

Easter Cake
(Click on the image to preview)



Easter Caramel Latte

Easter Treats Stamp
Mysterious Magic Neggs
After skipping the NC activity for the Festival of Neggs last year, it has now returned in the form of
Mysterious Magic Neggs
. The Mysterious Magic Neggs can be found following the same clues you get for finding Topsi.
To unlock the prizes within you sprinkle the negg with
Mysterious Dust
, which you can buy in the
NC Mall
. Each Negg contains 5 NC wearbles, so you will need 5 bottles of Mysterious Dust to get all 5 prizes from that Negg.


Mysterious Dust
125 NC
Mysterious Magic Neggs

Classic Magical Negg

Checkered Shirt with Floral Tie
(Click on the image to preview)



Glittery Negg Accessory Wig
(Click on the image to preview)



Hanging Neggs Trellis
(Click on the image to preview)



Negg and Flower Filled Planter
(Click on the image to preview)



Stylish Yellow Trousers
(Click on the image to preview)


Bonus Prize
(for completing the Classic Magical Negg)

Wire Basket of Neggs
(Click on the image to preview)



Earthy Magical Negg

Earthy Negg Vine Foreground
(Click on the image to preview)



Flowering Vine Sandals
(Click on the image to preview)



Green Negg Glass Wings
(Click on the image to preview)



Pastel Green Hair
(Click on the image to preview)



Spring Flowers and Neggs Dress
(Click on the image to preview)


Bonus Prize
(for completing the Earthy Magical Negg)

Enchanted Forest Setting Background
(Click on the image to preview)



Sunrise Magical Negg

Beaded Vase of Flowers
(Click on the image to preview)



Bright Flowers Skirt
(Click on the image to preview)



Easter Tulip Bouquet
(Click on the image to preview)



Golden Winding Necklace
(Click on the image to preview)



Sunrise Negg Hunt Background
(Click on the image to preview)


Bonus Prize
(for completing the Sunrise Magical Negg)

Sunrise Swing
(Click on the image to preview)