2018
Festival of Neggs
Negg Hunt
|
Mysterious Magical Neggs
The 2018
Festival of Neggs
began on March 29th, 2018.
Each year, as winter draws to a close, the Festival of Neggs turns everyone's attention toward this most magnificent and versatile of all Neopian foods. Offering a bountiful array of Negg-inspired activities and treats, in just a few years this celebration has quickly become one of Neopia's most popular events.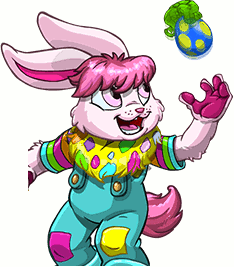 Bonus Prizes
At the end of the Negg Festival, extra prizes were handed out to everyone who participated in the event.
Prizes
Collected at least one negg



Topsi Inspired Negg Dress
(Click on the image to preview)


Collected all neggs



Spring Uniocto
Petpet
Collected all neggs on release day


Decorative Negg Stamp
Stamp
In addition to these item prizes, everyone who participated and didn't already have it was awarded the
Festival of Neggs Site Theme
.
Negg Hunt
Every day, you will be able to find Topsi based off a clue who will offer you one of three neggs. Each negg has different prizes. There is a daily tracker for this event which increases by one each day you participate. If you missed a day of the event, you can go back to the links from the previous day(s) and collect your prize.
March 29th and 30th
Clue: Hop to it, the fun has begun. You will find me where painting is done.
Location: Rainbow Fountain
March 31st
Clue: I'm hiding in a place that can get very hot. You'll also find here a very big pot.
Location: Cooking Pot
April 1st
Clue: This is thirsty work, time for a cool drink. Which should I order, what do you think?
Location: Neocola Machine OR Slushie Shop
April 2nd
Clue: Where next do you need to look? Perhaps somewhere near a book.
Location: Moltaran Books
April 3rd
Clue: Tip toe, tip toe, try to be silent. You'll find me near a big fat giant.
Location: The Snowager OR Turmaculus
April 4th
Clue: A hard one now, you'll have to think. Look for a place where there is a lot of pink.
Location: The Faerie Paint Brushes
April 5th
Clue: Without many leaves to cover me, you'll find me hiding inside a tree.
Location: The Brain Tree
April 6th
Clue: I am hiding out of sight. find me someplace where it is night.
Location: Deserted Tomb
April 7th
Clue: Diddly-do, diddly-dee, here you'll find food for free.
Location: Movie Central
April 8th
Clue: Look hard to find me among the crowd, where chatter and stories are all around.
Location: The Neopian Second-Hand Shoppe
April 9th
Clue: Are you getting hungry? It's time to eat. Neovian goodies are such a treat.
Location: The Crumpetmonger
April 10th
Clue: Hickory dickory dock, the mouse ran to the Rock.
Location: The Rock Pool
April 11th
Clue: Look for me, but don't get stressed. You'll find me where you come to jest.
Location: Grumpy Old King
April 12th
Clue: Off you go! Zoom, zoom, zoom. Search for me in a giant playroom.
Location: Lutari Island
April 13th
Clue: This place is full of delicious eats, maybe this is where you'll find the next treat.
Location: Kelp
Choose Your Negg
When visiting a location with Topsi, you will be given the choice of receiving a random prize from three different neggs. Once chosen, the prize will automatically be added to your inventory.
Filled Negg Prizes

Galaxy Negg

Galaxy Cupcakes
Food

Galaxy Lipstick
(Click on the image to preview)



The Galaxy Book
Book

Jewelled Negg

Bejewelled Blumaroo
(Click on the image to preview)



Jewelled Goblet of Berry Squash
Food

Jewelled Jubjub
Toy

Knit Negg

Knit Glass Cozy
Food

Knit Negg Plant
(Click on the image to preview)



Knit Slippers
(Click on the image to preview)



Origami Negg

Origami Fence
(Click on the image to preview)



Origami Gelert Plushie
Plushie

Origami Ice Cream
Food

Stealthy Negg

Stealthy Eyed Burger
Food

Stealthy Eye Mask
(Click on the image to preview)



Stealthy Foreground
(Click on the image to preview)


Mysterious Magical Neggs
The
Mysterious Magical Neggs
can be found following the same clues you get for finding Topsi.
To unlock the prizes within you sprinkle the negg with
Mysterious Dust
, which you can buy in the
NC Mall
. Each Negg contains 5 NC wearbles, so you will need 5 bottles of Mysterious Dust to get all 5 prizes from that Negg.


Mysterious Dust
125 NC
Mysterious Magical Neggs

Sprouting Flower Magical Negg

Blooming Floral Gown
(Click on the image to preview)



Colorful Floral Handheld Fan
(Click on the image to preview)



Floral Chandelier Display
(Click on the image to preview)



Flower Print Watch
(Click on the image to preview)



Pastel Springtime Decor
(Click on the image to preview)


Bonus Prize
(for completing the Sprouting Flower Magical Negg)

Meadow of Flowers Background
(Click on the image to preview)


-->

Mosaic Magical Negg

Beautiful Locks with Mosaic Feather Wig
(Click on the image to preview)



Charming Mosaic Plant Vases
(Click on the image to preview)



Mosaic Flower Shower
(Click on the image to preview)



Springtime Detailed Pants
(Click on the image to preview)



Stylish Patterned Dress
(Click on the image to preview)


Bonus Prize
(for completing the Cracked Magical Negg)

Mosaic Garden Terrace Background
(Click on the image to preview)



Sparkly Magical Negg

Gorgeous Sequin Springtime Table
(Click on the image to preview)



Pastel Pink Sparkly Top
(Preview coming soon!)



Rainbow Glitter Wig
(Click on the image to preview)



Sparkle and Shine Face Paint
(Click on the image to preview)



The Golden Negg Trinket
(Click on the image to preview)