2015
Festival of Neggs
The 2015
Festival of Neggs
began on March 26th, 2015.
Each year, as winter draws to a close, the Festival of Neggs turns everyone's attention toward this most magnificent and versatile of all Neopian foods. Offering a bountiful array of Negg-inspired activities and treats, in just a few years this celebration has quickly become one of Neopia's most popular events.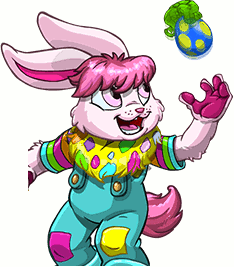 Negg Hunt
Things are slightly different this year. Every day, you will be able to find Topsi who will offer you one of three neggs in two separate locations. Each negg has different prizes. There is a daily tracker for this event which increases by one each day you participate. If you missed a day of the event, you can go back to the links from the previous day(s) and collect your prize.
Choose Your Negg
When visiting a location with Topsi, you will be given the choice of receiving a random prize from either a Candy-Filled Plastic Negg, Toy-Filled Plastic Negg, or Book-Filled Plastic Negg. Once chosen, the prize will automatically be added to your inventory.
Filled Negg Prizes

Candy-Filled Plastic Negg

Baby Bruce Candy Box

Baby Cybunny Candy Box

Baby Peophin Candy Box

Baby Uni Candy Box

Baby Zafara Candy Box

Toy-Filled Plastic Negg

Wind-Up Babaa

Wind-Up Mallard

Wind-Up Snorkle

Wind-Up Snowbunny

Wind-Up Weewoo

Book-Filled Plastic Negg

Baby Chomby Basket Book

Baby Eyrie Basket Book

Baby Lenny Basket Book

Baby Pteri Basket Book

Baby Xweetok Basket Book
Avatar
In order to recieve this avatar, you must have completely filled up your negg tracker bar by collecting 8 neggs on the day of their release. Upon completion of your tracker, you will get the following avatar:
Something Has Happened!
You are now eligible to use 'Negg Basket Cybunny' as an avatar on the NeoBoards!
Negg Baskets
Topsi has also hidden neggs throughout Neopia at random. You can use our
Map links page
, but it appears you find them in your first few clicks around Neopia and not just in these locations. It appears that you can only collect these once per account.
Festive Green and Yellow Negg Basket Prizes

Festive Green and Yellow Negg Basket

Congratulations Negg

I HATE Carrots!

Jhuidah Faerie Doll

Raspberry Chocolate Tuskaninny

Snowbunny Plushie

Spring Burger

Spring Soiree

Spring Green Chiffon Blouse
Click on the image to preview



Spring Topiary Garden Background
Click on the image to preview



Spring Tulip Bouquet
Click on the image to preview


Festive Blue and Pink Negg Basket Prizes

Festive Blue and Pink Negg Basket

Blumaroo Cotton Candy

Dark Chocolate Lutari

Faeries of Spring

Natural Springabee Honey

Negg-citing Tales

Pink Cybunny Skateboard Toy

Spring Green Ruffle Skirt
Click on the image to preview



Spring Topiary Garden Background
Click on the image to preview



Spring Tulip Bouquet
Click on the image to preview


Festive Purple and Yellow Negg Basket Prizes

Festive Purple and Yellow Negg Basket

Aisha Spring Roll

Cotton Candy Adventure

Dark Chocolate Scorchio

Easter Bunny Quiguki

Easy Origami Flowers

Pull Along Snowbunny

Spring Topiary Garden Background
Click on the image to preview



Spring Tulip Bouquet
Click on the image to preview



Springabee Flower Wig
Click on the image to preview



Woodland Cybunny Plushie