2017
Festival of Neggs
Negg Hunt
|
Mysterious Magical Neggs
The 2017
Festival of Neggs
began on April 13th, 2017.
Each year, as winter draws to a close, the Festival of Neggs turns everyone's attention toward this most magnificent and versatile of all Neopian foods. Offering a bountiful array of Negg-inspired activities and treats, in just a few years this celebration has quickly become one of Neopia's most popular events.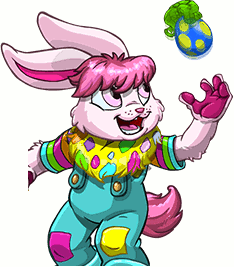 Bonus Prizes
At the end of the Negg Festival, extra prizes were handed out to everyone who participated in the event.
Prizes
Collected at least one negg



Egged Chair
(Click on the image to preview)


Collected all neggs



Negg Museum
(Click on the image to preview)


Collected all neggs on release day


Kari and Topsi Stamp
Stamp
Negg Hunt
Every day, you will be able to find Topsi based off a clue who will offer you one of three neggs. Each negg has different prizes. There is a daily tracker for this event which increases by one each day you participate. If you missed a day of the event, you can go back to the links from the previous day(s) and collect your prize.
April 13th and 14th
Clue: Some Neggs are a little tricky to open...
Location: Mysterious Negg Cave
April 15th
Clue: Looking closely, Kreludor resembles a cracked Negg
Location: Lunar Temple
April 16th
Clue: With all the fog around, Topsi faced a lot of trouble looking for Neggs here
Location: Lutari Island
April 17th
Clue: How would a pre-historic Cybunny's painting look?
Location: Tyrannian Cave Painting
April 18th
Clue: When did the Festival of Neggs begin, you ask? I'm sure that information is archived somewhere.
Location: Altadorian Archives
April 19th
Clue: Topsi's absurd questions are being returned with vague answers.
Location: Igneot's Cavern
April 20th
Clue: There's nothing wrong with that Negg plushie!
Location: Donny's Toy Repair Shop
April 21st
Clue: How do you read ancient scriptures when they're all cracked and faded?
Location: Words of Antiquity
April 22nd
Clue: Throw in a few coins into the water and you may just get what you wish for.
Location: Faerie Caverns OR The Wishing Well
April 23rd
Clue: Topsi likes to posit that he can escape the castle.
Location: The Castle of Eliv Thade
April 24th
Clue: Topsi confused this game stall with the Festival of Neggs one.
Location: Kiko Pop
April 25th
Clue: Why not help Topsi select some nice gifts for his friends while you're here?
Location: Neopian Gift Shop
April 26th
Clue: Eyepatch? Check. Neckscarf? Check. Pegleg? Arrr!
Location: Krawk Island Fashions
April 27th
Clue: Say cheese! No, seriously. Which cheese do you want?
Location: Cheeseroller
April 28th
Clue: And just when you thought that only Neggs were out of this world...
Location: Grundos Cafe
Choose Your Negg
When visiting a location with Topsi, you will be given the choice of receiving a random prize from three different neggs. Once chosen, the prize will automatically be added to your inventory.
Filled Negg Prizes

Avocado Negg

Avocado Cookbook
Book

Avocado Deviled Eggs
Food

Avocado Socks
(Click on the image to preview)



Kari Negg

Negg Faerie Handbag
(Click on the image to preview)



Negg Faerie Pendant
(Click on the image to preview)



Negg Trading
Book

Nesting Negg

Nesting Cybunny Doll
Toy

Nesting Doll Garland
(Click on the image to preview)



Nestled Chocolate Eggs
Food

Nutty Negg

Almond Tart
Food

Basket of Nuts
(Click on the image to preview)



Cashew Eardrops
(Click on the image to preview)



Willow Negg

Backyard Willow Dome Guide
Book

Willow Fence Foreground
(Click on the image to preview)



Willowed Dress
(Click on the image to preview)


Mysterious Magical Neggs
The
Mysterious Magical Neggs
can be found following the same clues you get for finding Topsi.
To unlock the prizes within you sprinkle the negg with
Mysterious Dust
, which you can buy in the
NC Mall
. Each Negg contains 5 NC wearbles, so you will need 5 bottles of Mysterious Dust to get all 5 prizes from that Negg.


Mysterious Dust
125 NC
Mysterious Magical Neggs

Cloudy Magical Negg

Bicycle Planter with Flowering Neggs
(Click on the image to preview)



Blue and Red Dip Dyed Wig
(Click on the image to preview)



Floral Trousers
(Click on the image to preview)



Spring String Garden
(Click on the image to preview)



Tiered White Top
(Click on the image to preview)


Bonus Prize
(for completing the Cloudy Magical Negg)

Babaa with Flowers and Neggs
(Click on the image to preview)



Cracked Magical Negg

Glass Shoes with Flower
(Click on the image to preview)



Glass Wings
(Click on the image to preview)



Glittering Negg Staff
(Click on the image to preview)



Negg Shaped Terrariums
(Click on the image to preview)



Spring Glass Dress
(Click on the image to preview)


Bonus Prize
(for completing the Cracked Magical Negg)

Glass Garden with Neggs
(Click on the image to preview)



Colorful Magical Negg

Bright Butterfly Face Paint
(Click on the image to preview)



Colorful Headband Wig
(Click on the image to preview)



Glowing Negg Tree
(Click on the image to preview)



Knit Negg Bag
(Click on the image to preview)



Pretty Rose Print Dress
(Click on the image to preview)


Bonus Prize
(for completing the Colorful Magical Negg)

Colorful Negg Planter Doorway
(Click on the image to preview)