NC Mall Wonderclaw
On June 16, 2011, Neopets released a game in the NC Mall called
Wonderclaw
. To participate, you first need to purchase Widgets in the
NC Mall
.

Bigsby Shadingtons Wonderclaw Widget 1-pack
150 NC

Bigsby Shadingtons Wonderclaw Widget 5-pack
500 NC

Bigsby Shadingtons Wonderclaw Widget 10-pack
900 NC
To play you first need to activate the Widget in your inventory. Once activated go to the
Wonderclaw
and choose which machine to play. Place your widget in the slot and use your keyboard to move the claw to grab a prize pod within 30 seconds. Hit the space bar to grab the pod. Your prize pod will drop down the chute. Once dropped, click on your prize pod to claim your prize.
There are also power-ups available for sale in the NC Mall. Power-ups are in-game items, so they will not show in your inventory. They will only appear in your game.
Gives you 2 items instead of one:

Large Claw Wonderclaw Power-Up
75 NC
Upgrades your prize one tier:

Tier Boost Wonderclaw Power-Up
25 NC
If you're lucky, you can also get a gold prize pod, which gives you a bonus prize. You can get a gold prize pod with each normal prize pod.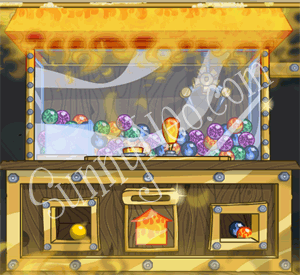 If you used the Large Claw Wonderclaw Power-up, you might even end up with 2 gold prize pods, which means 4 (!) prizes.
MACHINES
Frequently Asked Questions
Can I play the Wonderclaw game on my side accounts?
Yes, since this is an NC only game you can play on your side accounts.
Are we able to gift power-ups?
No. These items are in-game items only. If purchased in the NC Mall or in-game, these will go directly into the game and tallied on your game screen. These items will not go into your inventory.
Do the different color pods mean anything?
The pod colors are just what's picked up in game. The actual color of the pods do not have anything to do with the items or prize tier of the items inside.
How do I know how many power-ups I have?
The count of your power-ups will tally on all of the pages of the game including the main page of the game. The power-up module to the right on the page will tell you the number of power-ups you currently have.
How do I play the Wonderclaw?
To play, first purchase Widget's from the NC Mall. Once in your inventory, the Widget's will need to be activated to play. Once activated visit the play page in the NC Mall, choose your machine and hit play. Once inside the game, place your widget in the slot, then maneuver your claw to grab the best prize pod! Hurry though, you only have 30 seconds! Once you find the pod you like hit the space bar. The claw will drop and grab your prize pod. Your prize pod will drop down the chute. Once dropped, click on your prize pod to claim your prize.
Do Power-up's expire?
No, you can use power-ups any time you like. They do not expire.
My pod landed in the left chute. What does that mean?
Congratulations! That means you got a bonus! You will receive an exclusive bonus item along with a prize from the gold tier.
How many NC items will I get per Widget?
Each Widget can be used to play one game of Bigsby Shadington's Wonderclaw which will get you once NC prize items, unless you have a power-up to use.
Why can't I play Wonderclaw?
You need to purchase a Wonderclaw Widget pack in the NC Mall in order to play the game. The Widgets come in packs of 1, 5, or 10. After purchasing a Widget, activate it by clicking on the Widget in your Inventory and then selecting "Activate Your Wonderclaw Widget Pack" from the drop-down menu. Once your Widget has been activated, select the button "Close and Play Wonderclaw," which will take you straight to the game.
What is the Bigbsy Shadington's Wonderclaw game?
Bigbsy Shadington's Wonderclaw is an all-new NC Mall game. Bigbsy has grown tired of searching the NC Mall for new items, so he's decided to create his own with the Wonderclaw machines. Each machines holds exclusive NC items that can't be found anywhere else! The items that can be won by playing each machine are themed to that machines design. You'll need to purchase Widgets found in packs in the NC Mall to play. Choose a machine, throw in a Widget and see what you get!
How do the in-game Power-up's work?
There are two power-up's to choose from in the game: Tier Booster or Large Claw. These power-up's can be purchased in-game or in the NC Mall. The Tier Booster power-up will allow you to up the tier level of your prize by one tier. So, if you grabbed a wood prize, you would be able to tier boost up to the next tier which is bronze. You still wouldn't know what your prize was, but you would receive a prize from a higher tier level. The second power-up is the Large Claw. Selecting the Large Claw power-up guarantees you grab 2 pods and receive 2 prizes.
I accidentally accepted a Wonderclaw prize that I didn't want. Can I get a refund?
Unfortunately, no. Once you accept a prize, it will automatically go into your Inventory.
Will there ever be more Wonderclaw machines available to choose from?
Yes, every so often Bigsby will create a new machine. When he does this he must take an existing machine away and replace it with a new one. He's pretty good and warning us about that though.
I accidentally used a power-up on accident. What should I do?
Sorry, but once you have chosen to use a power-up you must play through the entire game with it. Please read all prompts in the game before continuing.
Is it OK to give widgets to other users?
Yes, you may give Widgets that have not been activated to other users as gifts using NC Gift Boxes (one Widget or pack per NC Gift Box). Once a Widget has been activated, it can no longer be gifted. Widgets, as with all Neocash items, cannot be sold or traded.
My computer crashed right in the middle of my game. Will I be able to continue right where I left off?
Yes! Please go back to the game page and click on "Click to Play". The game will start up again using the same Widget you were already using when the game ended mid-play.
I forgot to use a power-up during play. Can I get my money back to try again?
No. Please read carefully while playing. If you have power-ups to use, you will be prompted to use them during play. If you do not want to use them please press NO when asked.
Why am I not getting prompts in the game to use power-ups?
In order to use power-ups you must first purchase them either in game or in the NC Mall. Your total tally will show up in game on the right hand side under power-ups. Once you have purchased power-ups you will receive prompts in game to play with them.
Will I earn any Neopoints for playing Wonderclaw?
No, you will only receive the Neocash item prize that you have accepted.
The Wonderclaw game isn't loading properly for me.
If the game isn't loading properly for you, please make sure that your Flash player is updated to the latest version. You can also try clearing your browser's cache. If you are still having problems, your browser may be incompatible with the game.