April Fools Jokes


Why this page?
Every year on April 1st The Neopets Team tries to pull everyone's leg by changing something to the site that is rather radical. For example in 2006 they told everyone they would have to start paying taxes for every page load. We decided to start making a log of TNT's April fools jokes, starting April 1st, 2007. From the years before 2007 we've tried to gather some information to give you insights in the older jokes.

With the navigation below you can go through the April Fools of previous years.

[ 2000 | 2001 | 2002 | 2003 | 2004 | 2005 | 2006 | 2007 | 2008 | 2009 | 2010 | 2011 | 2012 | 2013 | 2014 | 2015 | 2016 | 2017 | 2018]



April 1st, 2018



NeopiaLand
This year, the news announced NeopiLand, the brandnew theme park that was about to be build in China:


We are thrilled to inform you about the groundbreaking ceremony to be held today for NeopiaLand - our very own theme park in Mainland China! Visit here to read all about our plans, see concept art, and get the latest updates.


NeopiaLand was also displayed on a frontpage banner.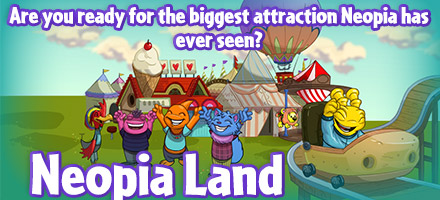 The NeopiaLand info page introduced several attractions that they would be building.



NeopetsTV
Besides Neopialand, a new TV station called NeopetsTV was announced in the news:


Also launching in 2020 is NeopetsTV - a TV station devoted exclusively to all-new Neopets programming! Planning and production is already underway for five shows:

The Tiara: A young Fyora rises to the occasion and accepts the reigns of a magical kingdom that is up in the clouds amidst many challenges. One of them is a dark force looking to bring her down.
Neovia Falls: Twin Shoyrus are sent to spend the summer with their great-aunt Graunty Stacy in the mysterious town of Neovia Falls.
Shenkuu Valley: Reizo, Kaia and three of their friends have capitalized on Kaia's Sight to launch a start-up in Shenkuu Valley that deals in foreseeing and preventing misfortunes.
Altered Kougra: The year is Y300. A Kougra has been brought back from the dead and faces a mission that can prove terrifying.
Cheeky Yurbles: An audacious street gang of Yurbles. A harsh Gelert appointed to stop them and their actions. Tears will be shed.