April Fools Jokes
Why this page?
Every year on April 1st The Neopets Team tries to pull everyone's leg by changing something to the site that is rather radical. For example in 2006 they told everyone they would have to start paying taxes for every page load. We decided to start making a log of TNT's April fools jokes, starting April 1st, 2007. From the years before 2007 we've tried to gather some information to give you insights in the older jokes.
With the navigation below you can go through the April Fools of previous years.
[
2000
|
2001
|
2002
|
2003
|
2004
|
2005
|
2006
|
2007
|
2008
|
2009
|
2010
|
2011
|
2012
|
2013
|
2014
|
2015
|
2016
|
2017
|
2018
]
April 1st, 2013
New Neopets Merchandise
In 2013 Neopets launched a brand new line of Neopets merchandise.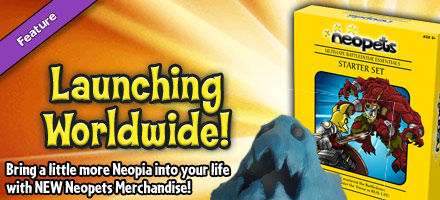 That unfortunately is never going to make it to the shops :( (except for the food, eww...)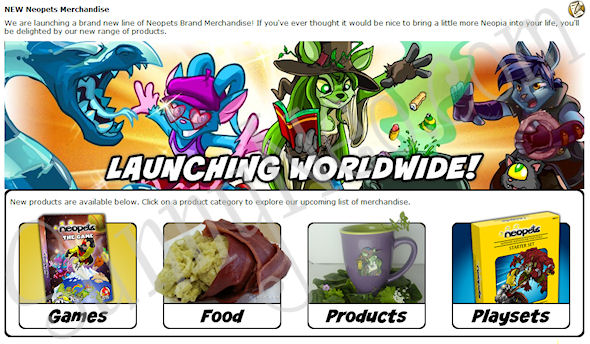 Below you can see all the different products being offered to go up for sal on April 2nd, 2013.
Neopets: The Game
Everything you enjoyed about playing Neopets online is now available offline! Browse the site and play with your Neopet just like normal, but without that pesky Red Pteri interrupting EVER. Explore the worlds of Neopia without wasting bandwidth! Features include the Explore map, the Games Room, and every shop known to Neopia. Meerca Chase II never ran so smoothly!

Best of all, when you're ready to come back online, just click the "Sync" button at the bottom of every page to update your Neopets account, and you're good to go.

PRE-ORDER NOW!
Date Available: April 2, 2013
Bacon and Eggs Ice Cream
Mmm, now you can have breakfast AND dessert at the same time! This hand-crafted cuisine is so authentically Neopian, you'll feel like you're really standing next to the Esophagor when you chow down!
Date Available: April 2, 2013
Beans on Toast
Just how King Skarl likes it! Enjoy Beans on Toast at any time of day, but for a real Meridellian experience, serve this dish for breakfast with water or gruel. Caution: may be hot after heating. Caution: may contain beans.
Date Available: April 2, 2013
Buttered Watermelon
What could be better than fresh watermelon? Buttered Watermelon, of course! Enjoy this classic Neopia Central summertime treat whether temperatures are soaring or it's raining Kadoaties and Doglefoxes.
Date Available: April 2, 2013
Asparagus
Highly rumoured to be the most expensive food in all of Neopia, Asparagus can now be experienced in your own home. Quantities limited; order now to avoid disappointment! (Avatar not included.)
Date Available: April 2, 2013
Deliwich
For the discerning consumer, the Deliwich provides a truly gourmet culinary experience with its subtle blend of delicate flavours. You've always wondered what was really in a Deliwich: is it turkey, or something else? Order one and find out!
Date Available: April 2, 2013
Minced Beef Pretzel
This savoury delicacy combines the sweetness of a sugared pretzel with salty olives and a finely minced topping of beef. Guaranteed to confuse and amuse your mouth. Consume within five months of purchasing.
Date Available: April 2, 2013
Edible Socks
This unique product is recommended for the more extreme culinary adventurer. Made from 100% Babaa wool and hand-knitted to provide a more pleasing texture and chewiness, Edible Socks are best consumed dipped in soy sauce.
Date Available: April 2, 2013
Miniature Giant Omelette
With the Miniature Giant Omelette, you don't have to wait another day to take a second piece. Flavours include Plain, Cheese, Ugga Delight, Marshmallow, and Meat Feast. Sabre-X would be so jealous! Too bad for him, right?
Date Available: April 2, 2013
Olive Marshmallow Taco
The vanguard of Neopian culinary creativity, the Olive Marshmallow Taco is real Neopian fusion cuisine. The mix of sweet and salty will have you ordering another straight away! Available in white flour, spelt, and gluten-free.
Date Available: April 2, 2013
Tax Beast Inventory Management Software
Sorting your stuff can be a chore, but with the Tax Beast Inventory Management Software, you'll get through it in no time! *Fees may be associated with the Tax Beast Inventory Management Software and you may pay excessive taxes for itemising. Please consult your CPA before using.
Date Available: April 2, 2013
Sophie's Stew Flavoured Tea
Nothing gets you going faster in the morning than Sophie's Stew Flavoured Tea. Made from specially processed, locally sourced tea leaves and undisclosed ingredients, spices, and additives, Sophie's Stew Flavoured Tea has an authentic swamp taste that is sure to get you running before you've even finished your cup!
Date Available: April 2, 2013
Esophagor Waste Receptacle
Too many papers cluttering up your desk? Feeding the Esophagor will fix the problem! Admit it; you always wanted to throw that bill in the Esophagor's mouth. Built to withstand hurricane force winds and raging tempests, the Esophagor Waste Receptacle will always be with you when you need a place to stow your less desirable paperwork. Warning: for paper waste only. Food disposal not recommended.
Date Available: April 2, 2013
Children's Snowager Pop-Up Book
Young children will love this sweet bedtime story with its bright, colourful pages and charming story about the misunderstood monster at the heart of the Ice Caves. Share with a child the joy of being blasted by millions of tiny ice crystals, all in the comfort of your own home.
Date Available: April 2, 2013
Lab Ray Scientist Do-It-Yourself Cosmetic Surgery Kit
When you don't want to go out for a professional treatment, this in-home kit is a handy substitute! Designed in the spirit of Neopia's very own Lab Ray Scientist, this REAL LIFE Cosmetic Surgery Kit has everything you need to pull off your own "morphing".
Date Available: April 2, 2013
Autographed Hanso Portrait
Neopia's most charismatic superstar can now be yours... in portrait form, anyway! Display a real, autographed portrait of the legendary thief Hanso in your own home! Comes with certificate of authenticity. Void where prohibited. Owner may be subject to random stampedes of fangirls.
Date Available: April 2, 2013
Ultimate Battledome Essentials First Edition Starter Set
This spring, the Battledome comes to life like never before, as a role-playing board game! This fantastic game includes special Battledome opponents like Valin, Kasuki Lu, the Snowager, and Donny! Choose from Neopia Central and Terror Mountain backdrops, and pick your favourite game piece to represent you on the board.

Game features 8 Battledome weapons and 8 Battledome abilities to choose from! Contents include 6 cardboard pieces and 1 die. For 2 players.
Date Available: April 2, 2013
Click for a larger preview
NC Mall joke
Like the previous years, the
NC Mall
came with it's own prank mystery capsule. This year, it was the TNT Mystery Capsule

TNT used this chance to make a Mystery Capsule dedicated to how awesome they are. Or, like they put it themselves in the capsule's description: TNT is dynamite!
Premium Joke
All premium members also got tricked by this neomail:
Hi!

You may be thinking this Neomail has come early, and you'd be totally right. See, all of our programmers will be out of the office during the regularly scheduled Premium Collectible delivery time so we have to send it out now instead. Because of the change, we made sure this month's collectible was super awesome. So awesome you'll weep tears of joy. So awesome you'll have to explain to everyone around you that the sound you're making is called a "squee". So awesome your hair will spontaneously catch on fire, but like in a good way you know?

Anyway, please check your inventory for your collectible. We think your non-Premium Neofriends will be totally jealous. Enjoy!

- The Neopets Team
They then received a Premium Collectible: Ultimate Cloud Bow, which is supposed to be the Premium collectable for April. But you be the judge, is it really that awesome your hair will spontaneously catch fire?

(Click to preview)
Facebook joke
On
Neopets Facebook
the following was posted. Which is a joke as well.
We have been getting so many questions lately about what the Tiki Tack Man's face looked like underneath his mask. So finally, we decided to talk our artists into updating the Tiki Tack Man's look. Once we get enough Likes, we will be revealing his face here on Facebook before we add it permanently to the site!


Later the joke was revealed:
The mask is off, and the Tiki Tack Man's face has finally been revealed! What do you think?