Raiding the Royal Neopian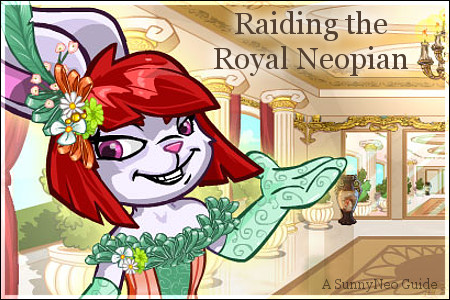 Raiding the Royal Neopian is the NC activity for Daily Dare 2016.

How Do I Participate?
You can participate in Raiding the Royal Neopian by buying Keys in the NC Mall. These Keys will allow you to open doors. You need a Key for each of the doors if you want to collect all the items. You can only apply one Key for each door once, so it's not possible to get the prize for day 1 twice, for example. You can also participate in this event on side accounts.

**NOTE** Buying a single key when you plan on opening all 20 doors will cost you 3,000 NC. You save 50% when buying in bulk which isn't always the case.



Ornate Room Key 20-Pack
1,500 NC

Ornate Room Key 10-Pack
800 NC

Ornate Room Key 5-Pack
500 MC

Ornate Room Key 1-Pack
150 NC


How Do I Activate My Keys?
After purchasing your Keys at the NC Mall, go to your inventory to activate them.

You can now go to Raiding the Royal Neopian page. Here you will be presented with a door. Every day, you will be able to choose another door to unlock revealing an NC item.


Day 1

April 12-13

Day 2

April 14

Day 3

April 15

Day 4

April 16


Royal Neopian Background

(Click to Preview)


Long Braids Wig

(Click to Preview)


Floral Shoes

(Click to Preview)


Watercolour Dress

(Click to Preview)

Day 5

April 17

Day 6

April 18

Day 7

April 19

Day 8

April 20


Rainboot Vases

(Click to Preview)


Pretty Rock Wall Background

(Click to Preview)


Navy Belted Coat

(Click to Preview)


Ice Cream Cone Flowers

(Click to Preview)

Day 9

April 21

Day 10

April 22

Day 11

April 23

Day 12

April 24


Intricate White Markings

(Click to Preview)


Beach Hair with Sunglasses Wig

(Click to Preview)


Military Vest and White T-Shirt

(Click to Preview)


Suede Laced Shorts

(Click to Preview)

Day 13

April 25

Day 14

April 26

Day 15

April 27

Day 16

April 28


Underwater Trinkets Staff

(Click to Preview)


Dark Wavy Hair Wig

(Click to Preview)


Stone Flowers

(Click to Preview)


Beach Umbrella Trinket

(Click to Preview)



Bonus item
On May 2nd 2016 you got a bonus item for helping Lulu in her search.



Door Images
Each day Lulu shows you a door you can open. The doors appear to be the same in look. When you haven't used a key they appear closed and when you've unlocked the door they're open.







FAQ


Can I claim NC item prizes for each day more than once?
No, unfortunately prizes can only be claimed once per day on each account.

Can I gift an Ornate Room Key to another user?
Yes. Keys are like any other NC item and are giftable via a NC Gift Box (one item per NC Gift Box).

Can I participate in Raiding the Royal Neopian on side accounts?
Yes, you can participate in Raiding the Royal Neopian on side accounts.

I gave Lulu a key, where is my prize?
Once you give Lulu a key so she can sneak into the room, your prize will be placed in your inventory.

Iím trying to activate additional key packs, why isnít working?
Please keep in mind you will only be able to claim a prize for each day once. If you have already activated an Ornate Room Key 20-Pack you will not be able to activate any more. An exception to this is if you activate more packs in order to reach 20 key activations. For example, if you activated a 10-pack and then a 5-pack, you will be able to activate another 10-pack in order to reach 20 activations. Unfortunately extra activations cannot be redeemed or returned as you can only collect up to 20 prizes in this event.

Is there a time limit for claiming my daily NC prize?
Yes, to see what Lulu will find at the Royal Neopian, youíll need to claim your prizes by May 2, 2016.

What is Raiding the Royal Neopian?
Raiding the Royal Neopian is an NC Mall event where you get Room Keys for Lulu to help her find AAA's room and secretly help with Project X. Purchase a Ornate Room Key Pack to get started and earn all-new NC prizes!

What is the duration of Raiding the Royal Neopian?
Raiding the Royal Neopian will run from April 12 through May 2.. You can join the event anytime within that period by purchasing a key pack from the NC Mall.

Where do I purchase an Ornate Room Key Pack?
Visit the NC Mall to purchase a Ornate Room Key Pack. Be sure to activate it in your inventory before visiting the Raiding the Royal Neopian page to claim your prizes.

Will I be able to collect NC item prizes for days that have passed?
Yes, prizes can be collected on days that have passed or on that day.








Copyright 2000-2018 Neopets, Inc. All Rights Reserved. Used With Permission
Content © 2006-2018 the SunnyNeo.com team