General Info
Shootout Showdown is a new game for the 4th edition of the Altador Cup. You take control of a Yooyuball player, trying to score penalties against the opponents Keeper.
The aim is to score 5 goals as quickly as possible, within 60 seconds, without missing or letting the keeper save your shots.


How to play
Shootout Showdown is simple to play, but hard to master. The keeper will randomly move between his posts so you have to time your shots carefully. Use the left and right keys to position the ball, then press Space to select the power and direction of your shot.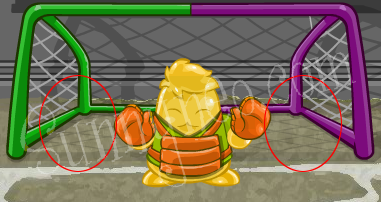 Aim here but not there and not here but there instead

Score
At the end your score is made up of 3 parts. The amount of Goals, your time bonus, and your accuracy bonus. They are added together to give you your final score. You get 35 points for each goal you scored (should be 5 goals always, so 175 points). For your time bonus you get 14 points for every 1 second. So if you finish with 50 seconds left you get a 700 point time bonus. Your accuracy bonus is based on how many goals you got compared to how many shots it took you. If you get a perfect 5 goals for 5 shots, then you get 300 points. If it takes you anywhere from 6-10 shots to get 5 goals, you get 100 points for your accuracy bonus. If it takes you 11 shots or more to score 5 goals, then you get 0 points for your accuracy bonus.

Tips and Tricks
The harder you hit the ball, the faster it will fly, so the harder the better. This game is mostly about luck, shooting when the keeper isn't in the way. Aim for the corners, it's easier to score past the keeper.



Getting full power earns you extra points!

NC challenge
This game is also part of the Altador Cup NC challenge. For each day of the cup you must match or beat the posted score for that challenge to be eligible for the special unique prize. If you successfully complete all 34 game challenges, you will earn an additional, extra-exclusive Neocash item prize! For more information, Read the NC Challenge Guide.




Scoring 5 Goals in 60 seconds should be a peice of Cake...mmm... cake....

It's time to prove you're the master of the Shootout Showdown! Good luck!