Forgotten Shore
What is the Forgotten Shore?
Along the far coast of Krawk Island lies the Forgotten Shore. Treacherous reefs surround the area, and more than one vessel has been lost for daring to approach. Every once in a while, old cargo still washes up onto shore...
The
Forgotten Shore
is a daily activity located in Krawk Island, as can be seen below. After having gained access to the shore, you can visit it daily for the possibility of finding something in the sand. The treasures range from neopoints to Pirate Draik Eggs and more, so it's a daily you won't want to miss out on. If you haven't gained access to it yet, you won't be able to visit the shore at all.
Since this is a site feature that gives out neopoint rewards and prizes, you may
not
play Forgotten Shore on your side accounts. For more information look at our
side accounts guide
.
How do I gain access to the Forgotten Shore?
In order to gain access to the Forgotten Shore, you will have to collect all nine pieces of the Forgotten Shore Map. The pieces - all named "Forgotten Shore Map" - can be obtained from user shops, trades, etc, or from
Anchor Management
. The map is inexpensive, with each piece costing about 20np or so. All 9 pieces are shown below.
After you have collected all 9 pieces, you can visit the
Treasure Map Redemption
page. They will reveal the location of the shore and provide you with a link to the shore, as well as some congratulatory remarks.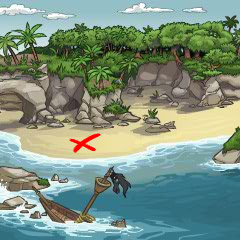 What can I get from the Forgotten Shore?
Once a day, you can visit the shore for a chance to get a prize. Oftentimes, you won't be able to find anything, and you will see the message:
A deserted shore stretches along in front of you, but there's nothing of interest to be found today.
If there is something to be found, then you will see something sticking out of the sand. By clicking on the shore, you will be able to collect a prize. For convenience, the possible prizes have been numbered in the image below. For each type of prize, there are a few different rewards, all listed below.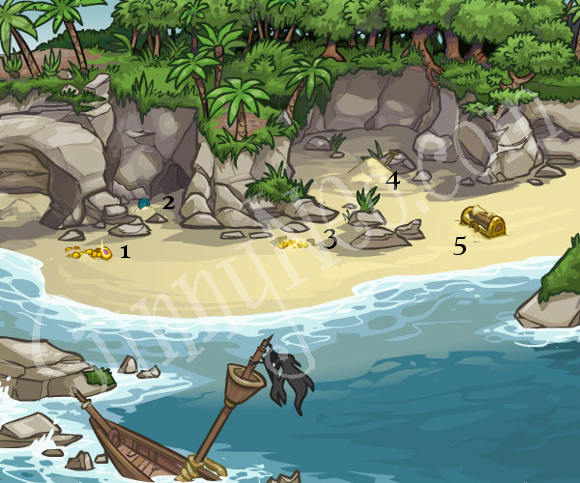 What's this? It looks like you found something buried in the sand...
1: Jewellery
When the gold necklace appears on the left side of the beach, you will win one of the following treasures:
Forgotten Shore Jewelry Prizes
Last Updated: April 08, 2021
Total Items: 13


Amulet of Darkness



Amulet of Fire



Bangles of the Deep



Earrings of the Deep



Enchanted Maraquan Necklace



Flower Circlet



Flower Necklace



Golden Laurel Circlet



Gormball Necklace


View Preview





Hairpin of the Deep



Lava Stone Necklace



Necklace of the Deep



Tiara of the Deep

The Earrings, Hairpin, Necklace and Tiara of the Deep can be placed in your Stamp Album and will appear on the
Treasures of the Deep
page.
2: Coins
If a blue coin appears between the rocks, you can win one of these collectable coins:
These items can be placed in your Stamp Album and will appear on the
Maractite Coins
or
Space Station Coins
page.
3: Neopoints
If there are neopoints laying on the beach, you can win 2,000, 5,000 or 10,000 NP.
4: Miscellaneous Goodies
The big sandpile at the beach indicates a much bigger treasure. You can win one of these three items, or the avatar:
Forgotten Shore Miscellaneous Prizes
Last Updated: April 08, 2021
Total Items: 3


Forgotten Shore Background


View Preview





Pirate Draik Egg



Pirate Krawk Morphing Potion

The first two are the dream of every Neopian. The
morphing potion
can be used on an existing pet to transform him or her into a Pirate Krawk. The Draik Egg can be hatched into a Pirate Draik by visiting the
Draik Nest
.
Meanwhile, as if there weren't already enough
random avatars
, TNT released a Forgotten Shore avatar that is randomly awarded when visiting the Forgotten Shore. If you're lucky enough to get it and are interested in using it, feel free to use the font that accompanies it, shown below.

Forgotten Shore
neoHTML
- - - - - - - - - - - - - - - - - ✘
arr, mate! we´ve found the TREASURE !
neoHTML
siggy
5: Discovered Treasure Chest
Finally, you can find a Discovered Treasure Chest at the beach.

Upon receiving a Discovered Treasure Chest, you have two options. The first is to sell it and make a nice little profit. The second is to open it by letting your pet play with it.
There is a large variety in the prizes you can receive; the ones known are listed below. They are loosely grouped by category and within each category are listed in alphabetical order. Opening the treasure chest will give you one of these items.