NC Mall Customisation
Checkout
SunnyNeo's new Wearables HQ
, our new customisation database to help you with your outfits! We no longer plan on maintaining this page and we'll delete it in the near future
What is Customisation?
On April 26th 2007 Neopets launched their newest project along with a new site layout. The new and prestigious project was that you can dress up (customise) your pets. In order for people to be able to dress up their pets, all the pets had changed their look a little so they would be able to wear the clothes.
There are three types of clothes you can put on a pet, the first are clothes you can buy at several clothing shops in Neopia. The second form of clothing is the one that comes with paint brushes, for example a Royal Paint Brush will give your pet lovely medieval clothes to put on. And the third form of clothing you can buy with real money at the
NC Mall
.
How does the NC Mall work?
At the NC Mall you can buy items that cost real money. In order to buy these items, you must obtain NeoCash, which you can purchase either through paypal, or by buying a neocash card (only available in the US and Canada). 100 Neocash equals 1 dollar. Everyone also get's 150 free neocash just by clicking on the link at the top of the NC Mall. If you're lucky you might even win neocash from the
Qasalan Expellibox
.
In the NC Mall you also find some items that are not wearable, such as Smiley Snacks which make your pet instantly happy, a Neoboard Pen, a Game Ticket, etc. There are also capsules which give you random items worth the same value as the capsule, and sometimes more. These capsules might also give you an exclusive capsule bonus item which can't be bought or a are item code which can be used to unlock the Space Faerie challenger. There are also superpacks which contain many items of a set, some of these items can only be gotten by buying the superpack.
What is on this page?
On this page you can see all items that were ever sold in the NC Mall. Most items are still available, while others are not available anymore. Some of these items might return to the NC Mall later, for instance the items that were once sold in the Holiday Shop, might return to the NC Mall in December.
The items are divided into different categories, the main categories are the categories you can always find at the NC Mall. The speciality categories are the shops that are available temporarily at the NC Mall, some of those might not be available at this moment. Finally, the other categories are ones made up by the SunnyNeo staff, here you can find items that were made but never actually put in the NC Mall, items that you can only obtain from capsules or superpacks and finally a list of all items that are currently no longer in the shop, which are therefore retired.
If you click on an item you can find information about it, how it looks on a pet, what it costs, the description, which capsules you can get it from etc.
If you click on a capsule or superpack you can see which items you can get from it. If you have received an item from a capsule that is not listed or described on our page, please contact
phoenixs_angel
. You may also contact her if a
new
item has come out in the NC Mall, and you have purchased it and want to help us by displaying it on your pet.
Main Categories
Specialty Categories
Site Event Categories
Other Categories
Items
- Or -
Last Updated: November 11, 2018
Number of NC Mall Items: 9733

---
Games Master Challenge 2012 Lulus Masterful Plundering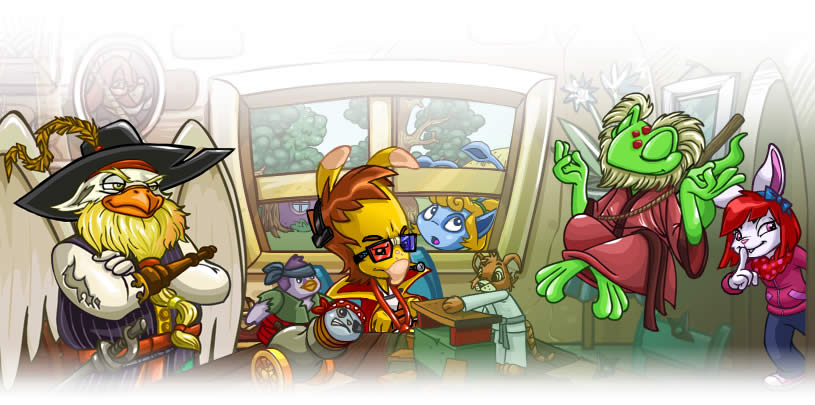 Abigail and AAA's cousin Lulu is back and she's as curious as ever! She won't be rummaging through her cousins' rooms for souvenirs this time, though... since it's Pirate vs. Ninja at this year's Games Master Challenge, she'll be going through the belongings of Cap'n Threelegs and The Techo Master.
Retired
Elite Boutique
Baby Pets
Maraquan Pets
Mutant Pets
Exclusive Only
Superpack Only
Ticket Only
Key Quest Token Only