General Info:
TNT Staff Smasher, or Whack-A-Staff-Member as it was previously called up until January 2008, is an extremely fun and stress relieving game in which you get to smack the heads of various members of The Neopets Team staff. Every once in awhile the Neopets Team will change around the staff members in the game. Aside from that, the game play has stayed the same since it was created back near the beginning of Neopets. The game is a fairly popular Neopia Central game, possibly because of the avatar that you can earn from the game, or more likely due to the fact that you get to hit staff members on the cranium with a mallet in it!
However, the game does have a poor score to Neopoint ratio, as the score needed to get 1,000 Neopoints is well beyond that of what it takes to get the avatar, which is difficult in itself. It's so low, that you get about one quarter of a Neopoint for every point you score! You're probably more interested in a high score or the avatar rather than 1,000 Neopoints though. After reading this guide and with a little bit of practice, you should be able to get the avatar and earn between 600 to 800 Neopoints a game easily. With a lot of work, you might even be able to get on the
high scores
list, or earn one of the game's cool trophies:



How to Play:
This game is rather odd because you are not in control of a character, but rather a floating mallet with seemingly no hand or paw controlling it. Your job is to guide the mallet around the office with your mouse, so that you may whack the different staff members which pop up, kind of like in the arcade game '
Whack-A-Mole
'.

The mallet is set up sort of oddly though, as you must position the bottom of the handle over a staff member's forehead in order for the top of the mallet to come down and smack them. Just picture the bottom part of the handle to be your computer's cursor. The first level will show you where you have to hit because it puts a little red bull's-eye over the handle where the cursor is. After level one, the bullseye will disappear, so make sure you remember its location! Use either the spacebar or the left mouse button to whack a staff member; whichever you prefer. The spacebar tends to be better if you are going ballistic on one of the last levels and are trying to get as much as you can, whereas clicking the left mouse button allows for better precision.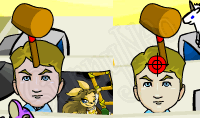 The above image shows the correct position your mallet should be at to hit.
The staff members appear in any of the eight cubicals.

Neopets also appear, which you do not want to hit. Hitting the Neopets will result in you losing points, whereas the staff members each give you a different amount of points. To learn more about each individual staff member and Neopet, scroll down the page to the section on your targets. Your goal is to hit enough staff members to get at least 75 points each level in the thirty second time limit, so that you can progress to the next level. The speed in which the staff members pop up from the cubicles and disappear increases each level. Below is a screenshot which will explain different basic aspects of the game: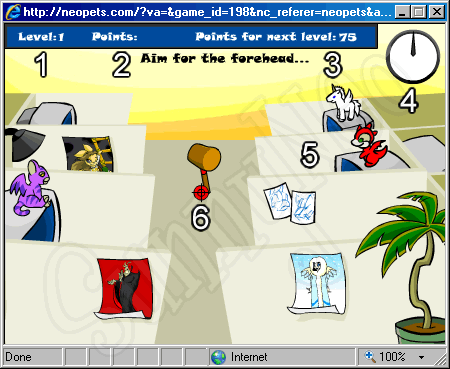 Level: Displays the current level you are on. There are fifteen levels in total, but at level fifteen the staff members go so fast that they don't even rise above the cubicle. Your goal is to beat at least level eleven.
Points: Shows how many points you have racked up, which can be a negative number if you've whacked too many Neopets!
Points Needed: Each level you must get a minimum of an additional 75 points in order to continue. For the avatar, you're going to need a lot more than that. You can learn more about how many points you should get per level in this guide's Scoring Points section.
Clock: The clock in the top right corner of the screen is not your average clock, but rather it is a timer. It only has one hand, and each cycle equals thirty seconds - the amount of time you have in each level.
Cubicle: The staff members and pets will pop up out of one of the eight cubicles. The closer to you the cubicle is, the larger the staff members are, and the easier they are to hit.
Mallet: Use the mallet to hit the staff members. You must click on the staff member's forehead with the end of the handle of the mallet positioned over their forehead.
Scoring Points:
Though the staff members appear randomly, there is a pattern to how many points you can receive each round. It has to do with the probabilities that each staff member has at appearing. If you are going for the avatar or a high score, you are going to want to make sure at the end of each level you have a certain amount of points. Even if you hit every single staff member that appears, you might have gotten low valued staff members. If this is the case, and you don't meet the minimum points outlined in the below chart, you might want to consider restarting the game. It is especially important to keep playing and restarting in the first few levels, as you're going to want to get the maximum amount of points out of the easy levels as possible.
| | | |
| --- | --- | --- |
| Level | New Points To Earn | Good Score Total |
| 1 | 175 pts. | 175+ |
| 2 | 200 pts. | 400+ |
| 3 | 200 pts. | 600+ |
| 4 | 200 pts. | 825+ |
| 5 | 225 pts. | 1,050+ |
| 6 | 250 pts. | 1,350+ |
| 7 | 250 pts. | 1,550+ |
| 8 | 275 pts. | 1,800+ |
| 9 | 275 pts. | 2,100+ |
| 10 | 250 pts. | 2,400+ |
| 11 | 225 pts. | 2,600+ |
| 12 | 100 pts. | 2,800+ |
| 13 | 100 pts. | 2,900+ |
| 14 | 100 pts. | 3,000+ |
| 15 | 0 pts. | 3,000+ |
Your Targets:
The staff members are the characters in the game that you need to hit in order to score points. You shouldn't have any problem with that though... just kidding. There are a lot of different staff members in the game, and every once in awhile Neopets even changes who is in the game, to include new staff or remove staff members that are retired. Therefore, the game can get really confusing, as you have so many different options!
Below is a table of all thirteen of the staff members in their full form, though in the game they are only visible from about halfway up until you hit them. That means you're going to have to pay attention to memorizing their oversized heads. They are divided up into four rows, from lowest value of points to greatest value descending. Also included is information on how much each staff member is worth, and how often they each appear. The ratios may seem odd, but that's just how the game calculates it. The names listed below for the staff members are all their most common. Some staff members have multiple nicknames, but these ones are the most interesting!
Priority: Lowest


Name:
Number Six
Awards:
3 Points
Probability:
30:100



Name:
El Picklesaur
Awards:
4 Points
Probability:
15:100

Priority: Low


Name:
Snarkie
Awards:
5 Points
Probability:
10:100



Name:
Mr. Roboto
Awards:
6 Points
Probability:
8:100



Name:
Gothic Lady
Awards:
7 Points
Probability:
6:100

Priority: Medium


Name:
DJ Skellington
Awards:
8 Points
Probability:
5:100



Name:
Blue Lady
Awards:
9 Points
Probability:
4:100



Name:
Viola
Awards:
10 Points
Probability:
3:100

Priority: High


Name:
TPOSG
Awards:
11 Points
Probability:
Unknown


Name:
Tiger Catcher
Awards:
12 Points
Probability:
3:100



Name:
Mr. Insane
Awards:
13 Points
Probability:
1:1000

Priority: Highest


Name:
Dragona
Awards:
15 Points
Probability:
2:100



Name:
Poptart
Awards:
20 Points
Probability:
1:100
Watch Out For:
So you thought that you could get points for whacking everything in the game? Sorry, but that would have made the game too simple for The Neopets Team's liking. Included in the game are three Neopets; a blue Blumaroo, a yellow Mynci, and a green Usul. Hitting any of these Neopets will result in the deduction of ten points. What's more, they are tied with El Picklesaur for having the second highest probability of appearing in the game. That means you are going to see them a lot. Don't get too excited and hit everything. Take caution with your clicking, especially in the earlier levels. The solution is not too click as fast as you can everywhere, because you'll end up losing more points than gaining. Once you get used to avoiding the Neopets, their be more of an obnoxious distraction than anything else. In the later levels, theirs always the odd chance of a pet quickly popping up after a staff member vanishes from the same cubicle, so be careful of double clicking or having a delayed reaction.
Do Not Hit


Name:
Blumaroo
Awards:
-10 Points
Probability:
15:100



Name:
Mynci
Awards:
-10 Points
Probability:
15:100



Name:
Usul
Awards:
-10 Points
Probability:
15:100

Game Strategy:
Don't be overwhelmed!
Though in your mind when playing this game you might just be screaming '
kill the staff members!
' with foam coming out of your mouth, there is in fact strategy to be used in the game. Putting your blood-wrath frenzy aside, you can take a logical approach at what you need to get done. The main problem that you are going to have once you hit level three or so, is that the staff members will begin to pop up and disappear to fast before you can get them, and there will be more of them to chose from. This creates an overwhelming sensation, which will cause you to make silly mistakes and waste a lot of time.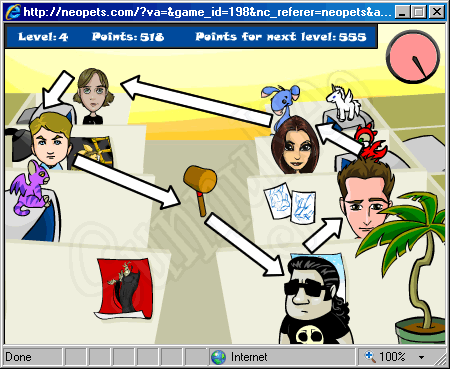 Plan your attack!
As depicted in the screenshot above, the starting location for your mallet should always be in the middle of the office. This is so that all of the cubicles are equidistant away from you, so that you can reach any of them when necessary. From this position you can plan your attack. To get the maximum amount of points from all the staff members that pop up, you must both prioritize and move as efficiently as possible. It is easiest to get them all quickly if you go in a sweeping motion, rather than worry about which ones are a few more points. In this case, it made more sense to start on the right, as there were more staff members and points to be earned from that side. It was then possible to go in a quick circle around the five staff members, ending on Adam, who is the least amount of pod therefore your lowest priority. The sweeping method takes opportunity of how close the different staff members are to each other, and the direction your mouse is currently traveling in. This prevents you from doing time-wasting things, such as going for the staff in the top right corner of the office to the bottom left, or from going up to a staff member, and then down to a staff member, and then up again. In conclusion, moving in the same direction in short distances allows you to keep yourself better oriented, and you get where you need to go faster.
Prioritize!
When using the method described above, make sure you still do a bit of prioritizing. If you see Poptart or two staff members both worth above ten points in an area, you're going to want to go for them instead, especially when there are only a few staff members available, or when the level is about to end. A general rule of thumb when prioritizing is to go for the girls, as they are overall worth more points to hit then the guys.
Know when to give up!
Using the Scoring points section further up the page, you can decide if you should quit or keep playing at the end of each level, based on how many points you have. If you get a rotten start on level one or two, it is not worth continuing on. You want to get the maximum amount of points in the early levels as you can, when it is relatively easy to hit every single staff member. It's a waste of time to play the whole game through only to not get the avatar or a high score because you skimped out on starting off with a good score in the lower levels. In order to avoid this, you must continuously restart the game until you get a decent amount of points in level one, two, three, etc. If you hadn't noticed, there isn't a restart button. Yes, this means that you will have to manually exit and open the game again and again until you get that obnoxious 200 points on level two. It's a pain, but then again it's a lot easier than trying to get a more perfect score in a later level.
Be very conservative in the last few levels!
Once you hit level twelve, the staff members appear and disappear so fast you'll get dizzy. In the time it takes to blink once, you'll have missed the opportunity to hit twenty of them. You're going to have to be very conservative in these extremely hard levels to get anything at all. Since it is almost impossible to move around smacking the staff members in previous levels, you'll going to have to use a different approach. A good method that you can use is only going for the staff members in the front two cubicles. Position your mallet in the extreme center between them, and get busy. As soon as you hit one, quickly move your mouse back to the center, as Dragona or Poptart may be the one pop up next on the opposite side. If you still do not have enough time to hit them before they disappear, you can even choose just one cubicle to lurk over. However, make sure that you are cautious, as more pets are going to be popping up than staff members, and if you flinch the second something pops up and hit it, you may have just lost yourself some points. For that reason, it may be better to stop playing at the really hard levels if you already have the score to get the avatar, so that you do not lose points.
Tips:
If you are no where near scoring enough points to get the avatar, you're going to have to practice and read this guide's Game Strategy section before getting much help from below. These tips are simply small and easy alterations that you can use when playing the game that will make your playing a bit easy. They're not going to work miracles. However, if you've put a bit of effort into practicing and understanding the strategy, you will find these tips very useful in maximizing your score. Aside from that, good luck going for that avatar or trophy!
Use the smallest screen size, and whatever quality your computer can handle. Quality does not really matter for this game.
Quit and restart the game if you are unlucky in the first few levels.
Don't bother using the game code; it's basically only for fun.
The levels are only thirty seconds long. Don't be distracted by anything else while you are playing.
Play with the sound off. The sound that your hammer makes when you miss is annoying; the voices distracting.
Learn to completely ignore the pets. Don't even look or think about them.
Become well aquanited with the faces of Poptart, Dragona, Tiger Catcher, and Viola, as they are the best to hit.
The score required for a trophy gets ridiculously high at the end of the month, mainly due to cheaters. Only bother trying for it at the beginning!
The levels that you can earn the most points are levels five, six, seven, and eight.
When hitting, if you are missing too much make sure you use the left mouse button over the spacebar to whack.
In the later levels where speed is more important than precision, use the spacebar to whack the staff members.
If you are too tense, or too shaky, take a break and come back later.
Game Code:
Type in '
a5paragu5
' to make your mallet noticeably larger. The handle is just about the same size however, and the cheat only lasts for one level. Since it has no rule benefit, the game code is more of a waste of time. Use your time to hit the staff members and not to type in a worthless code.
Avatar:
On
October 11th 2005
, the '
Revenge Is Sweet
' avatar was released for the game.

Revenge is Sweet
REVENGE IS SWEET
neoHTML
SIGGY HERE
neoHTML
siggy