Faerie Festival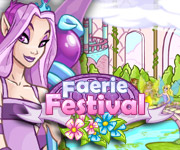 What is Faerie Festival?
Each year on September 20th it is Faerie Festival. Like special pet days such as Acara Day this day is to celebrate the presence of Faeries in Neopia. On this day special Faerie related items, games etc. are released on Neopets.
Starting in 2009, a special
Faerie Festival page
was released. In 2009 this page had all Faerie related information on it, such as suggested wearable items, a link to
Faerieland
, a link to a new daily called
The Discarded Magical Blue Grundo Plushie of Prosperity
, a
Personality Quiz
, Faerie Games, a brand new
Faerie Festival Neoboard
and a link to the
Faerie Shoppe at the NC Mall
. The 2010 page is still under construction as the faeries are still preparing for the festival. In 2017 the following booths were set up at the Festival the
Wheel of Excitement
;
Wing It
a new daily game; Faerie Quests for Illusen, Jhudora, Snow Faerie, and Jhuidah which you could click on right from the page;
Free Soup
whether or not you were rich or poor; and
Free The Faeries
the NC Event.
Faerie-themed prizes
What's most interesting about the page though, is its daily Faerie-themed prize that is being given away. Since the opening of the Faerie Festival page on September 17th, each day you can win a special item by visiting a special location or doing a special activity. In the table below you can see the items given away.
For 2017, it appears the Daily Prize is no longer being given out, but there is a promise of prize for visiting every day. So be sure to stop by daily anyway.
With the navigation below you can see the prize lists of different years.
[
2009
|
2010
|
2017
]
Prizes For Wing It

Faerie Fables

Book

Faerie Pencil Case

School


Faerie Wing Flowers

(Click to Preview)


Flowing Rose Dress

(Click to Preview)


Massive Ice Cream Sundae

Food

Rose Topped Mini-Cake

Food

Neopoints

150-450nps*
*If you get the Neopoint prize and get more or less than stated above, please, neomail juji
Feel free to neomail juji about other prizes not listed as well.
NC Event: Free The Faeries
There's a new NC event called Free The Faeries where you use a Slingshot to break open jars of captured Faeries to set them free for a daily prize.

Free the Faeries Superb Slingshot 1-Pack
150 NC

Free the Faeries Superb Slingshot 3-Pack
300 NC

Free the Faeries Superb Slingshot 7-Pack
600 NC
FAQ's
Below you can find the FAQ's for this years Faerie Festival and the NC daily, Free The Faeries.
Can I participate in Wing It on side accounts?
Since Wing It is a game that helps you earn prizes and Neopoints, you may not play it on side accounts. Doing so would lead to your account being banned or frozen.
Do I get any special prizes for being a regular visitor at the Festival?
Yes! Queen Fyora has a special gift planned for daily visitors to the Festival. Do drop in at least once a day to earn this one!
What are the games and activities planned for this year's Faerie Festival?
In this year's Faerie Festival, the Soup Faerie would be giving out free soup to all pets, regardless of their fortune. You can attempt daily quests for four faeries from the Festival grounds itself. The Wheel of Excitement is now at the Festival grounds for you to have a spin at! Kaia, the new faerie student from Shenkuu, has a fun game for everyone to try out and Evella (the owner for Faerie Shoppe) has an NC game with wonderful prizes to be won!
Look out for other faeries who might randomly offer a quest for you!
What is the Faerie Festival and how long will it last?
The Faerie Festival is an annual event where the faeries of Neopia throw open the gates of Faerieland to exciting games and activities for all Neopets! This year's Faerie Festival will run from September 20, 2017 to September 26, 2017.
What is the NC game of Free the Bottled Faeries?
Check out the FAQ for Free the Bottled Faeries to know more about this.
What's new at the Soup Kitchen?
From having obtained generous donations from kind Neopians, the Soup Faerie is now giving out free soup to all pets regardless of whether they're rich or poor. There are even new soup flavours to try out, exclusively made for the Festival!
What's the game 'Wing It' about?
'Wing It' is a fun, festive game in which you would need to place a pair of wings on a wooden faerie, while being blindfolded! Placing the wings accurately would grant you with either a prize or some Neopoints. If you fail to place it correctly, you'll need to come back the next day to try again. You can only play the game once a day. You can play the game only on your main account.
Are you offering discounts on the Superb Slingshot packs?
You can save money per item by buying the bigger packs, as they are priced at a discounted rate. Also, you get a bonus prize for breaking all 7 bottles, so that's another way you can get better value for the amount you spend.
Can I break a bottle for each day more than once?
No, unfortunately you can only break a bottle to claim your prize once per day on each account.
Can I gift a Superb Slingshot pack to other users?
Yes, Superb Slingshot packs are like any other Neocash item and are giftable via a NC Gift Box (one item per NC Gift Box).
Can I participate in Free the Bottled Faeries on my side accounts?
Yes, you can participate in this event on your side accounts.
How do I use my Superb Slingshots?
To use your Superb Slingshots, you must first activate them. There are two ways to do so:
1. Visit your inventory. Once in your inventory, click on your Superb Slingshot pack and select, "Activate Superb Slingshot".
2. If you purchased your Superb Slingshot pack from the Free the Bottled Faeries page you can activate it right after purchase. Once you see the confirmation page simply click the "Activate Now" button and confirm the use of your pack.
Once you have activated your pack, you can visit the Free the Bottled Faeries page and click on a bottle to break it.
I broke a bottle and freed a faerie. Now where is my prize?
Once you break a bottle to free the faerie trapped inside, your prize will be placed in your inventory.
Is there a bonus item for breaking all 7 bottles?
Yes, you get a bonus item for breaking all 7 bottles.
Is there a time limit to when I should break a bottle and collect my prize each day?
There really isn't a time limit for collecting your daily prizes but the sooner the better so you can enjoy them! If you activated and have remaining Superb Slingshots packs, you will be able to return to the page to claim your prize until the 30th of September, 2017.
What is the duration of Free the Bottled Faeries?
The Superb Slingshot packs will be on sale from September 20th to 11:59 PM NST on September 26th. You can join the event anytime within that period by purchasing a slingshot pack from the NC Mall. You may claim your prizes on already activated passes by visiting the page any time for as long as it is live.
What is the Free the Bottled Faeries event?
Evella, the shopkeeper at the Faerie Shoppe in the NC Mall, has set up her very own game stall at this year's Faerie Festival. Visit the NC Mall to grab a Superb Slingshot (sold in packs of 1, 3 and 7), and then hop over to her stall to shoot at the bottles and free the faeries trapped inside them. She has special gifts for every bottle that you break!