Atlas of the Ancients Plot
WALKTHROUGH - Chapter 7
| | |
| --- | --- |
| TABLE OF CONTENTS | PLOT LINKS |

Chapter Seven
finds the team in the Ice Caves of Terror Mountain. The ancient tome mentions a "crystal solution". As they're looking for further clues, they see a horn trapped in the ice. They retrieve the horn, and Jordie blows on it, causing the ice to crack. This, of course, causes an avalanche. The group climbs a tree for safety.
Plot Steps:
Click on the horn in the ice to get a Steam Horn.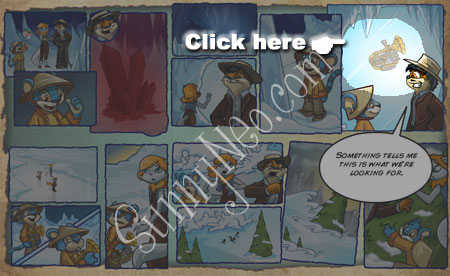 Then play the new plot game
Clara on Ice
, beating a score of 1000, to get the Sparkling Icy Winterscape background. The game is basically
Let it Slide
with plot-themed graphics.
Game Tips:
The game code stalactites works in this game. The code give you an extra life.
You do not need to complete the level before the time runs out; the time is only for bonus points. Take your time and collect all the gems and hearts (extra lives) you can get. Each gem is worth 10 points and each life is worth 50 points at the end of the level.
- CHAPTER 7 COMPLETE -

Back to top
Next Chapter 8