Bagatelle
What is Bagatelle?
Bagatelle
is one of the four games of chance located in the
Deserted Fairground
. For just 250 NP, you can toss a poor Mootix into the air and hope to land in the winning spot. The prizes range from nothing to a jackpot often worth millions of Neopoints, so step right up and try your luck!!
Note:
Since this is a site feature that gives out neopoint rewards and prizes, you may
not
play Bagatelle on your side accounts. For more information look at our
side accounts guide
.
Visiting Bagatelle
Once at the Deserted Fairground, click on the Bagatelle booth to arrive at the game. Alternatively, you may enter via the
Game Room
.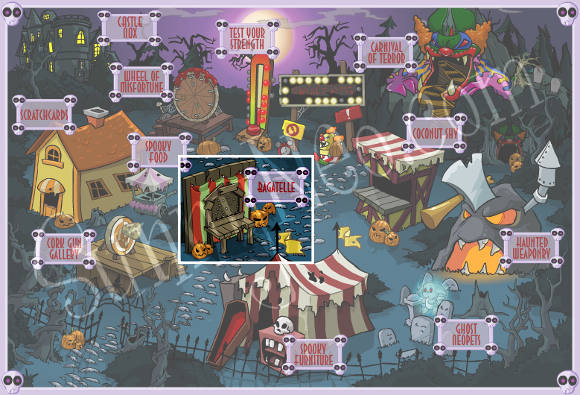 When you get there, you will be greeted by Harker the Lupe with the following message:
Bagatelle

In a creepy corner of a haunted part of the Deserted Fairground is an old Bagatelle stand. For 250 NP you can try your luck. Simply launch the Mootix ball and see where it lands.

The higher the number the better your prize! The stars will give you an item, and the gold star will win you the JACKPOT!

Current Jackpot : 1,399,200 NP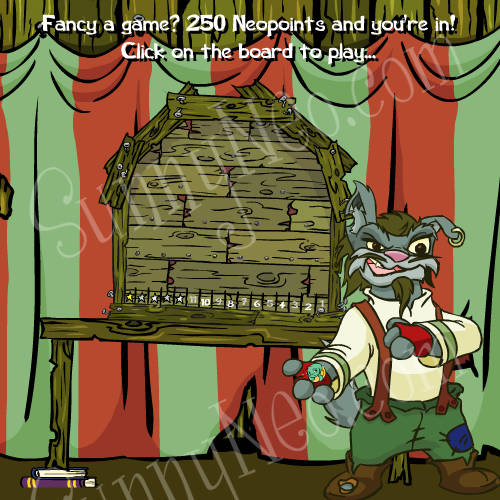 Playing Bagatelle
As you can see right away, there is a pile of books under one of the legs of the table, tilting the board down to the right. Your chances may be rotten, but that doesn't stop people from playing.
To play, simply click anywhere on the image. 250 NP will be deducted from your account, and the Mootix will tumble through the board. The prize you get depends on which slot the Mootix lands in; a table of prizes is provided below.
At the end of each round, Harker the Lupe will say something and tell you how much you've won. If you've used up all your tries for the day, clicking on the board will give you the following message: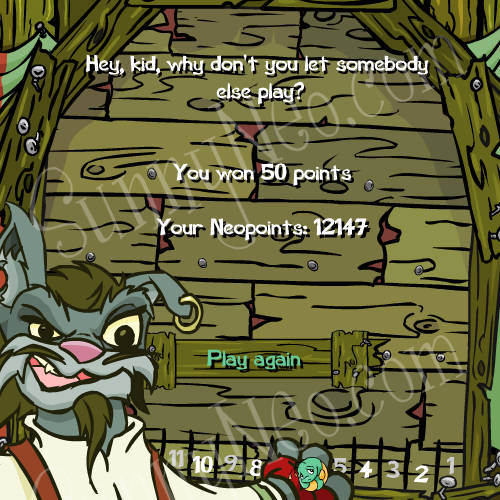 As far as tips go, there isn't much to it other than tossing the Mootix in the air. Best of luck to those who attempt this game!
Prizes
Listed below are the Neopoint rewards you receive upon landing in each of the numbered slots. Landing in one of the four white or silver stars earns you an item prize; all of the possible prizes are provided in a table below.
Results
We have a loser!
Ok, well at least you didn't lose everything.
You won 5 points
This game must be rigged!
You won 50 points
So close...
You won 250 points
Awwwwww......
You won 1000 points
Nice one, you'll bankrupt me if you do that again.
You won 2000 points
Grrrr.... that wasn't supposed to happen.
You won 3000 points
Maybe I should add another book...hmmmmm
You won 4000 points
I've never seen it do that before!
You won 5000 points
Stupid machine, it isn't supposed to let people win!
You won 10000 points
You won 20000 points
Congratulations!
You won an item
Jackpot!!! :D