General Info
If Krawk Island hasn't given you enough ways to "relieve" yourself of those extra Neopoints with games like Food Club or Buried Treasure, it has now with Black Pawkeet Slots!
Black Pawkeet Slots is a slot machine-style game that allows you to bet your Neopoints in the hope of reaching the Jackpot. You must be thirteen or older to play.
How to Play
Gameplay is incredibly simple. First, select the amount of Neopoints you would like to bet per line. You can have 1, 5, 10, 25 or 50 Neopoints on each line; the more Neopoints you bet the greater your payout will be when you win.
Next, select the number of lines you would like to bet on. Note that the amount of Neopoints you bet is multiplied by the number of lines-- for example, if you bet 50np on 9 lines, you bet 450np total. You will only win Neopoints if the winning combination is on one of your selected lines--therefore, even though it is more expensive to play on nine lines, it is suggested for a greater chance at winning Neopoints. You DO NOT need to bet the maximum bet to win the Jackpot but you must bet on the line that the Jackpot is won!
Once you have selected your lines and betting amount, press the
Play
button below to begin. Alternatively, for a quicker gameplay, you can simply press
Max Bet
which will automatically select 9 lines and 50nps, then begin.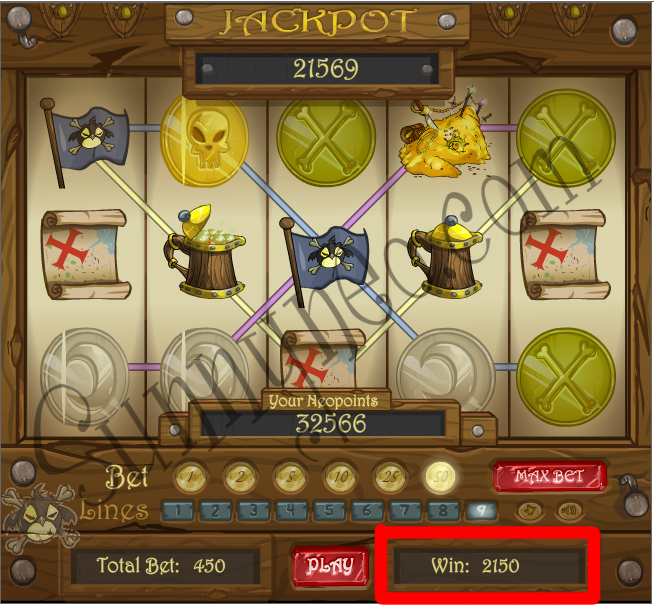 When you win a spin, the winning lines will be marked with a different colour for each line. As you can see above, it is possible and actually very likely to win on more than one line per spin. As well as the colored lines, the winning symbols will become animated indicating your win, allowing you to better see which symbols have given you your win. Also, to save you from calculating your winnings, the red highlighted winnings box will display it for you.
Due to the large number of Neopoints it is possible to lose (or win!) on this game, TNT has put a limit of 250 spins per day on the machine. Along with that, you may like to set a limit of your own. For example, you may want to cap it off at spending 10,000nps and stop playing when that runs out, or you may want to set a goal of stopping when you win a certain amount, so as not to get too greedy.
Payout
The table below demonstrates how the payouts are organised. It is not essential information for you to know, as the machine will recognize the combinations for you automatically. It is, however, interesting to note where you could win, and how you obtain the jackpot.
Payout Amounts
Item
2 in a row
3 in a row
4 in a row
5 in a row
0
500
750
1,250
0
750
1,250
2,500
0
1,250
2,500
5,000
50
500
2,500
12,500
150
1,500
7,500
37,500
200
2,000
10,000
50,000
250
2,500
12,500
25,000
500
5,000
50,000
500,000
0
0
0
JACKPOT!
Special Symbols
These symbols work in different ways. They don't affect your winnings by getting them in a row-- instead, they each have their own special purpose.
Special Symbols
This is a wildcard. It can take the place of any symbol to create a winning combination.
The chest is also a wildcard if it comes before a combination. Otherwise, it acts as any other symbol. See above for its payout.
The green pawkeet increases your winnings. Having three of them present anywhere on the board doubles your payout; four of them triples it, and five quadruples it.
Having three or more of these present anywhere on your screen will cause a pop-up and award you up to 1000nps, or a shiny dubloon.
Scoring and Trophies
Scores are fairly irrelevant in this game except in the high scores table and your personal high score list. In this case, your high score is simply your highest amount of winnings in one spin.
There are however two types of trophies for this game. If you are able to earn yourself a large payout, you will get your name on the high score list and one of the below trophies.



But since these trophies are largely based on luck and not a reflection of how you can play the game, there are also three 'biggest loser' trophies for those who spend a large number of Neopoints on the game.
This trophy also includes Neopoints spent on Brucey B Slots,
so when trying for that trophy max out the spins from both games.



Tips
This is a game that requires very little strategy. As a result, there are no real hints or tips that can be given for the game except remember to keep tabs on your money! You are playing with your REAL hard-earned Neopoints. Never spend what you can't afford to lose.