Petpet Park Plot
WALKTHROUGH - Mission 5
| | |
| --- | --- |
| TABLE OF CONTENTS | PLOT LINKS |

The fifth part of the plot is now available, go to the Petpet Park
Mission Headquarters
to start. You will see that your fifth mission, Oukin is available. Click on More Information.

Your assignment is to get the Oukin from the Haunted Woods to the Petpet Park.
Latest Mission Profile
Location: Haunted Woods
Species: Oukin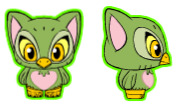 After reading the comic go to the Haunted Woods.... again to not open a Portal this time, but to find the hidden Oukins in one of the many tombs.
Oukins are normally tranquil Petpets, but their warning shriek can call other Oukins to their aid, making them quite a force to be reckoned with.

Things are getting worse, Agent. Yurius has hidden away the Oukins in some of the Haunted Woods' many tombs. You must find those Petpets before they are harmed and get them back here to the park.
You will be taken to the Haunten Woods and get to read a conversation between the 3 agents and the Caretaker.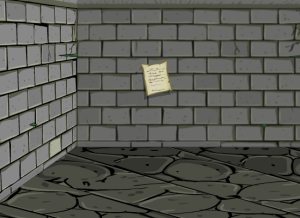 The Caretaker

Here, take this shovel...
Mick

Oh no! More gravedigging!
The Caretaker

What? No, I just had to tie my shoe. Give me that back. Now, what is it you want?
Mick

Phew! I was worried there for a second. My arms are still tired from that time a couple of years ago...
Kaylee

We need to find... um... a specific tomb. Mind if we look around?
The Caretaker

Long as you don't disturb anything! You never know what kind of ghosts and zombies might be lurking around here.
Deckar

*gulp*
Kaylee

I really hate the Haunted Woods.
Mick

It's not so bad! There's lots of fascinating plantlife...
Deckar

Hey! Where's the portal?
Kaylee

It looks like it already closed!... What's this? A note?
Mick

It's from Yurius, I'll bet! What does it say?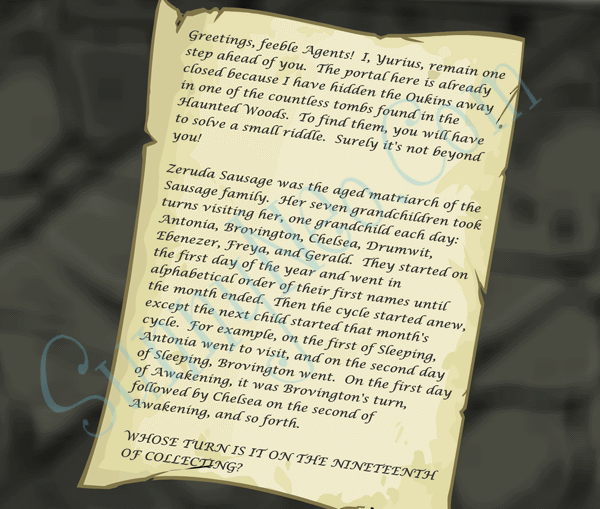 Kaylee

It must mean we should search the tombs of the Sausage family!
Deckar

Mmm... sausage...
Mick

But which one should we try first?
Antonia
Brovington
Chelsea
Drumwit
Ebenezer
Freya
Gerald


Click
here
to see what happens when guessing the wrong answer.
The correct answer is Gerald, after answering you'll see a note on the floor.
Kaylee

I think this must be it!
Mick

Open the door, Deckar!
Deckar

Urghh...! Got it! These things are heavy.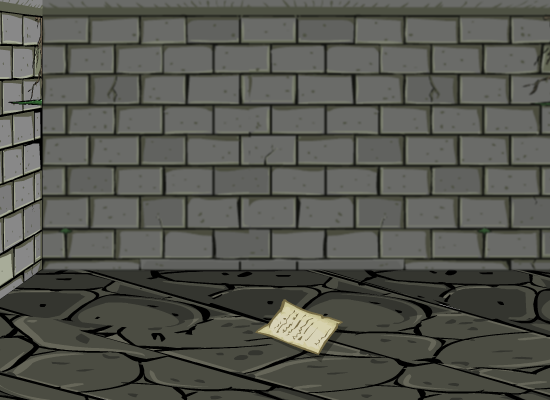 Kaylee

Where are the Oukins?
Deckar

Look! Another note!
Mick

Oh no! Was it a trick?
Kaylee

I don't think so. Look at this...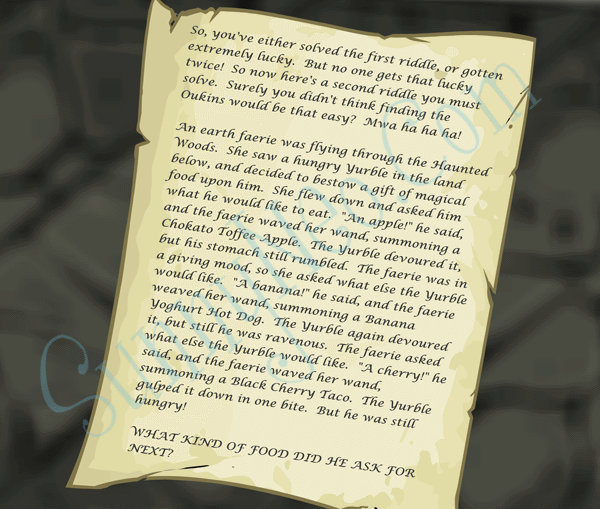 Deckar

So... the answer is some kind of food?
Mick

And then we have to find the tomb of a person with that name, I bet!
Kaylee

Well, what's the answer?
Click
here
to see what happens when answering incorrectly.
The correct answer is a food with a D, Doughnut.
Deckar

This looks like the right place! Stand aside while I open the door!
Mick

I hope we're not too late!
Kaylee

Oh no!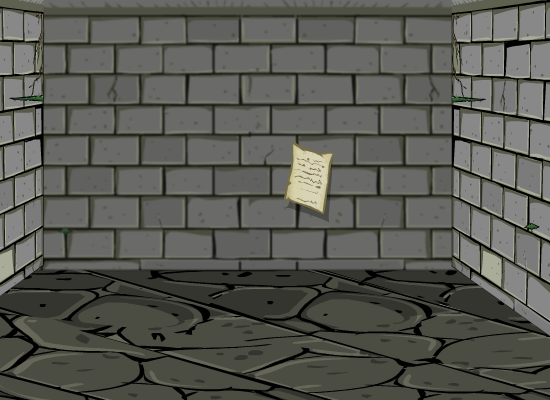 Mick

Darn it! Yurius is really getting on my nerves!
Deckar

And there's another note! How long is this going to go on?
Kaylee

Let's find out what it says...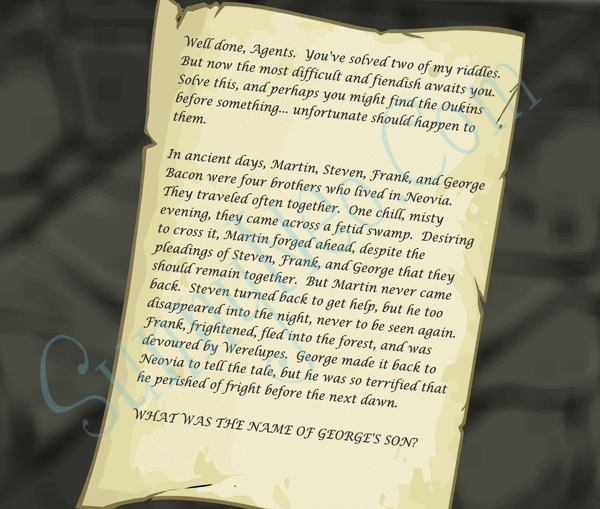 Below the riddle, a series of letters have been scratched into the wall:
N N I G R V L D F R A A O A G T E K H E R S R E T N M O E
Deckar

What do these letters mean?
Mick

I don't know, but they certainly have something to do with the riddle!
Kaylee

Can you figure it out? We're running out of time!
Mick

I... I'll see what I can do...
The correct answer for this puzzle is Harold, you get it by removing the names of the brothers from the letters which leave you with L D A H R O. Unscramble it to Harold.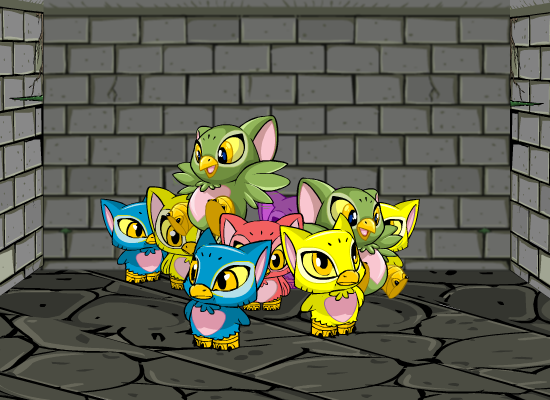 Deckar

Just in time!
Mick

The Oukins look happy to see us!
Kaylee

But Yurius almost hurt these poor creatures! If he keeps this up, someone's going to get seriousy injured... or worse.
Mick

We'd better get in touch with Mother Bruce quick. I don't think we'll have much time to rest.
After this you must return to the mission headquarters. You're then done with mission 5, one more mission will follow later. Weltrude will tell you you're done with this misison.
Thank goodness those Oukins are all right!

Yurius's antics are becoming intolerable. Putting these meek little Petpets in danger like that! How awful. We'll have a new mission for you soon, and hopefully we can put a stop to Yurius and his evil shenanigans once and for all.
If you click on check status on the left, you will see that you have completed 5 out of 6 missions.
Don't forget to update your
Mission Counter
if you have one.
- MISSION 5 COMPLETE -

Back to top
Next Mission