Treasure Keepers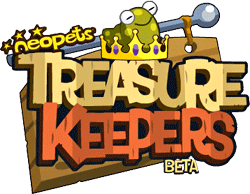 Treasure Keepers
is the first game that Neopets has released that is played on
Facebook
. It is developed by
Meteor Games
, the game studio owned by the creators of Neopets; Adam and Donna. At the moment Treasure Keepers is only playable in beta version for a limited amount of Premium users.
Below you can see an overview of all the information we have collected, divided into smaller easy to read pieces. Click on a topic to make this information appear.
Navigation
| | |
| --- | --- |
| SUNNYNEO LINKS | NEOPETS LINKS |
Guide Content
Achievements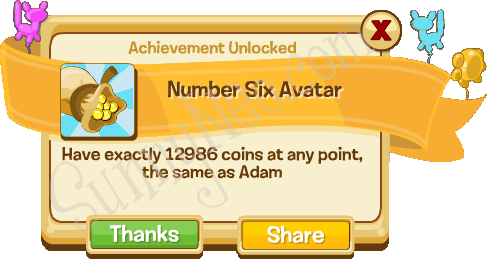 There are also achievements you can earn while playing Treasure Keepers. When you complete an achievement you receive a Neopets Code. You can redeem the prize codes at the
Gypsy Wagon
.
Adventures
Collecting
Collect coins from adventures
- 100 (no reward)
- 250 (no reward)
- 500 (no reward)
- 1,000
- 2,500 (no reward)
- 5,000 (no reward)
- 10,000 (no reward)
- 25,000 (no reward)
- 50,000
- 100,000
Reward for 1,000:

1,000nps
Reward for 10,000:

5,000nps
Collect items from adventures
- 10 (no reward)
- 25 (no reward)
- 50 (no reward)
- 100
- 250 (no reward)
- 500 (no reward)
- 1,000 (no reward)
- 2,500 (no reward)
- 5,000
Reward for 100:

Mysteriously Overflowing Gift Basket
Lucky Looter
Collect rare items from adventures
- 10
- 25 (no reward)
- 50 (no reward)
- 100
- 250
- 500
- 1,000
Reward for 10:

Ferocious Negg Plushie
Reward for 100:

Zombie Handbook
Super Lucky Looter
Collect super rare items from adventures
- 10
- 25
- 50
- 100
- 250
- 500
Exploring
A Golden Blessing:
Get the Golden Pteri event card.

Hidden Achievement
No reward
Unlucky for Some, Not for Me:
Pick up exactly 13 coins from an event card.

Hidden Achievement
No reward
Max Reputation: Palace Gardens
Earn the top rank with the Explorer's Guild by exploring the Palace Gardens.
Max Reputation: Secret Tunnels
Earn the top rank with the Explorer's Guild by exploring the Secret Tunnels.
Max Reputation: Docks
Earn the top rank with the Explorer's Guild by exploring the Docks.
Max Reputation: Sewers
Earn the top rank with the Explorer's Guild by exploring the Sewers.
Max Reputation: Graveyard
Earn the top rank with the Explorer's Guild by exploring the Graveyard.
Max Reputation: Wizard's Guild
Earn the top rank with the Explorer's Guild by exploring the Wizard's Guild.
Grand Gardener
Complete all maps in the Palace Gardens.
No reward
Tunnel Delver
Complete all maps in the Secret Tunnels.
No reward
Dockyard Daredevil
Complete all maps in the Docks.
No reward
Sewer Searcher
Complete all maps in the Sewers.
No reward
Graveyard Gallivanter
Complete all maps in the Graveyard Gallivanter.
Tower Traveller
Complete all maps in the Wizard's Guild.
Shop
Haggling
Haggled:
Haggle for 10% more than the starting price one time.
- 1 (no reward)
- 10 (no reward)
- 25
- 50 (no reward)
- 100 (no reward)
- 250 (no reward)
Reward for 25:

+1 Shop Upgrade
+ 2,500nps
Expansions
Bite-sized Boutique:
Expand your shop once.
No reward
Special
Just the Two of Us:
Have 1 employee.
No reward
Neggery:
Have 5 different unique neggs for sale at one time.
Reward:

2,500nps
Clockwork defense:
Have at least 10 clockwork soldiers on sale at any one time.
No reward
Yesva:
Have at least 5 different novas on sale at any one time.
Reward:

Nova Lights
Elementary:
Have at least 4 different motes on sale at any one time.
No reward
Selling
Cha Ching:
Sell items in your shop.
- 10 (no reward)
- 25 (no reward)
- 50 (no reward)
- 100 (no reward)
- 250 (no reward)
- 500 (no reward)
- 1000 (no reward)
- 2,500 (no reward)
- 5,000
- 10,000
- 25,000
Thousandth Customer:
Sell 1,000 items in your shop.

Hidden Achievement
No reward
Weapon Merchant:
Sell weapons in your shop.
- 10 (no reward)
- 25 (no reward)
- 50 (no reward)
- 100 (no reward)
- 250
- 500
Armour Vendor:
Sell pieces of armour in your shop.
- 10 (no reward)
- 25 (no reward)
- 50 (no reward)
- 100 (no reward)
- 250
- 500
Jeweller:
Sell pieces of jewellery in your shop.
- 10 (no reward)
- 25 (no reward)
- 50 (no reward)
- 100 (no reward)
- 250
- 500
Greengrocer:
Sell pieces of food in your shop.
- 10 (no reward)
- 25 (no reward)
- 50 (no reward)
- 100 (no reward)
- 250 (no reward)
- 500
Toy Seller:
Sell toys in your shop.
- 10 (no reward)
- 25 (no reward)
- 50 (no reward)
- 100 (no reward)
- 250
- 500
Outfitter:
Sell pieces of clothing in your shop.
- 10
- 25
- 50
- 100
- 250
- 500
Bookseller:
Sell books in your shop.
- 10 (no reward)
- 25 (no reward)
- 50 (no reward)
- 100 (no reward)
- 250 (no reward)
- 500
Magical Items Vendor:
Sell magical items in your shop.
- 10 (no reward)
- 25 (no reward)
- 50 (no reward)
- 100 (no reward)
- 250
- 500
Quarter Master:
Sell pieces of equipment in your shop.
- 10 (no reward)
- 25 (no reward)
- 50 (no reward)
- 100 (no reward)
- 250
- 500
Place of Wonder:
Achieve Deco(ration) points.
- 500 (no reward)
- 1,000 (no reward)
- 2,000 (no reward)
- 5,000 (no reward)
- 10,000
- 20,000
Walmarket:
Be above level 10 with zero decoration points.

Hidden Achievement
No reward
Druid's Circle:
Have 10 or more Plant decorations and no others.

Hidden Achievement
No reward
Can't give it away:
Sell Sludge.
No reward
General
Open For Business:
Complete the tutorial.
Rewards:

1,000nps

Treasure Keepers Site Theme
Level 10:
Reach Level 10.
Rewards:

2,500nps

Grassy Meadow Background
Number Six Avatar:
Have exactly 12986 coins at any point, the same as Adam.

Hidden Achievement
No reward
Sticky Floor:
Place a Slorg petpet in the shop.
No reward
Level 20:
Reach Level 20.
Rewards:

5,000nps

Neopian Marketplace Background
Stories
Quester:
Complete quests.
- 10 (no reward)
- 25 (no reward)
- 50 (no reward)
- 100
- 250
- 500
- 1,000
Short Story:
Complete stories.
-1 (no reward)
-5 (no reward)
- 10
- 20 (no reward)
- 30
- 40
- 50
Reward for 10:

Faerieland: A History
+ 5,000nps
The Wonderful Things She Buys:
Complete the Homework Experiment story chain.

Hidden Achievement
Reward:

Elegant Jewelled Robe
A Sappy Love Story:
Complete the For Dear Olivia story chain.

Hidden Achievement
Reward:

Gift Basket of Roses
The First Rule of Food Club:
Complete all Food Club stories.

Hidden Achievement
Reward:

Ultranova Sponge Cake
Bosses
Timber!:
Defeat the EVIL MONEY TREE.
No reward
No More Nightmares:
Defeat the Chigoreth.
No reward
Turf Wars:
Defeat the DOCKS BOSS.
No Reward
[
Back to the top
]