Treasure Keepers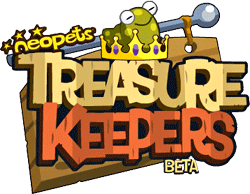 Treasure Keepers
is the first game that Neopets has released that is played on
Facebook
. It is developed by
Meteor Games
, the game studio owned by the creators of Neopets; Adam and Donna. At the moment Treasure Keepers is only playable in beta version for a limited amount of Premium users.
Below you can see an overview of all the information we have collected, divided into smaller easy to read pieces. Click on a topic to make this information appear.
Navigation
| | |
| --- | --- |
| SUNNYNEO LINKS | NEOPETS LINKS |
Guide Content
Leveling up
As you gain more XP, you will find yourself leveling up.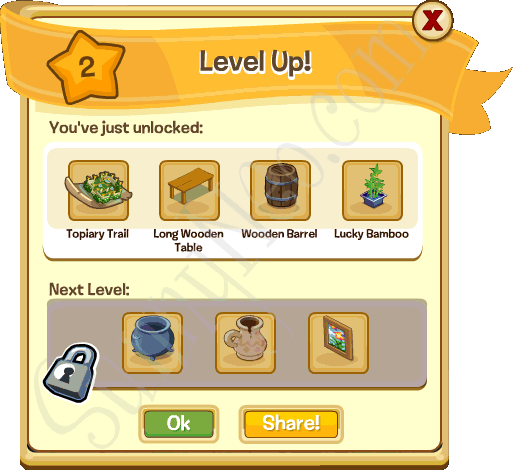 Each level has special awards, you can see them in the table below. When it shows an item it means you've unlocked it at the ShopShop, you don't actually get it.
Rewards for leveling up
Level 2

Unlock Topiary Trail adventure

Long Wooden Table
Display item

Wooden Barrel
Decorative item

Lucky Bamboo
Decorative item

Green Arrow
Decorative item


(Does not show on level up screen)

Level 3

Empty Cauldron
Decorative item

Cracked Clay Pot
Decorative item

Flower Painting
Decorative item

Square Blue Table
Display item

Peach Wallpaper
Decorative item


(Does not show on level up screen)

Level 4

Unlock The Scrurryway adventure.

Your maximum customers is now 2

Merchants Guild Pennant
Decorative item

Sponderolas
Decorative item

Square Green Table
Decorative item


(Does not show on level up screen)

Level 5

Hunting Doglefox Statue
Decorative item

Venus Fly Trap
Decorative item

Wide Clay Pot
Decorative item

Blue Arrow
Decorative item

Square Pink Table
Decorative item


(Does not show on level up screen)


Nova Wallpaper
Decorative item


(Does not show on level up screen)

Level 6

Unlock Hedge Maze adventure

Square Elegant Table
Display item

Sandwich Advert
Decorative item

Song Flowers
Decorative item

Babaa Sculpture
Decorative item


(Does not show on level up screen)


Basic Beige Wallpaper
Decorative item


(Does not show on level up screen)

Level 7

Your maximum customers is now 3.

Unlock The Spyder Lair adventure.

Large Candlestick
Decorative item


Square Window
Decorative item

Fake Employee
Decorative item


(Does not show on level up screen)


Lavender
Decorative item


(Does not show on level up screen)

Level 8

Curious Meepit Statue
Decorative item

Dandelion Painting
Decorative item

Red Arrow
Decorative item

Wooden Pedestal
Decorative item
Level 9

Unlock The Oubliette adventure.

Negg Advert
Decorative item

Forest Trail Painting
Decorative item

Paper Floor Lamp
Decorative item

Bright Green Wallpaper
Decorative item


(Does not show on level up screen)

Level 10 (+ Level 10 achievement)

Unlock The Pier adventure.

Your maximum customers is now 4.

Fake Kadoatie
Decorative item

Fake Shop Detective
Decorative item

Bluebells
Decorative item


(Does not show on level up screen)


Classic Pedestal
Decorative item


(Does not show on level up screen)


Kadoatie
Petpet


(Does not show on level up screen)


Sunset Painting
Decorative item


(Does not show on level up screen)

Level 11

Unlock The Aviary adventure.

Giant Lotus
Decorative item

Fake Shop Assistant
Decorative item

Large Grid Window
Decorative item

Starry Yellow Wallpaper
Decorative item


(Does not show on level up screen)

Level 12

Unlock The Hungry Jetsam adventure.

Long Elegant Table
Decorative item

Secnic Landscape Painting
Decorative item

Rude Daffodils
Decorative item

Mid Blue Wallpaper
Decorative item


(Does not show on level up screen)

Level 13

Unlock The Stash adventure.

Your maximum customers is now 5.

Puppyblew Statue
Decorative item

Lovepetal
Decorative item

Terracotta Floor
Decorative item


(Does not show on level up screen)


Iron Torch
Decorative item


(Does not show on level up screen)

Level 14

Candelabra
Decorative item

Blue Footstool
Decorative item

Potted Asparagus Plant
Decorative item

Dusky Orange Wallpaper
Decorative item


(Does not show on level up screen)

Level 15

Unlock the Enchanted Grove adventure.

Unlock the Crumbling Tunnels adventure.

Grandfater Clock
Decorative item

Classical Cybunny Statue
Decorative item

Rectangular Window
Decorative item

Slorg
Petpet


(Does not show on level up screen)


Tile Floor
Decorative item


(Does not show on level up screen)

Level 16

Unlock The Junkyard adventure.

Your maximum customers is now 6.

Magic Potion Advert
Decorative item

Meerca Atlas Statue
Decorative item

Wooden Counter Top
Decorative item


(Does not show on level up screen)


Pale Pink Wallpaper
Decorative item


(Does not show on level up screen)

Level 17

Unlock the Deepest Dungeon adventure.

Toothpaste Advert
Decorative item

Kougra Topiary
Decorative item

Marble Floor
Decorative item


(Does not show on level up screen)

Level 18

Dancing Harris Statue
Decorative item

Elegant Bench
Decorative item

Flowery Green Wallpaper
Decorative item


(Does not show on level up screen)

Level 19

Unlock The Pride of Maraqua adventure.

Unlock the Fungus Cave adventure.

Rainbow Morning Flower
Decorative item

Roaring Noil Statue
Decorative item

Blue Patterned Wallpaper
Decorative item


(Does not show on level up screen)


Mosaic Floor
Decorative item


(Does not show on level up screen)

Level 20 (+ Level 20 achievement)

Unlock the Drainworks adventure.

Singing Orchids
Decorative item

Scary Bearog Statue
Decorative item

Green Striped Wallpaper
Decorative item


(Does not show on level up screen)


Warf
Petpet


(Does not show on level up screen)
[
Back to the top
]