Treasure Keepers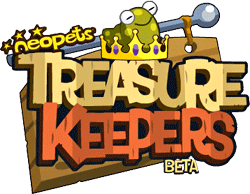 Treasure Keepers
is the first game that Neopets has released that is played on
Facebook
. It is developed by
Meteor Games
, the game studio owned by the creators of Neopets; Adam and Donna. At the moment Treasure Keepers is only playable in beta version for a limited amount of Premium users.
Below you can see an overview of all the information we have collected, divided into smaller easy to read pieces. Click on a topic to make this information appear.
Navigation
| | |
| --- | --- |
| SUNNYNEO LINKS | NEOPETS LINKS |
Guide Content
Potions
In Treasure Keepers you can also buy potions or 'boosts' at ShopShop. The potions are only available for Facebook Points, you cannot by them with your collected gold. They cost between 1 to 15 Facebook Credits.
The table below lists all the different potions.
Healing Potions
Lesser Healing Potion
Heals 5 health points
1
Healing Potion
Heals 15 health points
3
Greater Healing Potion
Heals 30 health points
5
Strength Potions
Lesser Strength Potion
+1 Combat during one adventure
5
Strength Potion
+2 Combat during one adventure
10
Greater Strength Potion
+3 Combat during one adventure
15
Puzzle Potions
Quite Brainy Potion
+1 Puzzle during one adventure
5
Brainy Potion
+2 Puzzle during one adventure
10
Very Brainy Potion
+3 Puzzle during one adventure
15
Reflexes Potions
Lesser Potion of Agility
+1 Reflexes during one adventure
5
Potion of Agility
+2 Reflexes during one adventure
10
Greater Potion of Agility
+3 Reflexes during one adventure
15
During your adventures you can choose to use one of your boosts or buy new ones. You can do this by clicking on the Boosts icon.

By doing so a menu will appear which shows all the boosts and options to use or buy.

If you are in an adventure, and you are about to lose the adventure because you have run out of health points, a nurse will appear. She will let you use one of your potions, or let you buy new ones to use.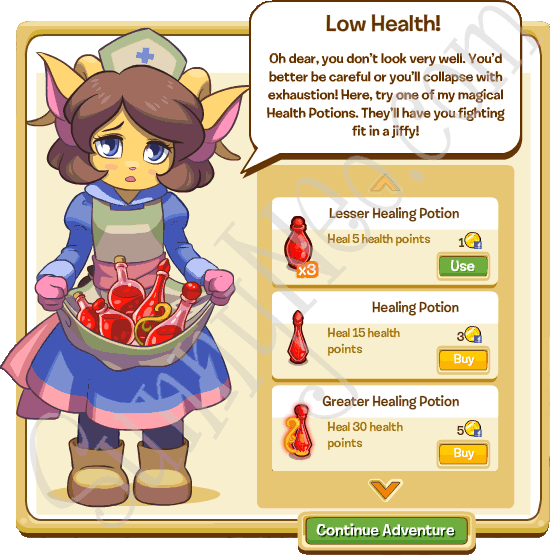 There is also a boost for your petpet for sale. This boost costs 2

. It refreshes your petpet. Normally you can only use each petpet once a day. If you use the Petpet Treat, you can use it again.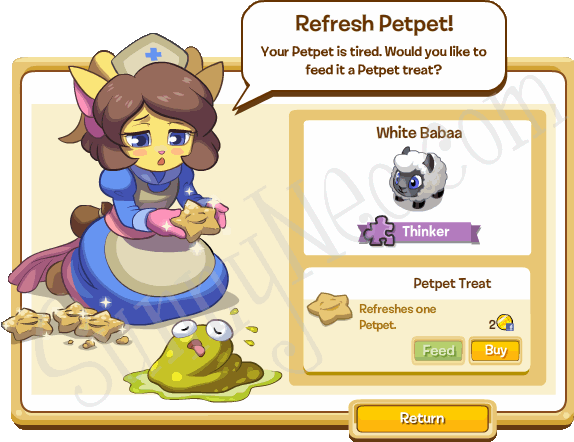 [
Back to the top
]