Treasure Keepers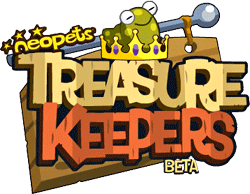 Treasure Keepers
is the first game that Neopets has released that is played on
Facebook
. It is developed by
Meteor Games
, the game studio owned by the creators of Neopets; Adam and Donna. At the moment Treasure Keepers is only playable in beta version for a limited amount of Premium users.
Below you can see an overview of all the information we have collected, divided into smaller easy to read pieces. Click on a topic to make this information appear.
Navigation
| | |
| --- | --- |
| SUNNYNEO LINKS | NEOPETS LINKS |
Guide Content
Managing your shop
Opening/closing your shop
To open your shop, you must click on the Open Shop sign. If your shop is closed, you will not get any customers to buy your items. You can also close your shop. You can do this by clicking on the sign again. When you leave your shop to visit Portal City or go on an adventure, the shop will automatically close. It will also automatically open when you return. If you have any
employees
, they will manage the shop while you are gone.


Placing an item in your shop:
To get customers, you must place items for sale in your shop. In order to do this you must click on the vault icon.

By doing so, you open your inventory an you get an overview of all the things you have collected. With the buttons at the top of the screen you can make a selection of which items you want to see. For instance if you click on 'items' you will see only sellable items, and not decorative items.
By clicking on 'Place' next to the item, it gets placed into your shop.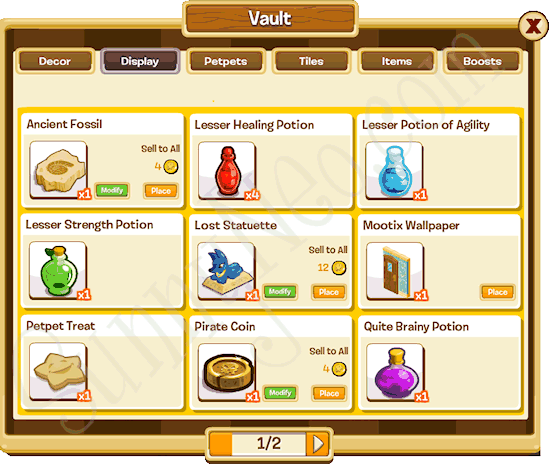 Next thing, the item is attached to your mouse, and you get to place it on an open spot on any of the tables in your shop.
Pricing items:
All items have a standard price. However, you can choose to change the selling price to either attract more customers, or to get a higher profit. To price items, click on one of your display tables. When you do this a new screen opens that shows you all the items on the table.
There you can click on 'Modify' to change the price of one of your items. After doing so you get yet another screen in which you can modify the price of an item.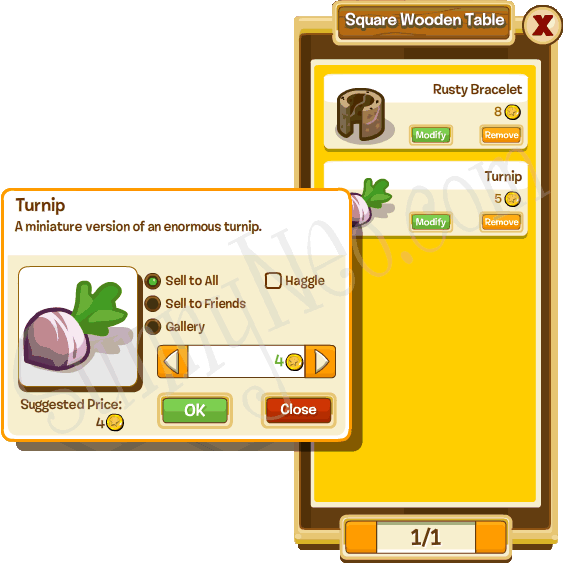 Here you can also select if you want to sell the item only to your friends. You can also choose to only display the item and not sell it. Then you select the gallery option. You can also set the item to Haggle.
Haggling:
In the screenshot above, you also see a checkbox with the word Haggle next to it. If you check this box on your item, and a customer wants to buy this specific item, a haggling game will start. By haggling you can get a customer to pay more for the item than the originally listed price. However, if you do it wrong, you may end up getting a lower price.
When a customer is interested in an item that you've checked the Haggle box from, you will get a Haggle popup in the bottom left corner of your screen.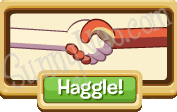 You must then click on Haggle! to start the haggling game. Keep in mind that the Haggle popup only stays on your screen for a short period of time. If you don't click it, it will disappear and your customer will buy the item for the listed price.
During the haggling game you must move your hand (the one on the left) towards the other hand to try and get them to move to you. This takes some practice, if you go too fast the hand of the customer will not want to come towards you. If you go too slowly, the hand of the customer will grab your hand. If that happens the price is settled. You do not want the customer to grab your hand unless your hands at left of the middle. If you're all the way to the left side, you will get a much higher selling price.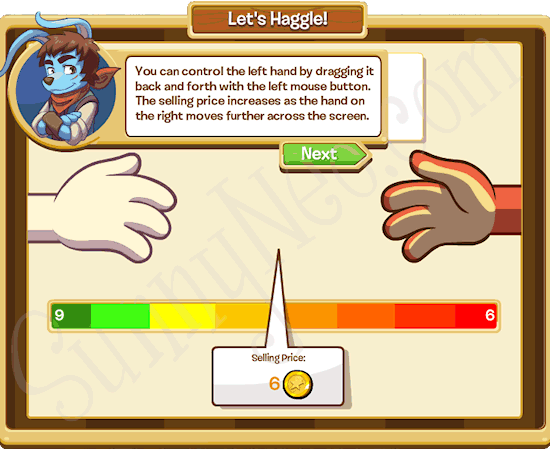 It is recommended that you put more expensive items at haggle. You can get a much bigger win on these than on items that only cost a few gold. There are also
hidden achievements
that you can win from the haggling game, so be sure to haggle a lot. It's no using turning on Haggle by items that have a listed price of 4 or lower. You will not be able to get a higher price, only lower.
Upgrading your shop:
There are many things you can buy to upgrade your shop and make it more attractive for customers. In order to buy these things, you must visit the ShopShop. You can go there by clicking on the ShopShop icon.

Here you will find many things for sale, divided into five categories:
Decor: sells plants, statues, wall decor, lightning, furniture and advertising. Everything you need to make your customers feel at home.

Display: sells tables, shelves, pedestals, cases. You can use these to display your goods on.

Boosts: sells potions to restore your health or improve your skills for puzzle, battle or reflexes.

Petpets: buy a Kadoatie, Warf or Slorg.

Upgrades: Buy wallpaper, flooring or a shop expansion.
Tools to manage your shop:
There are three tools you can use to manage your shop they are:
| | |
| --- | --- |
| | Select tool: used to select an item to then view the properties, change price, remove from the shop etc. |
| | Move tool: used to move decorative items around the shop. |
| | Sell tool: used to sell decorative items. |
[
Back to the top
]