Off-season Specials
The Altador Cup season is each year in June. The rest of the year, the players may still get into all sorts of adventures. You can read them here.
NAVIGATION:

Altador Cup - The Best Neopian Venue For Parties
It's the off-season of the
Altador Cup
and although ACVII is still a long way away, we at SunnyNeo continue to bring you gems from the tournament in our off-season reports.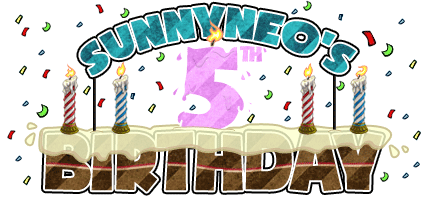 It's August 20th, Year 13, and it's SunnyNeo's 5th Birthday! *Throws confetti* Yay! And to celebrate we have asked Neopia's most famous sporting celebrities from the tournament where they reckon they would host their best parties.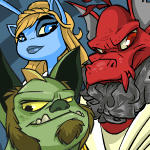 The Altador Cup Committee
When asked about the venue for the best party to be held at, the Altador Cup Committee was quick to inform us that the colosseum in Altador itself would be the best location, simply because of the amount of space available. They did not wish to be quoted on anything specific, though, because the tournament Heads were discussing changes to the tournament structure in the same meeting.

The Techo Super-Fan
Unfortunately we were unable to obtain a quote from the infamous Techo Super-Fan because he was resting his vocal chords for preparation for the next Yooyuball season. Yes, he actually vowed silence! Shocking!

The Slushie Slinging Waitress
Fortunately the slushie waitress had a good suggestion waiting for us. "Go to the Annual Chocolate Ball when that's on. It's a beautiful party! But if you want something during the Altador Cup tournament and you want to celebrate a win, you're best coming to the Slushie Stand for a party!" You heard the lady!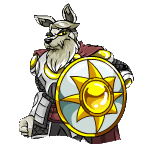 King Altador
"I agree with the Altador Cup Committee," the prestigious King Altador informed us. "The colosseum is an excellent venue to host a party during the Yooyuball season. You will need to book in advance, though, because we also use the stadium for Chariot Chase."

Timu - Team Altador
Much like the Altador Cup Committee and King Altador, Timu from
Team Altador
had this to say; "Oh the Altador colosseum is the BEST place to go. Lots of room to dance, to have a buffet and because of the crowd stands you can invite loads of friends! There's even a party shop down the road where you can purchase streamers and stuff. That's where King Altador commissions all of the Altador Cup banners and stuff to be made."
"Squeaky" Tressif - Team Brightvale

When asked what the best party venue was in his opinion, Captain "Squeaky" Tressif of
Team Brightvale
was stumped. "Well, that's a hard one because King Hagan encourages studying over partying. Although when '
The Faeries' Ruin
' incident was over we all had street parties because we survived, and because Brightvale played a strong role in the events, King Hagan was rather supportive of that celebration. Therefore I would have to say that a street is the best venue for a party."

Tandrak Shaye - Team Darigan Citadel
Fan favourite, Tandrak Shaye of
Team Darigan Citadel
was full of suggestions on where to party! "The dungeons are a great place for a party - and I don't mean in the cells themselves! Have you ever seen cellmate Number Five? That old Lupe is hilarious when trying to boogie to 'Twisted Roses'. If in doubt you could always try DC's most popular knight club. It's called 'The Levitating Citadel' and it's awesome!"

Delma Harrence - Team Faerieland
Team Faerieland's
Delma Harrence had no hesitations in her reply. "Faerieland, of course! You've all been to the Faerie or Negg Faerie Festivals, it's the perfect party location! Sometimes it's seen as too-great-a-location for parties because our Yooyuball manager keeps telling us off for partying more than practicing. Oh well..."

Krell Vitor - Team Haunted Woods
Spooky-looking Captain Krell Vitor of
Team Haunted Woods
certainly knows all of the best places in the Haunted Woods for a bash. "If you want somethin' fancy, go to Neovia. They're all about 'class'. If you want somethin' a bit more wild either occupy Nox's abandoned mansion or hang out around the Brain Tree. Halloween is the best time to come and party here, though."
Holbie Pinnock - Team Kiko Lake

There are a lot of biased replies coming from our Yooyuball stars, but who can blame them? Neopia is a large and fascinating place. Holbie Pinnock from
Team Kiko Lake
was no different. "Kiko Lake! Tubular Kiko Racing is intense, or if you prefer the beach we also have shores where you can sunbathe - like a mini Mystery Island. Our sweet shop is the BEST and if you want a quiet day on the waters there is also our Glass Bottom Boat Tours attraction. Lakeside holidays are popular, so why would partying here be any different?"

Nitri Cassale - Team Krawk Island
Nitri Cassale from
Team Krawk Island
had no hesitation when it came to her answer. "The Golden Dubloon 'ere on Krawk Island. Great food, great grog, great bar brawls." Not good for kids parties then!

Derlyn Fonnet - Team Kreludor
Captain Derlyn Fonnet of
Team Kreludor
had a unique suggestion for a party venue. "The surface of Kreludor is a pretty hot tourist spot but also it's great for festivities. If you have the Neopoints to book a trip here, put on your spacesuits and have a blast! If you get hungry you can always get some snacks from Cafe Kreludor."

Vonde Cayle - Team Lost Desert
Vonde Cayle of
Team Lost Desert
seemed spoilt for choice. "It depends what type of party you want, really," he said. "If you want something more fancy, organise one nearer to the palaces in Sakhmet or Qasala. If you want something more wild, go for ones in the marketplaces. Just avoid being robbed by thieves."

Elon Hughlis - Team Maraqua
Captain Elon "The Black Hole" Hughlis from
Team Maraqua
jumped right in with his personal recommendation! "Under da sea, of course! There ain't anything wrong with Maraqua, except when it's being attacked by pirates... But yeah, don't forget the Acara Aquatic Festival - it's incredible! And I'll be there. So Maraqua is the best place to partay!"

Fiorina - Team Meridell
"Sometimes, if we're very lucky, King Skarl opens up a hall in his castle to the public for a day or two every few months," Fiorina of
Team Meridell
explained to us conspiringly. "It's not really advertised a lot because King Skarl doesn't have tax imposed on it... but you can host balls or have coffee mornings or even throw a massive party there! Just make sure you book a time to use it."

Aldric Beign - Team Moltara
Captain Aldric Beign of
Team Moltara
had to put some thought into his reply. "Well, if you're climatised to Moltaran temperatures then I'd suggest throwing a Magma Pool party. But the majority of Neopians aren't, so I'd recommend Roo Island because I hear that they throw some epic parties!"

Bertie Shurtz - Team Mystery Island
Here comes another biased answer for the best party venue in Neopia: "Mystery Island beach parties! Limbo, fruit feasts, music... What's to miss?!" Bertie Shurtz of
Team Mystery Island
said enthusiastically. "Just remember to tip the waiters."

Lilo Blumario - Team Roo Island
Captain Lilo Blumario of
Team Roo Island
had no hesitation with his answer. "When ISN'T there a party on Roo Island? We believe in having fun so we try and keep a positive and upbeat attitude. Come to Roo Island if you need to party, there are loads on all the time. What type of parties? Any imaginable!" There you have it - party central!

Mirsha Grelinek - Team Shenkuu
"Celebrations are a big deal in Shenkuu," Captain Mirsha Grelinek of
Team Shenkuu
explained happily. "Fireworks, food, the locations to host parties? We've got the lot! Don't forget the extreme sports for the thrill-seekers." She then added; "To be fair, though, Roo Island is a great place for parties."

Rinok Fitel - Team Terror Mountain
We actually caught Rinok Fitel of
Team Terror Mountain
skiing down the slopes of the mountain. "If you can stand the cold then definitely come to Terror Mountain to have a good time. Skiing, snowboarding, the Ice Caves, the
Advent Calendar
... What's not to like?"

Wila Benne - Team Tyrannia
Wila Benne of
Team Tyrannia
was quick to promote her homeland as well: "Come to
Concert Hall
! Bands play everyday. Don't forget Tyrannian Mini Golf, Ugga Smash and the Town Hall. Much partying!"

Keetra Deile - Team Virtupets
Captain Keetra Deile of
Team Virtupets
didn't really have much of a say in her answer. "Doctor Sloth throws the best parties! He has the best taste in music and is an excellent host. Let's not forget that he is a fantastic dancer. All hail Sloth!"

So there you have it! Although most of the answers are divided in opinion from our Altador Cup stars, they all have pretty cool suggestions on where to go for your style of celebration in Neopia. Have a great time whatever you decide to do!