Capri Sun Live Band Show


What is Capri Sun Live Band Show?
Capri Sun Live Band Show is a new US only sponsor offer. Answer the clues to find Simon's missing instruments. Each week a new instrument will be missing and it's up to you to locate it. For each instrument you find, you will be awarded 1,000 neopoints. After finding all eight missing instruments, you will be awarded 5,000 neopoints and an exclusive item: Simon's Band Hat.

Note: If you are using an Adblock program you may need to temporarily disable it, or you will not be able to see the sponsored top ad banners you need to click on. If you are using Firefox you can do this by going to tools "adblock" preferences then uncheck enable adblock. If you are using Adblock Plus click on the adblock icon at the top right of the window and uncheck enable adblock plus.

Note #2: If you are a Premium member, switch out of Portal mode or you will not be able to see the ads.


How does it work?
Each week a new instrument needs to be found. Instruments that you need to find show up as white spaces. Instruments not available to be found yet are in grey.

You need to use the clues to find the instrument ads. Once you've found it and click on the instrument ad, you will be taken back to the Live Band Show page and awarded 1,000 neopoints.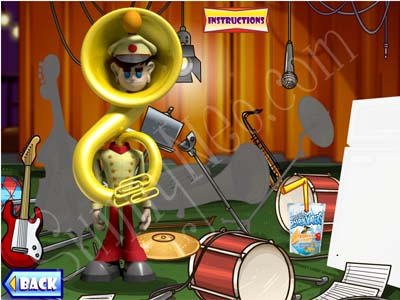 The missing instruments
In the table below you can see all of the missing instruments. For some of them, the clues on where to find an instrument ad have already been given out. Others will be added later.


Missing Instrument
Clue
Location
Not far from Faerie Quests, this drum landed. When popping bubbles here, don't be heavy-handed!
Faerie Bubbles
There's plenty of amusement to be found here. Some call it shopping central and stay all year.
Neopia Central
This forest is full of frightening beasts. Nearby, you'll find Faerieland to the east.
Haunted Woods
This microphone landed in a central spot. Whatever you want to know about Neopets, they've got!
Pet Central
Simon himself may hold the clue to this piece, But you'll have to help him; win once at least!
Simon's Strange Symphony
You don't have to pull strings to find this instrument. The desert dwellers are too amused by the incident.
The Lost Desert
This instrument is a real blockbuster, we heard. The Tyrannians said it's causing quite a stir.
Destruct-o-Match III
With a loud crash, this cymbal's land recently fell
Right out of the sky like a meteor -- oh well.
Faerieland



The Grand Prize
Once you've found all 8 instruments, you will win 5,000 neopoints, and an item called Simon's Band Hat.




Simon's Band Hat