Neopets Layout Change
What happened?
On
April 26th 2007
a giant Meepit appeared on the News page, saying
YOU ARE NOT PREPARED
. Of course, nobody knew what they had to prepare for, and nobody was prepared...
Later that day, everyone in Neopia was shocked. The Neopets everyone had come to love had disappeared, making place for a new and flashy Neopets.com. Not only the old layout had disappeared, but everyone's pets had changed too. From that day on, pets had become customisable, meaning you can dress them up with clothes. In order for this to be made possible all pets got a redraw to make them more uniform.
The Old Neopets
For those who don't know, or those who want to remember Neopets as it was, you can see a few screenshots below. The screenshots show the
Explore page
, the
Shops page
and the
Stuff page
.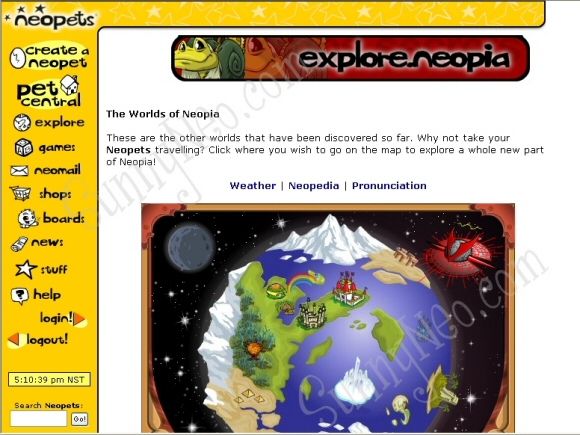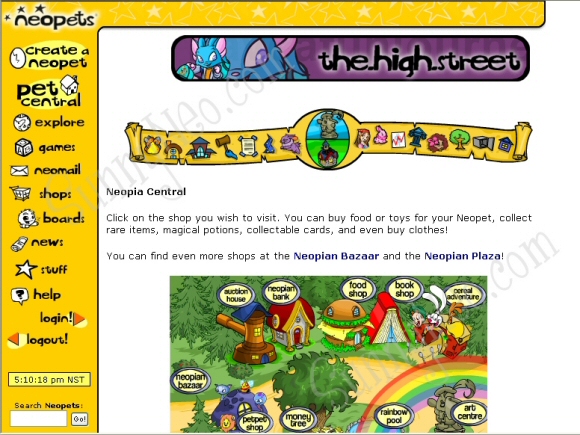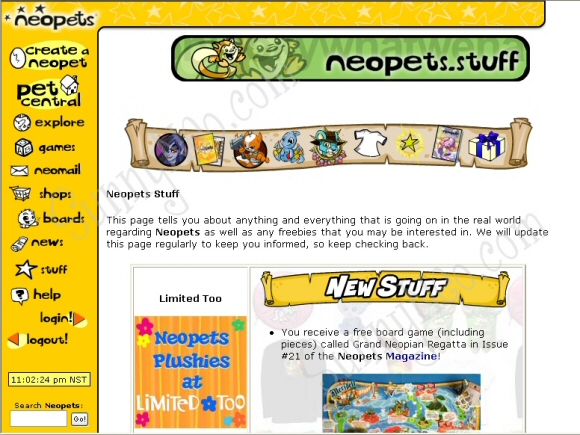 The New Neopets
When everything changed on the 26th, the sidebar had been replaced for a header with drop down menu's for easier access of the pages. Neopets also recoded userlookups so that people have more options to customise them. Another new feature is the Daily Puzzle on the front page of Neopets.
Below you can see a screenshot of the Neopets front page at April 26th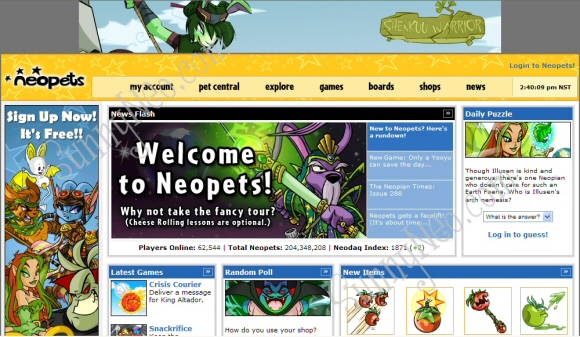 A lot of people seem to have trouble locating things on the new Neopets. Below you will find an overview of how to get to places.
My Account:

Control Panel:

Edit Profile
Site Preferances
PIN preferances
Change E-mail
Email Preferences
Quickref
Customise Pets
Edit Petlookup
Edit Petpage
Neofriends
Add Neofriends
Guild

Edit Profile
Site Preferences
Neomail
Neofriends
Create a Pet

Pet Central:

Main:

Calendar
Backgrounds
Screensavers
Buddy Icons
Fun Images
Shop Blogs
Music
How to Draw
Lenny Library
Neopedia
Competitions
Word of the Day
Pound
Send a Neopet to a Friend
Pronunciations
NeoGreetings
Faerie Quests
Neopets Popularity
All Pets
All Petpets
Link to Us

Calendar
World Events
Pound

Explore:

Map of Neopia
Weather
Pronunciation
Neopedia

Games:

Games Room
Top Rated Games
High Scores
Favourite Games

Neoboards:

NeoBoard Index
Chat Preferences

Shops:

Neopia Central

Battledome
Safety Deposit Box
NeoHome

Shop Wizard
Your Shop
Auctions
Trading Post
Bank

News:

News and Features:

News
Newest Items
New Games
Current Event
Competitions
Coming Soon

Coming Soon
Neopian Times
Merchandise News a.k.a Stuff

Neopets Front:

News Flash
Stock Market (NeoDAQ)
Daily Puzzle
Newest Games
Poll
New items
Competitions

Every Page:

New Events
Inventory (click Neopoints)
Log Out
Quickref
Neofriends Beta
Search
Privacy Policy
Safety Tips
Contact Us (Bug + Report Form)
About Us
Link to Us
Help
Terms and Conditions
Customising Pets
As mentioned before, you can now dress up your pets. You can go to the
Customisation page
through your QuickRef page. Thus far you can only put a background behind your pets, and take away the clothes that come with their special paint brushes. TNT has said in the Neopian Times Editorial that they are working on making clothing items work too, so that you can make your neopet look unique. Below you can see an image of the Customisation page, and how it looks if you remove a pet's special clothing: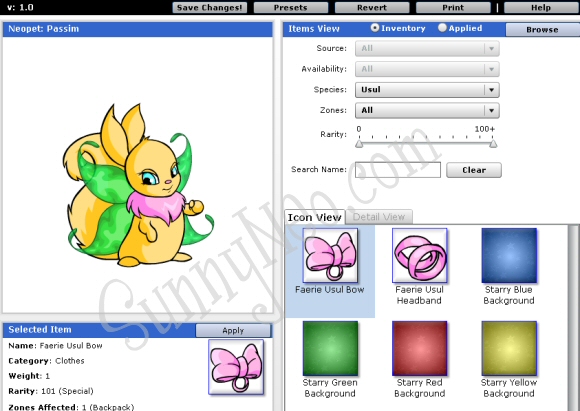 If you paint your pet in a new colour, your pet gets to keep the clothes that came with the old colour. This way you could make for example a Skunk pet, with Royal Clothes.
Some pet's had a rather radical redraw, on these pets you are allowed to choose whether you want to convert your pet so it can become customisable, or keep it the way it was.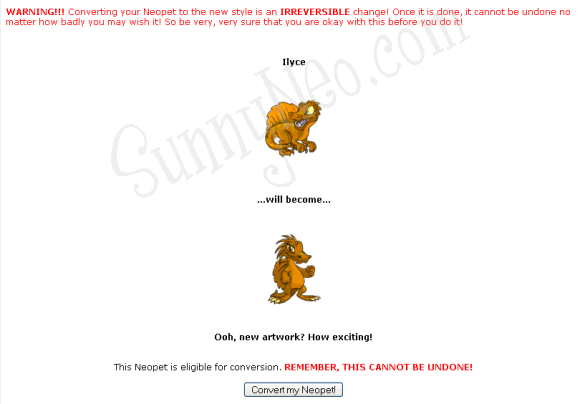 Neopian Times Issue 291
mentioned that if you are to paint your pet now, you will not have the choice wether you want to convert your pet or not. These pets will automatically receive the new look.