Esophagor
What is the Esophagor?
Living in the ground under the Haunted Woods, the esophagor is always hungry. When he rises out of the ground, he will always find *something* to eat. So the next time you hear the floor shake... make sure you have some food on you to feed to this beast.
The
Esophagor
is located near the bottom of the map in the Haunted Woods.
Doing two of his quests will give you the answers to the
Brain Tree
's quests. You are allowed to do an
unlimited number
of Esophagor Quests, whereas you are only allowed to do one Brain Tree Quest a day.
If you are doing Esophagor Quest to get the answers for the Brain Tree, you must accept the Brain Trees Quest first before completing the Esophagor's Quest in order to get the correct answers.
How To Complete An Esophagor Quest
To start an Esophagor Quest, you just click on "Sure I will find you food".

The Esophagor will ask for 1-3 spooky foods, ranging from cheap to expensive. You can see a list of items he asks for below:
You will have a limited amount of time to complete the Esophagor's Quest, anywhere between 1-3 hours. Once you have all the items he is asking for, you return back and click on "I have your food."It will allow you to turn in multiple attempts-- so if you get 2 of the 3 items and turn them in, you can return again afterward and give him the last item you forgot.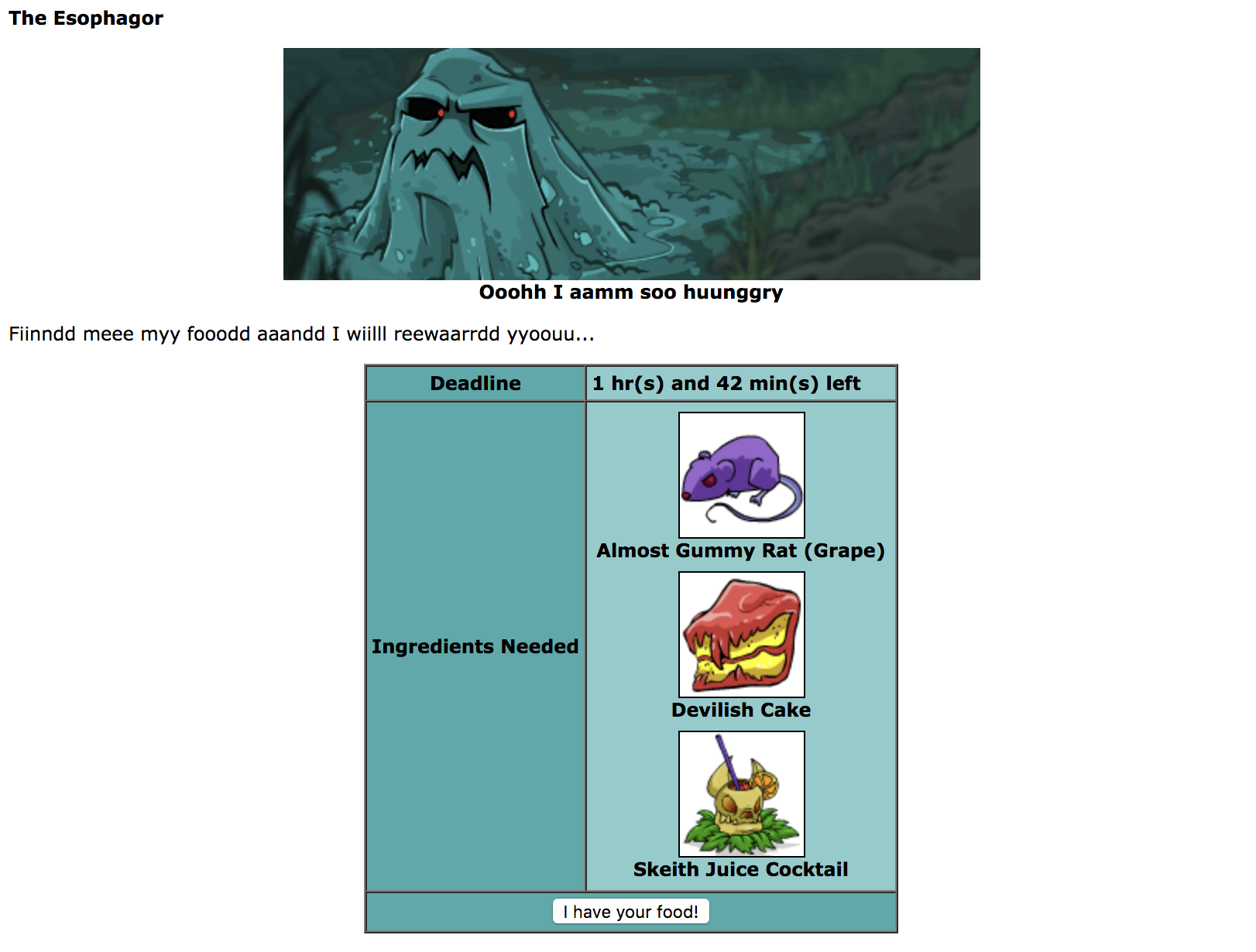 Esophagor Rewards
The rewards are different depending on if you are on a Brain Tree Quest at the time of completion or not. If you are on a Brain Tree Quest, the first Esophagor quest will give you the answer to the year the person has died; the second quest will give you the answer to the location where the person has died.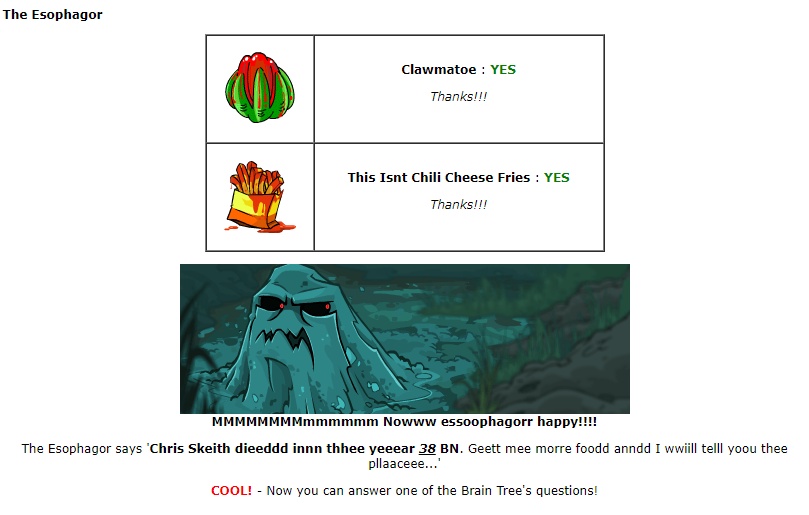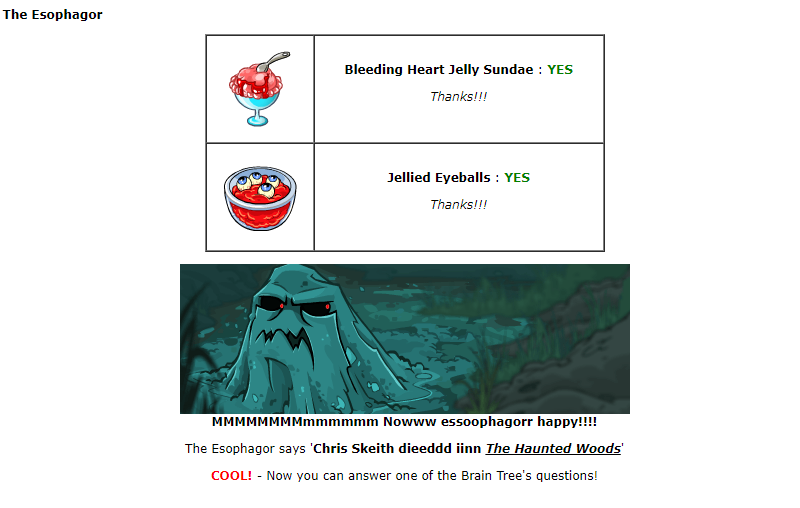 If you are not currently on a Brain Tree Quest, you still will be rewarded with a treat! These are rarely worth very much, so it is advised to not do Esophagor quests for rewards unless it is very cheap items he is asking for. Otherwise, do Esophagor quests for Brain Tree answers
only
.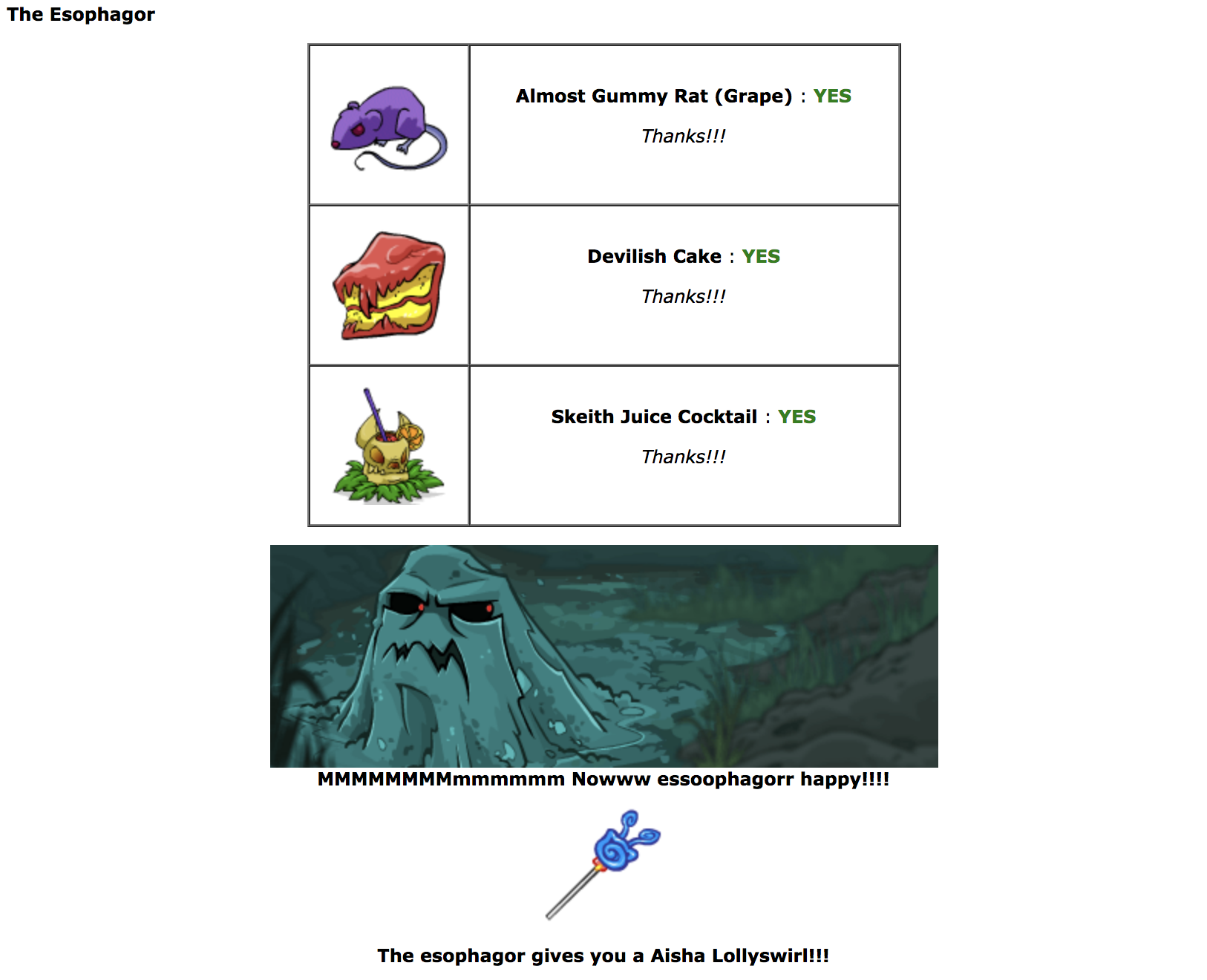 These are some of the prizes you can get from doing the Esophagor's Quest: