War for the Obelisk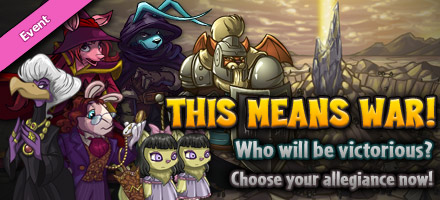 | | |
| --- | --- |
| TABLE OF CONTENTS | NC GUIDES PLOT LINKS GRAPHICS: |

Victory
The obelisk has been opened and The Sway was the first to get in! So what was inside the obelisk? If you visit the Battleground of the Obelisk you will get a popup with this bright yellow thing called the Oracle.

At long last, the obelisk is opened. It appears as though the 'what' inside is actually a 'who'.

It is the Oracle. You know this because she whispers it in your mind. The power you sought is within her -- a bright, glowing spirit, she has survived the ages in a magic slumber. She is a teller of visions, a solver of riddles, a seer of seers. Long has she awaited this day. All other noise fades away as she whispers again in your thoughts, promising another chance to prove yourself on the Battleground.

Nearby, your leader beckons you to come over. A little worse for wear after the battle, your faction has set up a garrison to reward those loyal to their cause. It looks like you might get to share in the spoils.

After you click out of the Oracle popup, you will see a new countdown clock that says:
The truce ends in: with a timer that ends on Sunday April 28th night.
In the news it gives us this random hint that could have to do with the new countdown: The light is blinding! It spreads across the battlefield in an instant, and that's when you know. The apparitions were a test -- a test that bears rewards, but not for long. It seems obvious to you now that any Sway should make their way to the door. Others will get the chance to prove their worth soon enough...

Tyrannia has also gotten a nice new makeover.


Basic Item Rewards
On the Oracle page you will also see a banner saying the Sway Wins! If you were on one of the losing factions you will get rewarded with a random item that can be anything from a Fire Tipped Spear to a Tomato Bomb. If you were on the sway you get 4 random items.


| | | | | |
| --- | --- | --- | --- | --- |
| Biscuit Table Lamp | Blackberry Rug | Bobbing Lenny | Bony Bracers | Bottled Volcano Steam |
| Broken Desert Pottery | Checked Kitchen Chair | Cheese and Pickle Packed Lunch | Chesterdrawers Antique Almanac Vol. IV | Christmas Zafara Picture Frame |
| Cream Cheese Pretzel Bites | Cucumber Salad | Dipping Apples | Encyclopedia Neopia | Egg Salad Packed Lunch |
| Engraved Short Sword | Fiery Carved Torch | Fire Chomby Plushie | Fizzy Apple Juice | Flame Tipped Spear |
| Flaming Shield of Fire | Framed Toast | Freeze Dried Bacon | Garlicy Mushrooms | Gooseberry Jam Packed Lunch |
| Granola Parfait | Green Ruki Plushie | Green Wocky Figurine | Ham and Mustard Packed Lunch | Hot Fudge Sundae |
| Maractite Throwing Net | Meepit Painted Rock | Kacheek Flower Vase | Laced Wooden Staff | Muffin Baking Book |
| Neopian Jambalaya | Oatmeal Raisins | Orange Wocky Puzzle | Pile of Logs Foreground | Professional Sock Collections |
| Protective Lime Helmet | Purple Hissi Plushie | River Rocks Foreground | Ruki Ornament | Salisbury Steak |
| Sentimental Sediments | Set of Spoons | Singularity Play Set | Sketch Sofa | Spotted Kiko Plushie |
| Sturdy Blue Sword | Sunglasses Book | The Biographies of Mostly Important Neopians | The Month of Eating | Tomato Bomb |
| Toy Pirate Cannon | Tyrannia Travel Brochure | Volcano Diagrams | Von Roo Dice | Wooden Vampire Stake |



Sway Swag: Boons
If you were on the sway you are also able to pick this new thing called a boon. There are 5 normal boon options and 2 premium boons (if you are premium). You are able to pick 1 normal boon and 1 premium boon (if you are premium). Once you pick a boon you are not able to change it. You have to pick a boon before the countdown clock is done, and your boon also ends when the countdown clock reaches 0. So the sooner you pick a boon the more benefits you will gain from it.

These boons are little extra things that help out around the site. More information on what each boon does specifically soon. Testing and confirmation is still needed.


Normal Boons

Cheaper By the Dozen
By some force that defies explanation, the rules of the Stock Market bend to your will.

What it does: This boon will allow you to buy stocks priced as low as 10nps each stock, instead of the usual minimum of 15nps in the stock market. If you buy stocks daily, and have a set price you thold them til, this would save you 5k a day, and isnt a bad option if you none of the other boons are up your alley.

That Millionaire Feeling
And what a feeling it is. You are mysteriously compelled to use this gift at the Trading Post.

What it does: It appears from the boards that this boon allows you to offer up to 1mil nps on a trade instead of the 800k max there usually is. We have not seen screenshot confirmation. This is a pretty pointless boon since it does not actually save you any nps or give you any advantage since you can just use auctions to bid 1mil nps.

Refreshed Quest Request
The faeries sense something within you and offer a second chance.

What it does: This boon allows refresh at the faerie quest page for a different faerie quest when you have an active faerie quest. You can only refresh each faerie quest you get one time for a new one, but if you get multiple faerie quests, you can refresh each one of them one time each for a better quest. This works with faerie fortune cookies that give you 1 guaranteed faerie quest per day. If you are trying for a fountain faerie quest and have a lot of time to spend running around the site in hopes of getting random faerie quests (or can get a faerie quest fortune cookie in the NC Mall) then this is a pretty decent boon to pick.

Black Market Goods
Shopkeepers don't offer their finest goods to just anyone, but there's something about you...

What it does: This boon will highlight certain items when they restock with a yellow flamey border. The exact qualifications for what items are highlighted and what ones are not is unknown.

Bank Bribery
You feel uplifted and your presence puts the bank manager in a delightfully good mood.

What it does: This boon will increase your daily bank interest by another 3% from what the daily % you get is. Depending on how many nps you have hoarded away in your bank, this could be a very nice difference over the course of a week, and is a pretty good boon to pick.
Premium Boons

Full Pockets
The scratchcard hums in your hands and you feel luckier. This is not the Space Faerie's doing....

What it does: This boon will increase the amount of NP awarded from your Space Faerie Scratchcards. If you win an item from your scratchcard instead, you will also be awarded an additional prize of 1,000 NP. If you have more than one unscratched card, it will apply to all of them.

Premium Dreamium
You feel drawn to the Games Room, determined to leave richer than you arrived.

What it does: This boon doubles the maximum number of scores you can send in the Premium Featured Game from 3 to 6. During Games Galore, however, you are only allowed one extra score sent (for a total of 6 scores sent instead of doubling the scores sent from 5 to 10).



Prize Shop
The prize shop is also open! When you visit the Mysterious Obelisk - Prize Shop you are rewarded with a number of things. If you partcipated you are rewarded with a site theme and an avatar. If you were on the sway you get an additional sway specific avatar and site theme as well. You can view our Site Themes Page for more information on the site themes, or our Secret Avatars/Fonts Page for more information about the avatars.


Something Has Happened!
You are now eligible to use 'Obelisk War Veteran' as an avatar on the NeoBoards!
Something has happened!
You are now eligible to use the 'Tyrannia: Mysterious Obelisk' theme when browsing the Neopets.com website! Check out your User Preferences to change your theme. Or, click here to apply it automatically.


You also get rewarded with your trophy and the number of points you earned. If you have seen a point value higher or lower than the ones listed for each range (the points that are missing) please neomail faerieskater2 with the username so we can confirm it and update the information.


Trophies

Dirt Collector
0 - 9,999

Excavator
10,003 - 41,272

Conscript
47,207 - 122,356

Camp Guard
128,318 - 297,471

Battle-Hardened Bruiser
301,726 - 391,947

Warmonger
575,192 - 641,246

Honoured Champion of the Obelisk
650,594+


You are able to spend the points you earned on the prizes available in the prize shop. Each prize costs a certain amount of points. When you click on an item, it will ask you if you are sure you want to purchase it. After you say yes, it will deduct the amount the item was from your total points you earned, so spend your points wisely!


Prizes

1
points

Greed Keyring

Type: Toy

More! More! Get more keyrings and hoard them all!

1
points

Pride Keyring

Type: Toy

The best keyring in existence, no question. Make sure all your friends know it.

1
points

Envy Keyring

Type: Toy

This keyring is okay, but all the others are so much better...

1
points

Wrath Keyring

Type: Toy

Who needs a keyring anyway?! Just the thought of one makes you angry beyond belief.

1
points

Apathy Keyring

Type: Toy

Its a keyring.

1
points

Death Keyring

Type: Toy

With this keyring in your hand, you never have to worry about becoming a ghost.

100
points

Petrified Cake

Type: Food

FINALLY! Its the cake we have been waiting for. Each bite breaks your teeth with a satisfying CRUNCH!

100
points

Pilfered Mug of Coffee

Type: Food

This would have been the perfect heist... but alas, the coffee is now cold.

100
points

Innocuous Cup of Hot Chocolate

Type: Food

Its just a simple cup of hot chocolate... isnt it?

100
points

Magical Floating Tea Set

Type: Food

This enchanted tea set will float to you with just the wave of a hand. Includes instructions on basic magic use for beginners.

100
points

Light Appetizer

Type: Food

If you are still hungry afterwards, you can always ask for seconds...

100
points

Ultimate Concoction for Restoring Refreshment

Type: Food

Finally, a beverage for the thinking Neopian! Sip on this deliciously clever blend of lemons, water, and sugar as you come up with your next big experiment!

500
points

Helpful Zafara Digger

Type: Gift

This helpful Zafara will follow you around and point at all the obvious things he can find!

1,000
points

Fortune-Telling Oracle Machine

Type: Furniture

Will you win the Neopian Lottery? What will the weather be like tomorrow? Will the same horrifying history the Oracle lived through repeat itself? Find out these answers and more with this handy fortune telling machine!

2,500
points

Chess Set of Foreboding

Type: Toy

There is something dark and sinister about this chess set. Perhaps there is more than meets the eye.

2,500
points

Krawk Prisoner Hand Puppet

Type: Toy

Your secrets arent safe when this Krawk is around, but thats not his fault, is it?

2,500
points

Confused Wizard Action Figure

Type: Toy

The ultimate question is whether it is in fact the broom rather or the wizard that is confused.

2,500
points

Personal Training Dummy

Type: Toy

Train your skills or just have fun with this handy, near-indestructible dummy. It just wont back down!

2,500
points

Experiment Notes: Hour 1

Type: Book

Now, to write my eight hundred page thesis on hour one!

2,500
points

Eau de Mort

Type: Grooming

Ah! That lovely scent of death for everyday wear.

5,000
points

E-Z Brand My First Death Axe

Type: Battle Magic

Its more effective once you take it out of its mint collectors edition box.

7,500
points

Handmade Master Thief Kanrik Plushie

Type: Plushies

The leader of the Thieves Guild in cuddly plush form, likely stolen from a small child or crazed collector.

7,500
points

Handmade Duchess Plushie

Type: Plushies

Just a purple Lenny in cuddly plush form. Move along.

7,500
points

Handmade Rasala the Bright Plushie

Type: Plushies

The leader of the Order in cuddly plush form. Handmade with magic!

7,500
points

Handmade Commander Flint Plushie

Type: Plushies

The leader of the Brute Squad in cuddly plush form. Its likely he did not approve this.

7,500
points

Handmade Professor Lambert Plushie

Type: Plushies

The leader of the Seekers in cuddly plush form, for later

7,500
points

Handmade Lanie & Lillie Plushie Set

Type: Plushies

The leaders of the Awakened in cuddly plush form.

10,000
points

Tyrannian Paint Brush

Type: Special

Take your Neopet to the Rainbow Pool and give them a prehistoric look with this paint brush.

15,000
points

Mysterious Obelisk Stamp

Type: Stamp

The obelisk looks extra mysterious in its limited edition glossy stamp form.

25,000
points

Adorably Pink Lollypop

Type: Candy

A good incentive to return from beyond the grave.

25,000
points

Members Only Moustache

Type: Clothes

Member of what? No one knows. But by the looks of this moustache, its gotta be a pretty swanky club.

25,000
points

My Mechanical Buddy T-3000

Type: Gift

This is one friend that will never let you down, unless you ask politely.

25,000
points

Battle Beard

Type: Clothes

Theres no time to examine everything you find on the battlefield. Just toss it in the beard and look at it later!

25,000
points

Bewitching Sorcerers Bonnet

Type: Clothes

Now you too can set the wizard fashion trend with this extra-crooked hat!

25,000
points

Thieves Hood

Type: Clothes

Part of the basic Thieves Guild welcome kit. The guild does not force adornment, but wearing a hood is like the #2 reason most Neopets join.

50,000
points

Runes of the Obelisk

Type: Gift

Take the comforting glow of the obelisk with you wherever you go!

60,000
points

Red Erisim

Type: Desert Petpet

Erisims are a slithery snake type Petpet. You can hear them in packs making cackling noises in the night... quite scary really.

70,000
points

Relic Paint Brush

Type: Special

This ancient looking paint brush will give your Neopet a stony new look.

100,000
points

Rejuvenating Jar of Brains

Type: Battle Magic

Wear them, eat them, or carry them under your arm. Whatever you do, the healing power of BRAINS is sure to benefit you! Limited Use. You can only have one healing item equipped to a pet!

100,000
points

Fancy Dress Armour

Type: Defence Magic

Perfect for those extra fancy after-battle social gatherings.

100,000
points

Galems Cloak

Type: Defence Magic

How... why... where the heck did this come from?! No matter. Put it on and annoy Kanrik in the Battledome!

100,000
points

Wand of Lameness

Type: Battle Magic

Mend it with a bit of cloth and you will probably get a few more spells out of it.

100,000
points

Ring of the Sway

Type: Battle Magic

Wear it proudly to show your fellow members where your loyalties lie.

100,000
points

Collapsible Offensive Device

Type: Battle Magic

It may just look like an ordinary umbrella, but... well, yeah. It really is just an ordinary umbrella. But its pointy!

150,000
points

Ultimate Battlefield Foreground

Type: Gift

Many foes had to fall in battle to bring you this foreground.

200,000
points

Woolypapith

Type: Tyrannian Petpet

You always know when a Woolypapith is around. You can hear their heavy trampling and loud trumpeting a mile away.

200,000
points

Ultimate Battlefield Background

Type: Mystical Surroundings

Only one warrior was left standing on this battlefield...

225,000
points

Rock

Type: Tyrannian Petpet

What can we say... Its a pet rock.

250,000
points

Shadow Paint Brush

Type: Special

If your pet is a creature of the night help it blend into the shadows with this cool colour effect. Take this brush to the Rainbow Pool.

275,000
points

A Shovel

Type: Battle Magic

You quickly learn that shovels are good for smacking enemies over the head... and digging. There is the digging thing.