Faerie Festival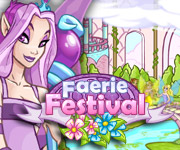 What is Faerie Festival?
Each year on September 20th it is Faerie Festival. Like special pet days such as Acara Day this day is to celebrate the presence of Faeries in Neopia. On this day special Faerie related items, games etc. are released on Neopets.

Starting in 2009, a special Faerie Festival page was released. In 2009 this page had all Faerie related information on it, such as suggested wearable items, a link to Faerieland, a link to a new daily called The Discarded Magical Blue Grundo Plushie of Prosperity, a Personality Quiz, Faerie Games, a brand new Faerie Festival Neoboard and a link to the Faerie Shoppe at the NC Mall. The 2010 page is still under construction as the faeries are still preparing for the festival.


Faerie-themed prizes
What's most interesting about the page though, is its daily Faerie-themed prize that is being given away. Since the opening of the Faerie Festival page on September 17th, each day you can win a special item by visiting a special location or doing a special activity. In the table below you can see the items given away.


With the navigation below you can see the prize lists of different years.

[ 2009 | 2010 ]



On September 20, 2010, the Faeries at the Faerie Festival were suddenly turned to stone. On September 21, 2010,

The Faeries' Ruin Plot main page

was launched. For more information, see

The Faeries' Ruin Plot Coverage

.

| | | |
| --- | --- | --- |
| Date | Prize | Place to obtain |
| September 20th | Random Faerie item | Given at the Faerie Festival as Daily Prize. |
| September 19th | Random Faerie item | Given at the Faerie Festival as Daily Prize. |
| September 18th | Random Faerie item | Given at the Faerie Festival as Daily Prize. |
| September 17th | Random Faerie item | Given at the Faerie Festival as Daily Prize. |