Spooky Food Eating Contest
| | |
| --- | --- |
| TABLE OF CONTENTS | NEOPETS' LINKS |

The Spooky Shindig Society, an esteemed Neovian club, is holding an eating contest to celebrate their favourite part of Neopian cuisine: Spooky Food. The brilliant Chef Julien has graciously agreed to cater the affair, which leaves you free to simply enjoy the spectacle... and choose a contestant to cheer on!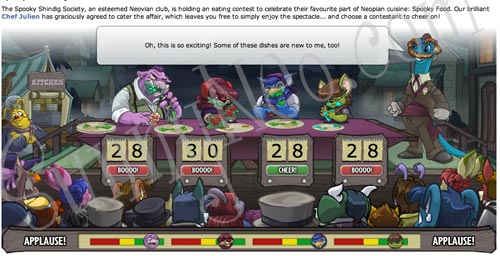 To join the
Spooky Food Eating Contest
, you must choose a contestant to support. You can do so by clicking on them and confirming.
Once you have choosen, you can cheer for your contestant, or boo at it's opponents, by clicking on the buttons. This will make their status go up, and they will gain points for being cheered at.
You can see how well a contestant is doing by these little bars. The more the contestant is showing in the green bar, the more they get cheered at. A contestant who's not that high up in the green bar, or even in the red or yellow bar, is getting a lot of boos.
You can earn prizes for encouraging your contestant, or discouraging the others. Once you've cheered or booed, you won't be able to do anything again for the next five minutes. You can cheer or boo for 25 times a day. After this, the contest judge will tell you you can give your lungs a break for the day. Isn't that nice of him?
The contestants
There are four contestants, all more that willing to show of their skills of eating as much Spooky Food as they can possibly eat.
Contestants
Moloch

Egad, the big fellow. Moloch hails from Threepenny Lane. He informs us that he likes taking tea with his grandmother, walking his Zomutt in the moonlight, and taunting Werelupes... Er, should I mention that? He thinks he can win this eating contest. What say you?
Scarlet

Scarlet comes to us from a long line of eating contest winners. Both her mother and grandmother won medals in competitions in Shenkuu. She is employed as a funambulist -- that's a tightrope walker, for those of you wondering. Think she can win this contest?
Myrtle

Hmm, Myrtle! I remember her from my last trip to Prigpants and Swolthy. She's a masterful seamstress, made several of my suits. I'm told she is passionately fond of strawberries and eyewiches! Yum, the lady has excellent taste. Is she a shoo-in to win this contest?
Turfy

I'm told Turfy works in drains, cleaning out Neovia's sewer system. You need to have a strong stomach for that kind of work. In his spare time, he likes to collect rare books. Let's hope the little fellow has a big appetite for more than just reading. Think he can win?
Prizes
You can win the following prizes for boo-ing or cheering at the contestants. Which one of the two you are doing doesn't matter, for the prizes you get are the same for boo-ing as for cheering.
Battledome items

Cursed Elixir

Enchanted Cobweb

Ghostkerchief Bag

Ghostkerchief Dagger

Helm of Despair

Paper Helmet

Rusty Cleaver

Scythe of Eternal Darkness

Spider on a String

Stale Candy Blade

Books

Chia Ghost Stories

Crumpet Mongering

Famous Neopians Map

Grave Digging Manual

Halloween Safety Procedures

Haunted Woods Travel Brochure

Hissi History

Kacheek Horror

Local Happenings

Mesmerizing Kikos

Mop Beautiful

Mouldy Tome

Mynci Horror

Neovian Fine Dining Customs

Secrets of the Chocofactory

The Month of Eating

Food

Apple Scone

Beef Stew Pie

Bearog Claw

Candy Corn Classic

Caramel Apple Bundt Cake

Caramel Hot Chocolate

Chestnut Pudding

Chunky Potato Pie

Coconut Coffee

Cookie Hats

Crypt Crisps

Deviled Eggs

Eyeball Cupcake

Fright Pop

Gravy Nightmare

Lemon Meringue Tea

Marshmallow Roast Coffee

Mouldy Mini Kau Cheese Wheel

Persimmon Cake

Pomegranate Tea

Raspberry Linzer Torte

Spicy Coconut Soup

Tombscones

Turkey Monster

Warm Spinach Croissant

Misc.

Dried Prampet Leaves

Pipe Trumpet

Talon Root

Neohome

Gooey Rotten Pumpkin

Oozing Mutant Rug

Paintbrushes

Ghost Paint Brush

Halloween Paint Brush

Halloween Petpet Paint Brush

Halloween Tonu Morphing Potion

Zombie Flotsam Morphing Potion

Zombie Paint Brush

Zombie Petpet Paint Brush

Petpets

Quintilc

Red Tencals

School supplies

Delicious Paste

Dung Folder

Elephante Eraser

Ice Cream Dumplings Eraser

Lenny Pencil Case

Loveberry Notepad

Maple Syrup Ink

Meepit Stencil

White Chalk

Stamps and TCG cards

Edna the Zafara Stamp

Glowing Brain Tree Stamp

Scary Abandoned Plushie (TCG)

Toys and plushies

Blue Eyrie Plushie

Deviled Steak Plushie

Green Eyrie Plushie

Green Xweetok Plushie

Halloween Cybunny Plushie

Halloween Grarrl Plushie

Halloween Hissi Plushie

Halloween Intesteen Plushie

Halloween Slorg Plushie

Plushie Eyrie Plushie

Purple Moehog Plushie

Purple Yurble Plushie

Rainbow Yurble Plushie

Red Eyrie Plushie

Red Xweetok Plushie

Robot Moehog Plushie

Shadow Eyrie Plushie

Shadow Korbat Plushie

Skunk Moehog Plushie

Spooky Usuki

White Xweetok Plushie

Yellow Moehog Plushie

Yellow Eyrie Plushie

Yellow Yurble Plushie

Wearables


Curled Blonde Wig

(Click to Preview)