Quest for Knowledge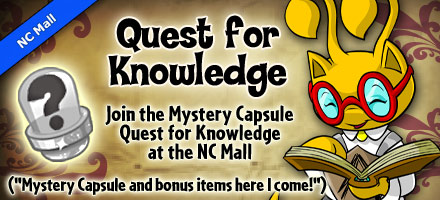 What is the Quest for Knowledge?
The Quest for Knowledge is a site event currently in the
NC Mall
. So far, six different capsules have been found, all bearing the same logo of a book.
The NC Mall says the following about the Quest for Knowledge:
Travel through Neopia on a Quest for Knowledge! The NC Mall will be releasing 5 all-new Limited Edition Mystery Capsules, each featuring a brand new bonus item! Purchase all 5 capsules and receive a bonus Mystery Capsule!
*Mystery Capsules must be purchased on the same account in order to qualify. Any gifted capsules will not count toward the bonus prize.
The event is similar to the
Mystery Capsule Adventure
that was hosted in the NC Mall during the Fall of 2009. At that time, all the featured capsules had matching compass logos.
Capsules
Release/ Retire date
Capsule
Bonus item
Release date:
April 21st 2010
Retires at:
May 3rd 2010

Anshu Quest for Knowledge Mystery Capsule

200 NC


Shenkuu Adventure Tunic

(Click to Preview)

Release date:
April 27st 2010
Retires at:
May 9th 2010

Moltara Mayor Mystery Capsule

200 NC


Moltara Shoulder Armour

(Click to Preview)

Release date:
May 4th 2010
Retires at:
May 16th 2010

Fyora Mystery Capsule


Faerieland Adventure Wings

(Click to Preview)

Release date:
May 10th 2010
Retires at:
May 23rd 2010

Captain Threelegs Mystery Capsule


Krawk Island Adventure Sword

(Click to Preview)

Release date:
May 18th 2010
Retires at:
May 30th 2010

Finneus Mystery Capsule


Altador Helmet of Knowledge

(Click to Preview)

Bonus Item for finding the LE item in each of the five capsules


Quest for Knowledge Library Background

(Click to Preview)

Bonus Capsule

received for purchasing all five previous capsules

Adventure of Knowledge Mystery Capsule

This capsule also has a chance of awarding LE items from the other capsules


Quest for Knowledge Boots

(Click to Preview)