Title 1
Any information about your role play character can go here; perhaps things such as name, likes, dislikes, and background.
Maybe include a photo of your character if that suits your style.
Here's an example:
Let The Flames Begin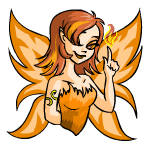 Name:
Ember
Age:
18
Born:
5th of November, 1990
Nicknames:
None
Hobbies:
Collecting bottled fire faeries, staring at the sun
Hair:
Brownish orange, short
Eyes:
Brownish red
Personality

Moody:
Ember can be extremely moody at times; she's the type of faerie to demand attention, and always get her own way.
Mischievous: She has a tendency to create mischief at college, which causes her to end up in detention on a regular basis.
Title 2
Get the drift? ;D
NEOPETS, characters, logos, names and all related indicia
are trademarks of Neopets, Inc., © 1999-2012.
® denotes Reg. US Pat. & TM Office. All rights reserved.
PRIVACY POLICY | Safety Tips | Contact Us | About Us | Press Kit
Use of this site signifies your acceptance of the Terms and Conditions