Faerie Crossword
What is Faerie Crossword?
Faerie Crossword
is a daily crossword puzzle in
Faerieland
. If you fill in the crossword correctly you will receive some neopoints depending on the time needed to solve the crossword puzzle. If you finish the puzzle in less than 5 minutes (which should be easy seeing the answers are listed below) you earn yourself 600 neopoints! Also, upon completing the puzzle your active pet's intelligence can go up with a point. This happens randomly, so do not expect a boost with every puzzle ! Below you can see the answers for the current day.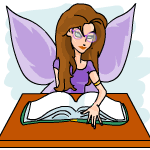 Todays Faerie Crossword puzzle answers are not available yet, please check back soon.
Avatar:
Completing the Faerie Crossword Puzzle gives you this lovely avatar:

Library Faerie
Brainy
neoHTML
SIGGY HERE
neoHTML
siggy