Neopets Premium

Neopets Premium is the paid membership of Neopets. If you pay for Premium membership, you will be able to get extra features on the site. These features are designed to provide a more convenient gameplay and other exciting perks. This page is designed to give you an overview of those features and perks so you can make an informed decision of whether or not this service would be worth paying for to you.

Below you can see an overview of all the information we have collected, divided into smaller easy to read pieces. Click on a topic to make this information appear.



Navigation



SUNNYNEO GUIDE LINKS
NEOPETS LINKS
SUNNYNEO GRAPHICS
RELATED SUNNYNEO GUIDES
Guide Content
What is Neopets Premium?

Neopets Premium is a paid membership plan on Neopets. There are three recurring membership lengths - one month, four months, and one year. It was recently upgraded and renovated, and many things have changed to reflect the needs, conveniences, and desires of paying Premium members. Below you will find a brief overview of the new Premium membership. For more detailed information on the perks and features offered, you can refer to the information contained in the rest of the guide.


Cost
Premium is cheaper overall (per month) if you pay for it yearly instead of monthly or four-monthly. Prices are shown below.
Read more about signing up at the Signing Up/Managing Membership section.




In December, you should also be able to get premium at the Holiday offer price of $49.95. Existing premium members are also able to upgrade their membership to the Promotional Holiday Annual Membership Plan at the manage membership page during this promotion. This means that at their next yearly billing, they will be charged 20 dollars less.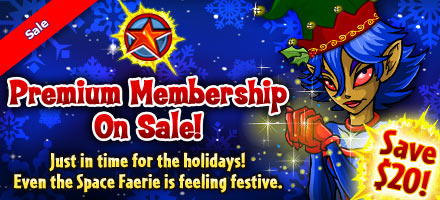 Premium Perks
Signing up to premium gives a few advantages over regular Neopets. These perks are explained in more detail at the Premium Perks and Premium Notification Bar sections.

No Advertisements
Fifth Neopet
Monthly Neopoints and Neocash Collectibles
Premium Space Faerie Avatar
Premium Space Faerie Site Theme
Premium Item and Neopoint Random Events
Lucky Space Faerie Charm
Access to Cosmic Dome in Battledome
Premium Toolbar (with Dailies Shortcuts)
Super Shop Wizard
Premium Featured Game (Double Neopoints)
Weekly Space Faerie Scratchcards
Premium Neoboards
Monthly Premium Collectible Cards
Improved Neopets support options
Access to the Space Faerie Vending Machine



[ Back to Top ]