Moltara Portal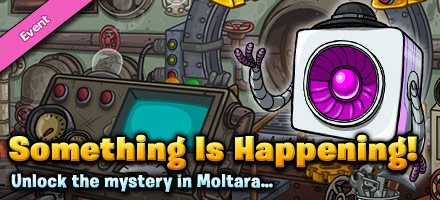 | | |
| --- | --- |
| TABLE OF CONTENTS | PLOT LINKS |

Updates
March 25 - The Spaceship is now accessible and the repairs to the Random Events machine are beginning.
March 24 - The fifth and final light is the same set as the previous day, and is ready to be unlocked.
March 23 - The fourth light on the control panel has added another row and column to the mix.
March 22 - The third set of lights on the portal control panel are up. They appear to be the same as the previous day.
March 21 - The second light to the portal's control panel is available to unlock.
March 20 - Two more messages are received leading into the first stages of whatever it is that is happening around Neopia.
March 19 - A mysterious message is found all over Neopia in a Random Event containing a lutari trying to transmit a message.


LINK TO US
Buttons coming soon!


Back to top