Desert Diplomacy

| | |
| --- | --- |
| TABLE OF CONTENTS Logic Puzzle Grids | NC GUIDES PLOT LINKS |

[ Day 1 ] [ Day 2 ] [ Day 3 ] [ Day 4 ] [ Day 5 ] [ Day 6 ] [ Day 7 ] [ Day 8 ] [ Day 9 ] [ Day 10 ]
[ Day 11 ] [ Day 12 ] [ Day 13 ] [ Day 14 ]


Day 2

Thieves Bragging
When you rob a room full of the leaders of Neopia, it is hard to not brag about such an accomplishment.





You are then lead to Osiri's Pottery.





Below is the conversation:

Not right now, thanks. I gather you heard one of the thieves bragging?
-or-
Never mind that! If you heard one of the thieves, you must tell me at once!


| | |
| --- | --- |
| | I'd never withhold evidence, of course. Princess Amira is one of my best customers -- not to mention a beloved ruler. *sniff* It's just that I'm not sure what I heard is any use. |


I'll be the judge of that, potter.
-or-
More evidence can't hurt, right?


| | |
| --- | --- |
| | Hmm. Wait, who are you again? How do I know you're not in league with those thieves, trying to find out what I know? |


Well, here's Princess Amira's official seal. She asked me to solve the mystery.


Oh! Why didn't you say so before? In that case, I heard two voices this morning behind my stall.

The Oasis Runners stole an item sometime before the guild who bribed a guard.

And they bragged about it! Ugh.


You've done a great service for the Princess.






Items
You will receive a Parchment Piece along with another item from Princess Amira when you return. Did you receive an item not listed ? Please neomail jocinto.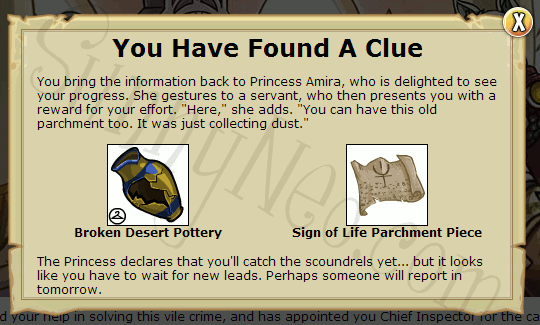 A History of the Lost Desert

Bound Darkness Scroll


Broken Desert Pottery

(Click to Preview)


Bucket of Sand

(Click to Preview)


Canteen-o-Sand

Cheops Juice

Cobrall Dagger

Common Desert Collectable Scarab

Decorating With Sand - Winter Quarterly

Desert Arrow Launcher

Desert Flower

Desert Kiko Snacks

Desert Petpet Stamp

Desert Petpets: A Cautionary Tale

Desert Poogle Music Box

Desert Robe

Desert Survival Skills for the Dim-Witted

Desert Tent Zoning Regulations

Desert Usul Plushie

Edible Desert Foliage Vol. 9

Eye-Sha

Famous Sand Collections

Flowered Vase

Framed Desert Scroll

Golden Heart Necklace

Grackle Bug on a Stick

Grackle Bug Stamp

Handled Pottery

History of the Sakhmet Dynasty Vol. 3

How to Carve Sandstone


Jazan Valentine Gift Bag

(Click to Preview)


Khnum


Long Lost Desert Scroll Trinket

(Click to Preview)


Lost Desert Architecture

Lost Desert Weather Guide

Lyins Dagger

Miniature Sandbox

Nune

Pyon

Pyracone

Pyramid Sun Rise Stamp

Royal Proclamations of Coltzan Vol. 13

Ruki Population Survey Vol. 5

Sand Cuisine for Elephantes

Sand Drawings

Sand Hot Dog

Sand Mound

Sand Sculpture Strategies

Sand Shake

Sandcastle Mold

Sandy Geb Cakes

Scarabug

Sceptre of Lost Time

Selket


Strange Yellow Mist

(Click to Preview)


Tchea Fruit

The Art of Food Sculpting

The Chemical Properties of Sand

The Joy of Burnt Desert Food

Vase Mug

Wadjet

Ya Tchea Fruit Bomb


Parchment Pieces
You will also receive a Parchment Piece which leads you to the NC portion of the Desert Diplomacy. Find out more here.
Back to top