Key Quest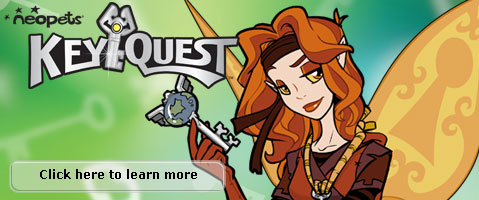 Keyquest is a brand new multiplayer board game that you can play against other people. By doing so you can earn neopoints and items. On this page you will find everything that is currently known about Keyquest. Because the game is still in beta-testing we will continue to update this page as new updates in the game appear.

Below you can see an overview of all the information we have collected, divided into smaller easy to read pieces. Click on a topic to make this information appear.



Navigation




SUNNYNEO LINKS
NEOPETS LINKS

SUNNYNEO GRAPHICS
Guide Content
Special Winter Prizes


When you play Keyquest in December and January you can win special winter prizes. If you hand in these keys you will receive the regular prizes, but in your reward there may be be one or more special winter item(s). The table below shows all winter items you can receive.


Backgrounds & Foregrounds

Scenic Mountain Top Background

Snowball Fortress Foreground

Winter Landscape Background
Battledome items

Blueberry Snowflake

Frozen Snowball

Glowing Snowflake

Grape Snowflake

Ice Dagger

Ice Scimitar

Spicy Snowflake

Super Ice Sword
Books

Ogrin Mountain Climber

The Snow Aisha Adventure

Terror Mountain Colouring Book

Winter in Faerieland

Winter Usul Wear
Clothing
Food

Frozen Soup

Snow Faerie Cupcake

Snow Loaf

Snowy Negg

Spicy Snow Rolls
Furniture

Snow Covered Bush

Snowflake Painting

Snowflake Rug

Winter Fun Cybunny Gnome
Instruments

French Horn of Winter
Petpets

Gabar

Gwalla
Stamps

Grundo Throw Snow Stamp

Snow Faerie Stamp

Terror Mountain Scene Stamp

Winter Bruce Stamp
Toys

Frozen Blumaroo Plushie

Terror Mountain Slide
2010 Prizes:

The special prizes seem to change yearly. Below you can see the prizes you could win in 2010.


Battledome items

Abominable Snowflake

Green Frost Cannon

Remote Control Virtupets Snowball

Snowball Club

Spiky Snowball
Books

A Collectors Guide to Snowglobes

Guide to Neopian Snowflakes

Snow Architecture

Snow Days

Snowy - A White Kougra Story

The Definitive Snowglobe Guide

The Negg Faerie Diaries
Clothing


Snowbeast Horns

(Click to Preview)

Food

Dropped Snowcone

Green Negg

Icy Baked Beans

Icy Fried Chicken

Icy Heart Candy

Icy Jelly Steak

Icy Onigiri

Snow Slushie

Snowflake Slushie

Snowy Negg

Spicy Snow Rolls

Ultimate Icy Negg

Ultra Icy Negg

Yellow Negg
Furniture

Snow Covered Bush

Snow Kacheek

Snowflake Bean Bag

Snowflake Rug

Snowflake Table
Gifts


Tiny Snowman

(Click to Preview)

Petpets

Abominable Snowball
Stamp

Frosty Snowman Stamp

Snow Faerie Stamp

Snow Wars Catapult
Toys

Faerieland Snowglobe

Lady Frostbite Action Figure
2009 Prizes:
Battledome items

Dirty Snow

Frost Bite Egg

Snow Faerie Darts

Snow Mote

Trapped Snow Wurm

Wet Snowflake
Book

A Collectors Guide to Snowglobes

A Flotsam Christmas

All About Snufflies

Being Bruce

Bruce Carols

Bruce Snowball Strategies

Holiday Connect the Dots

Nimmo Gift Ideas

Nimmo Winter Tales

Snow Architecture

Snow Days

Snow Faerie Book

Snowy - A White Kougra Story

Winter Usul Wear
Clothes
Food

Candy Cane

Candy Cane Hot Dog

Deluxe Snowflake Cake

Gingerbread Korbat

Honey Glazed Ham

Holiday Slushie

Red Wocky Sugar Cookie

Robot Grundo Sugar Cookie

Small Roasted Chestnut Smoothie

Snowberry Delight

Snowberry Poogle Cake

Snowberry Tea

Snowbunny in Hat Cake

Snowflake Bread

Snowflake Cake

Snowflake Cookie

Snowflake Muffin

Snowghetti and Meatball

Snow Sandwich

Sweetcorn Snowbunny Loaf

Winter Tilt Cake
Gift

Chia Holiday Greeting Card

Winter Card
Grooming

Frosty Eye Shadow Compact

Frosty Hair Gel
Instrument

Candy Cane Harp

Holiday Horn

Snow Clarinet
School

Christmas Cybunny Pencil Tin

Snuffly Folder

Snuffly Pencil Case
Stamps & Coins

Christmas Uni Stamp

Frosty Snowman Stamp

Frozen Snowflake Coin

Rainbow Slushie Stamp

Snow Faerie Stamp

Snow Wars Catapult Stamp

Wintery Petpet Shop Stamp
Toys

Christmas Chia Hand Puppet

Deluxe Acara Cracker

Deluxe Bori Cracker

Deluxe Grundo Cracker

Deluxe Ruki Cracker

Green Bruce Plushie

Happy Valley Usuki Play Set

Powtry Usuki Set

Skating Bruce Toy

Snowbunny Yoyo

Snowy Valley Usuki Set

Snow Jetsam Plushie

Snow Usul Plushie

Snuffly Usuki Set

Usuki Snowy Sweetheart Set

Wind Up Sliding Red Bruce

Wind Up Snowbunny

Wind Up Wreathy

Wreathy Ball

Wreathy Plushie

Wreathy Yoyo
2008 Prizes:
Battledome items

Christmas Magic Wand

Dirty Snow

Evil Snowflake

Exploding Snowflake

Fire Snow

Frost Bite Egg

Frost Mote

Frozen Collar

Glowing Snowflake

Green Frost Cannon

Radioactive Snow

Red Frost Cannon

Snow Mote

Wet Snowflake
Books

A Collectors Guide to Snowglobes

A Grundo Christmas

A Special Christmas

Bruce Snowball Strategies

Holiday Activity Book

Holiday Connect the Dots

Holiday Colouring Book

Nimmo Winter Tales

Snow Architecture

Snow Days

Snow Faerie Book

Snowy - A White Kougra Story

The Snow Aisha Adventure

Winter Usul Wear
Collectable Cards

Frostburn the Chia
Clothing


Brown Winter Hat

(Click to Preview)

Food

Berry Topped Frozen Yogurt

Blue Ice Apple

Blueberry Snow Puff

Frosty Chewing Gum

Frosty Doughnut

Frozen Corn Dog

Frozen Cucumber Slices

Frozen Fishy Sandwich

Frozen Meaty Sandwich

Frozen Soup

Frozen Veggie Sandwich

Holiday Slushie

Lime Snow Puff

Orange Chocolate Snowflake

Plain Frozen Yogurt

Snowberry Biscuits

Snowberry Chia Pop

Snowberry Poogle Cake

Snowberry Tea

Snowflake Bread

Snowflake Cake

Snowghetti and Meatball

Snow Banana

Snow Crisps

Snow Grapes

Snow Loaf

Snow Pepper

Snow Pizza

Snow Sandwich

Snow Slushie

Snow Submarine Sandwich

Snow Toast

Strawberry Snow Puff

Wintermelon
Furniture

Holiday Tiki Hammock

Holiday Tiki Tree
Gifts

Chia Holiday Greeting Card

Winter Card
Grooming

Frosty Eye Shadow Compact

Frosty Hair Gel

Snowbunny Bath Puff
Petpet

Abominable Snowball
School Supplies

Christmas Cybunny Pencil Tin
Stamps & Coins

Christmas Kougra Stamp

Christmas Uni Stamp

Frosty Snowman Stamp

Frozen Snowflake Coin

Grundo Snow Throw Stamp

Snow Faerie Stamp

Snow Wars Catapult Stamp

Wintery Petpet Shop Stamp
Toys

Christmas Chia Hand Puppet

Kacheek Snowglobe

Snow Bruce Music Box

Snow Usul Plushie

Snowglobe

Snowy Valley Usuki Set

Winter Love Usuki Set

Winter Woolies Usuki Set


[Back to the top]