Keyquest is not longer active on Neopets. The game has been removed from the site.
Key Quest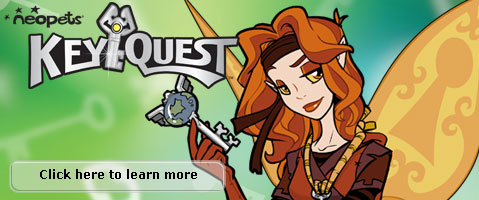 Keyquest is a brand new multiplayer board game that you can play against other people. By doing so you can earn neopoints and items. On this page you will find everything that is currently known about Keyquest. Because the game is still in beta-testing we will continue to update this page as new updates in the game appear.
Below you can see an overview of all the information we have collected, divided into smaller easy to read pieces. Click on a topic to make this information appear.
Navigation
SUNNYNEO LINKS
NEOPETS LINKS

SUNNYNEO GRAPHICS
Guide Content
Mini Games
Below are the different mini games that appear during game play at KeyQuest. Click an image to view the guide for tips and how to play the mini games. When you win a mini game you will be given the option to either pick a key of your choice, or to pick a powerup out of a seclection of three. Whether you get to pick a key or a powerup is random.
Shenkuu Showers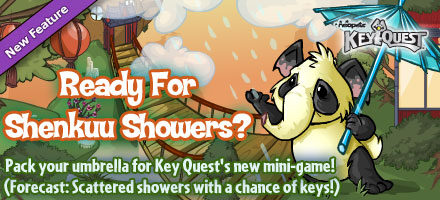 Feel like dancing in the rain? No? Well, that's ok. It's raining in Skenkuu and you have to keep the Pandaphants and Naleaps dry. The more petpets you have under your umbrella, the higher your score will be.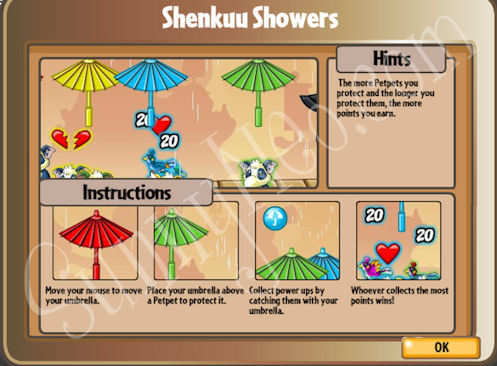 There are different things that might hinder or help your score. Your umbrella could be struck by lightning, causing it to burn and become to protect the petpets momentarily. Your umbrella may also be protected from the lightning or grow bigger to keep more petpets!
Powerup
Special Effect
Orange Lightning
Doubles all points for 10 seconds
Orange Cloud
Makes your umbrella impervious to lightning strikes for 10 seconds
Green Umbrella
Doubles coverage area of your umbrella for 10 seconds
Tips and Strategies
In addition to the powerups listed above, there are also power downs that you need to watch out for, in the form of lightning bolts. Pink lightning reduces the coverage area of your umbrella by half for 7 seconds, while yellow lightning will destroy your umbrella outright for 5 seconds, preventing you from covering any petpets at all.
In most games, the first person to cover two petpets at once wins, since you get additional points for every petpet you're covering at once. When you are covering a petpet, it will glow in the same color as your umbrella. This means that your opponents can't take the petpets you're covering. Simply pick a clump of petpets and keep your umbrella over them at all times.
When the game starts and is in the 3, 2, 1 countdown, you will be able to see a few petpets on the screen. Position your mouse cursor over a petpet as the countdown is going on, even though it won't appear to move your umbrella. Once the countdown finishes, your umbrella will snap over the petpet, earning you a few extra second's worth of points.
[
Back to the top
]