Key Quest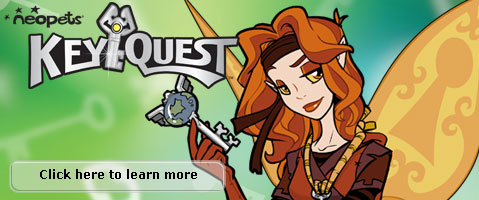 Keyquest is a brand new multiplayer board game that you can play against other people. By doing so you can earn neopoints and items. On this page you will find everything that is currently known about Keyquest. Because the game is still in beta-testing we will continue to update this page as new updates in the game appear.

Below you can see an overview of all the information we have collected, divided into smaller easy to read pieces. Click on a topic to make this information appear.



Navigation




SUNNYNEO LINKS
NEOPETS LINKS

SUNNYNEO GRAPHICS
Guide Content
Special Halloween Prizes


Starting in the beginning of October you can win Spoo-key prizes. If you hand in any keys during this time you will receive the regular prizes, but in your reward there will always be one special halloween item. The table below shows all halloween items you can receive.


Battledome

Ghostkerchief Bag

Ghostkerchief Dagger

Pumpkin Launcher

Spooky Ring
Books

Acara Nightmare

Evil Spells

Haunted Tablet

Haunted Woods Reader

Haunted Woods Travel Brochure

Inside a Haunted Tomb

The Ixi Ghost Legend

The Wicked Little Uni

Who is the Nightsteed
Food

Candy Pumpkin Latte

Evil Baklava

Ghostmallow Smore

Haunted Brucicle

Holiday Haunted Woods Cookies

Pant Devil Lunch Box

Pumpkin Ghost Toast

Pumpkin Ice Cream

Pumpkin Slice
Furniture

Evil Fuzzle Gnome

Ghost Chia Gnome

Mini Pumpkin
Gift


Ghostly Torch

(Click to Preview)

Instruments

Autumn Pumpkin Drum

Haunted Mandolin
Stamps & Coins

Evil Fuzzle Coin

Moonlit Werelupe Stamp
Toys

Devilpuss Plushie

Ghost Gnorbu Plushie

Ghost Zarfara Plushie

Haunted Woods Snowglobe
Wearables


Spooky Tower Entrance

(Click to Preview)


Wicked Wocky Wobble Helmet

(Click to Preview)
2010 Prizes


These were the prizes given out in 2010.


Clothes

Meuka Halloween Costume

Vira Halloween Costume
Food

Aggressive Casserole

Almost Gummy Rat Lime

Bat Cookie

Beast Burger

Bleeding Heart Jelly Sundae

Candy Corn Fizzy Drink

Cheese Ghostkersandwich

Chocolate Graveyard Cake

Chocolate Ice Cream Apple Lantern

Chocolate Korbat Ice Lolly

Creepy Spring Salad

Ectoplasm Nachos

Festering Coffee

Finger Sandwiches

Fried Worm Stew

Frothy Fruit Juice

Ghost Burger

Glaring Cheesecake

Grundo Stix

Ichor Ghost Toast

Mint Ice Cream Apple Lantern

Pumpkin Chip Surprise

Slime-Frosted Pretzel

Snorkle Snout

Snotty Ghost Toast

Spider Liquorice

Spooky Lime Pudding

Undead Broccoli

Vanilla Ghost Cake

Vanilla Ice Cream Apple Lantern

Wormy Pasta
Stamps

Fetch! Stamp

Master Vex Stamp

Mutant Usul Stamp

Spooky Gravestone Stamp
Treasure Maps

Spooky Treasure Map #1

Spooky Treasure Map #2

Spooky Treasure Map #3

Spooky Treasure Map #4

Spooky Treasure Map #5

Spooky Treasure Map #6

Spooky Treasure Map #7

Spooky Treasure Map #8

Spooky Treasure Map #9
2009 Prizes


These prizes were given out in 2009.


Battledome

Ghostkerchief Bracers
Books

Ghost Stories

Halloween Ruki Tales

Mystery Of Halloween

The Legend of Count von Roo

Trick or Treat Tips

Witchcraft Spells

Witch Hunting Techniques
Clothes

Dr Sloth Halloween Costume

Lord Kass Halloween Costume

Meuka Halloween Costume
Food

Apple Lantern Pie

Candy Corn Classic

Cheese Ghostkersandwich

Cress Ghostkersandwich

Pumpkin Chip Surprise

Skullberry Brucicle

Spooky Shake

Vanilla Ghost Cake
Furniture

Carnival of Terror Trampoline

Cauldron Table

Deserted Carnival Bed

Deserted Carnival Chair

Eyeball Cauldron

Ghost Lupe Painting

Halloween Bruce Gnome

Halloween Cybunny Gnome

Halloween Lenny Gnome

Haunted Woods Flag

Korbat Motif Vase

Orange Spyder Candle

Pumpkin Sink

Spooky Bench

Spooky Bone Candle

Spooky Green Candles

Spooky Patio Chair

Spooky Patio Table

Spooky Petpet Bath Tub

Spooky Sink

Spooky Skull Candle

Spooky Speaker

Spooky Toilet

Spooky Tree Table

Spooky Umbrella
Gift

Nightsteed Mug
Grooming

Meowclops Mirror
Magic item

Spooky Looking Dark Potion
Petpet

Dribblet

Lizark

Melton

Tyrowbee
Stamp

Carnival of Terror Stamp

Mutant Usul Stamp
Toy

Bride of Frankenstein Usuki

Halloween Kau Plushie

Halloween Ixi Plushie


Mutant Ona Mask

(Click to Preview)
2008 Prizes:

The special prizes change yearly. Below you can see the prizes you could win in 2008.


Books

Haunted Mynci

Haunted Woods Reader

Korbat Halloween

One Scary Night

Scary Peophin Tales

Scary Sloth Stories

Spooky Buzz Tales

Spooky Food Ideas

Spooky Kau Story

Spooky Korbat Stories

Spooky Skeith Adventures

Spooky Stories
Food

Chocolate Covered Peanuts

Chocolate Korbat Ice Lolly

Haunted Brucicle

Haunted Woods Chocolate Milk Glass

Ichor Ghost Toast

Pumpkin Cookies

Spooky Doughnut

Spooky Gooplecream

Spooky Lime Pudding

Spooky Raspberry Pie

Spooky Shake
Furniture

Spooky Nimmo Stained Glass Window
Stamps

Halloween Aisha Stamp
Toys

Cymbal Bashing Mynci Toy

Halloween Meerca Plushie

Haunted Woods Bucket And Spade Set

Scary Snowbunny Plushie


[Back to the top]